The COVID public health emergency is ending. Here's what that means for medical device shortages.
Now that the COVID-19 public health emergency (PHE) has been lifted in the U.S., many different areas of healthcare regulation are shifting, and some are left uncertain.
Consumers are gearing up to face less accessible COVID testing and treatment. Telehealth providers—especially in the behavioral health and pharmacy spaces—are answering to new regulations. 
Another impact many outside the medical device industry may not expect? The expiration of the PHE declaration means the end of mandatory 506J notifications. 
These notifications—much like publicly-available local COVID case counts—helped the FDA and medical device industry stay on top of current and potential medical device shortages. Now, that level of surveillance may be lessened.
What are 506J notifications?
In short, 506J notifications help the FDA manage medical device supply chain issues that are likelier to crop up during a public health emergency. Issues like many of the ones we witnessed during the COVID-19 pandemic.
Section 506J of the Food, Drug, and Cosmetic (FD&C) Act requires manufacturers of certain devices to notify the FDA of a permanent discontinuance or interruption in the manufacture of a device that is likely to lead to a meaningful disruption in domestic supply of the device during, or in advance of, a declared public health emergency. 
This does mean that these notifications are only mandatory during and before a declared PHE. With the expiration of the PHE this past month, manufacturers are no longer required to submit these 506J notifications, they are simply encouraged to submit voluntary ones to the FDA.
Ultimately, not much will change as 506J notifications go back to voluntary status—especially if companies continue to submit these notifications voluntarily. 
But given how dangerous medical device shortages can be, it is alarming to know we are losing an additional tool in the fight against medical device supply chain issues.
Thankfully, in January 2022, the FDA issued draft guidance for manufacturers related to 506J notifications, intended to help them provide timely, information notifications—within and outside of a PHE. The finalized guidance will hopefully make 506J notifications a more actionable tool for the agency, especially as it manages future PHEs.
Where do we stand on medical device shortages globally? 
The COVID-19 pandemic was unquestionably a huge factor in the increase in medical device shortages of the past few years.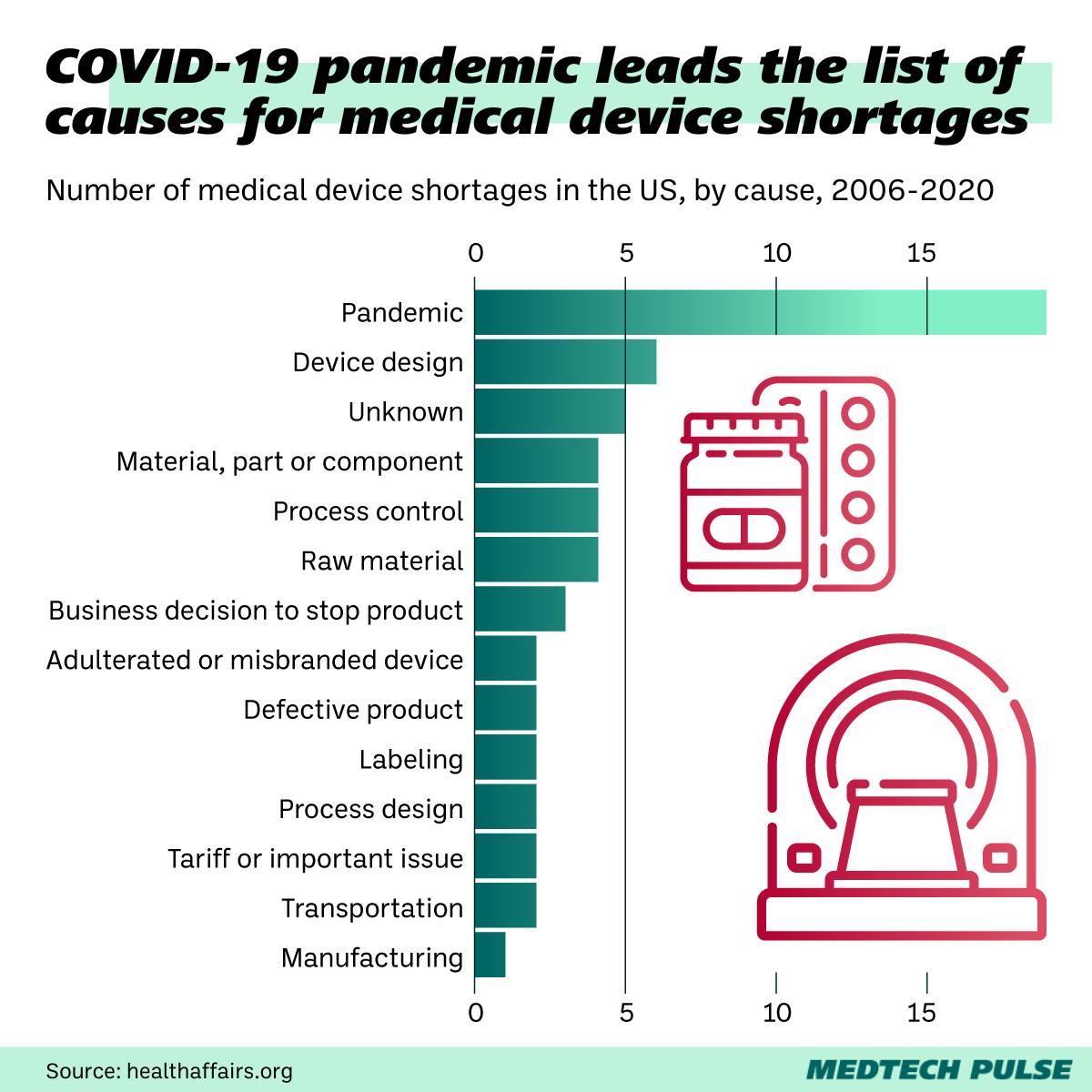 Chart: MedTech Pulse
However, even as we leave the early years of the pandemic, the pandemic's downstream impacts are continuing to hit the global medical device supply chain. One of the most obvious places we can see this is in the chip shortage, driven in large part by the 2020 downturn in economic activity hitting the Asian chip manufacturing industry hard.
Of course, many of the key drivers of medical device shortages are unrelated to the pandemic:
Yet, even while we turn to address non-pandemic factors behind medical device shortages, we can take the lessons of pandemic-era policies to help us stay on top of this issue. 
As such, we hope to see the U.S. medical device manufacturing industry continue to do its due diligence in reporting issues to the FDA—even once they're no longer formally required to.