BigTech's ambitions and strategies in the healthcare market 
Amazon, Alphabet, Apple, Microsoft and Co. are pushing into the healthcare market. We sat down and analyzed what they were doing—and what they might be up to in the next couple of years.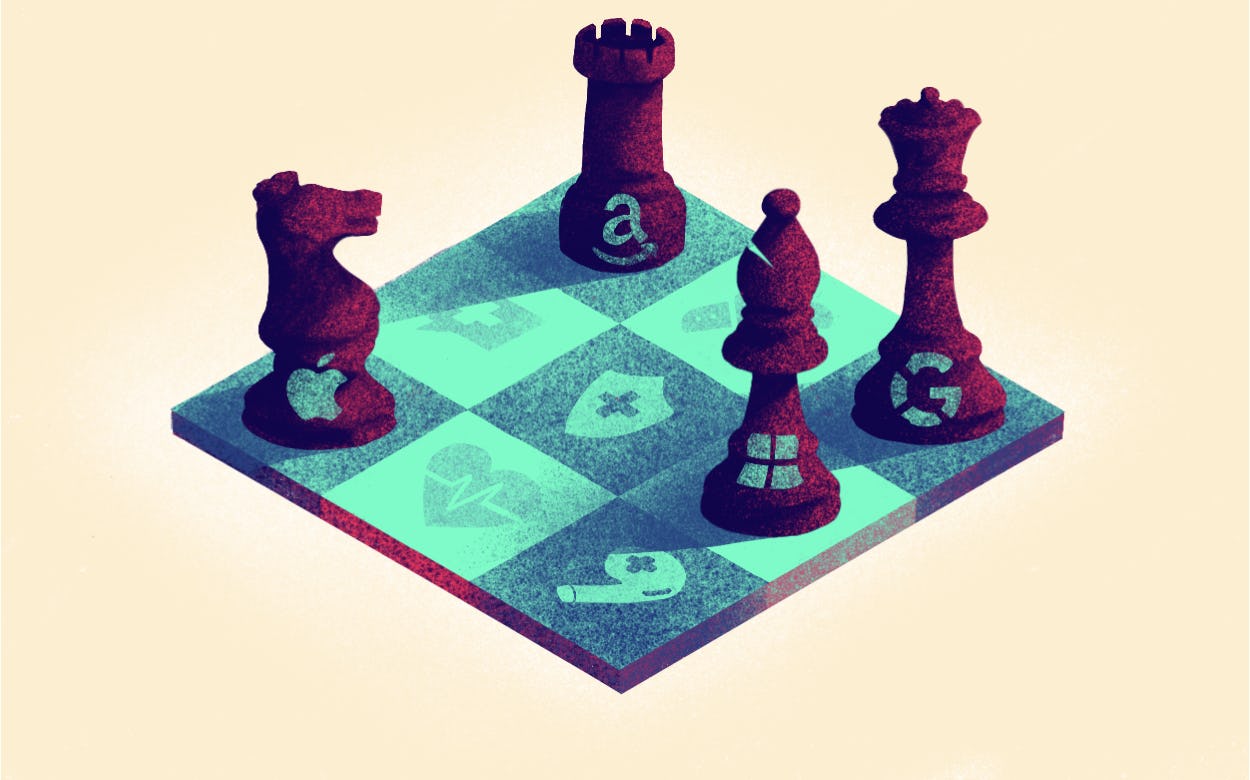 Illustration: Mary Delaney
In recent years, BigTech players have made it clear that they are serious about disrupting healthcare and medicine. 
Not only because consumers are demanding increasingly convenient healthcare services that are linked to the digital ecosystems owned and operated by BigTech, but also because the coronavirus pandemic is forcing traditional healthcare organizations to continue their sometimes very neglectful digital transformation efforts. And needless to say, there is a great deal of money to be made in this game. 
We've reported frequently on individual initiatives and developments over the last few months, so we sat down and analyzed what Amazon, Alphabet, Microsoft, and Apple are doing and what they might be up to in the coming years:
Amazon is shaping up to disrupt the pharmacy, virtual care, and telehealth realms;
Alphabet is pushing their AI expertise;
Microsoft focuses on the enterprise healthcare infrastructure market;
and Apple is in the game for a personalized electronic health record that stores all of our health data.
Interested? Let's dive in.

Digital healthcare is a growth market.
A Roland Berger forecast predicts an estimated 24.7% CAGR in the global digital health market reaching $657 billion in 2025. More significant industry trends like the "consumerization of healthcare," the "explosion of healthcare data," and the "decentralization of healthcare services" are further harbingers that together conjure up significant evolution. The exploding market projections for healthcare-related cloud computing and data analytics are also part of the story, as well as the fact that healthcare is becoming a hotbed for technology- and data-driven services. 
Arguably, there is no one better positioned than BigTech when it comes to capitalizing on the current and future challenges of digital healthcare. They can leverage their scale, active user base, and expertise to build robust, digital, secure infrastructures and services. This is something traditional healthcare players have been losing out on, and it seems they'll be left behind for decades to come.
The last two years have certainly helped BigTech acquire a lucrative share of the market a bit faster. The COVID-19 pandemic pressured health executives to prioritize digital innovation. Remote work—and increasingly, remote care—has become a permanent factor in the industry, and telemedicine even went from being a wallflower to the hottest technology category in recent years.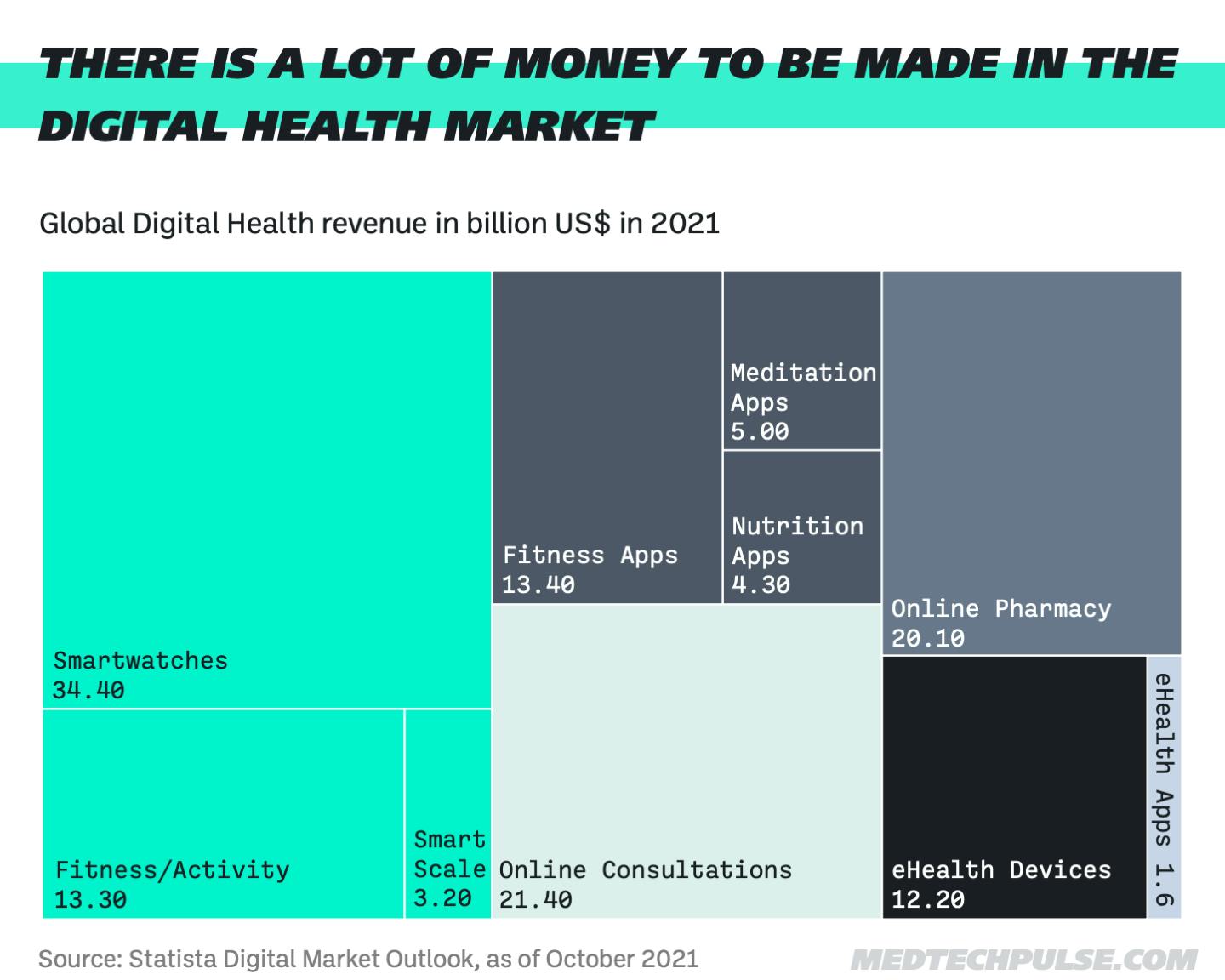 These are developments where BigTech companies can flex their muscles. And they mean business: According to CBInsights, BigTech (including Facebook) has invested in healthcare deals worth a cumulative $6.8 billion since the start of 2020. In addition to core business initiatives, the main players are also confident in their ability to fund "moonshots"—ambitious, groundbreaking, early-stage projects that implement innovative ideas in the market. They even have the networks to launch and establish new health services within a matter of months. And they can work with the vast amount of health data generated daily by their networks of devices and users.
We can therefore state the following: The market is growing, relying on digital technologies, and the consumer's requirements are changing radically. In a future where healthcare is embedded in all aspects of daily life, and where data is the key to effective services and solutions, there will be no way around the dominating tech companies of the 21st century.

It shouldn't surprise anyone, but Amazon is not messing around. The world-spanning company is leveraging its delivery and cloud capabilities to make headway in the telehealth and medical supplies distribution space.
Although the road to 2022 has been rocky—requiring Amazon to abandon Haven, their partnership with Berkshire Hathaway and J.P. Morgan Chase—Amazon has pushed three consumer-facing healthcare services and one B2B, as well as an enterprise-oriented cloud offering in recent years:  
Individually, Amazon took many small steps along these four paths. But in retrospect, they led to giant leaps because Amazon always means business. And while these are ambitious plans, who else but Amazon can compete for patients in a crowded healthcare market? 
Our verdict
Amazon can deliver a package to almost any postal address in the world in just a day or two. So it doesn't take much imagination to picture how an Amazon pharmacy or an Amazon Diagnostic Lab for on-demand at-home kits would play out if the regulators play along. 
Somewhat more uncertain is how Amazon Care will position itself in the market. Virtual care is an increasingly crowded space, with insurers also getting in on the telehealth expansion. But the more significant trend of the consumerization of healthcare will play in their favor, as well as the Alexa ecosystem and 100 million Prime customers. That said, embedding profound health services into the Alexa ecosystem will be tricky. It's a thoroughly complicated undertaking, full of pitfalls and challenges. Therefore, an interim solution could focus on digital health and cloud infrastructure services on which healthcare companies can develop complementary services and products. It wouldn't be the first time Amazon has chosen the boring but lucrative infrastructure business over the more complicated customer interface.  
In any case, we are confident that we will see more partnerships with health insurers, hospitals, and other players—all of whom are slowly but surely moving to the cloud—in the healthcare sector soon.

Google's idea has always been to organize the world's information. 
Their mission statement reads, "Our mission is to organize the world's information and make it universally accessible and useful." Healthcare is no exception. Recently, Sundar Pichai, CEO of Alphabet, said that "healthcare offers the greatest potential for using artificial intelligence to improve outcomes in the next five to 10 years." And that's all you need to know about Alphabet's ambitions. 
But let's start with the basics: Alphabet's biggest healthcare asset is Google. And Google's most significant assets are its users. Why? Since humans tend to be mortal, we regularly google positive and negative things about our health. Just under 7% of all Google searches are health-related, which is equivalent to 70,000 queries per minute, or more than 1 billion health questions every day!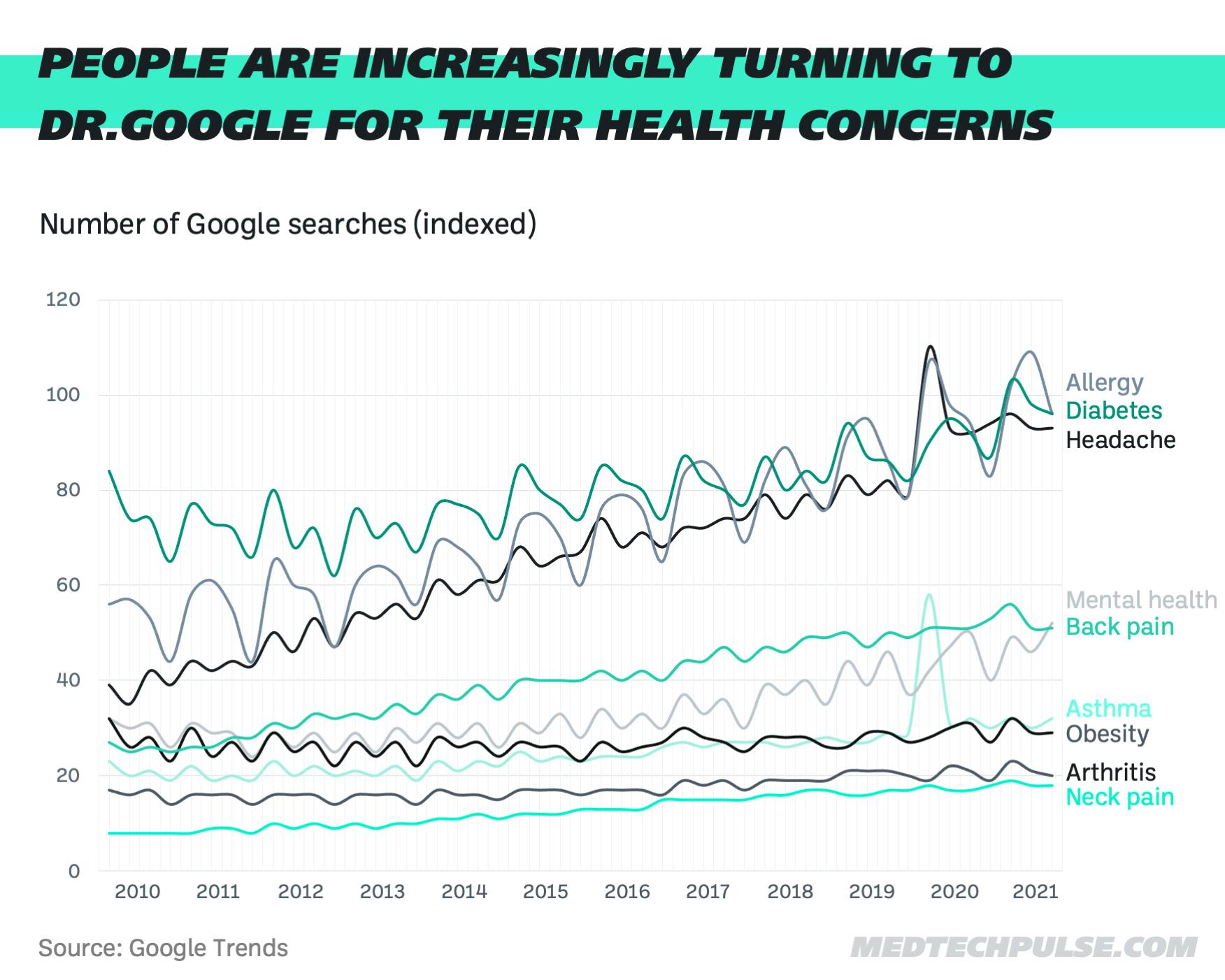 In addition, Google can draw on a large mix of smartphones, operating systems, fitness trackers, and smart home devices—all of which are now also used to improve users' health outcomes.
At the device level, Fitbit is undoubtedly Google's most ambitious health project. They are attempting to compete with Apple and Samsung in the wearables market, which is not an easy undertaking. And at a $2.1 billion acquisition cost, it is not cheap either. But Google has underscored the importance of the unit with the much-discussed dissolution of the Google Health team, and the associated employee migration to Fitbit in late summer 2021. 
Another Alphabet subsidiary made headlines in 2021 as well. Verily—an Alphabet portfolio research company active in the life sciences field—partnered with Highmark Health for six years to address fragmentation in healthcare and reimagine care delivery with a more seamless, patient-centered experience. 
Fitbit and Verily align with Alphabet's core value of putting the customer at the center of every product development. We can also witness the recent enhancement of health and wellness features in Google's Android OS and Wear OS. And since lots of users google their health symptoms, Google Search regularly receives health-related updates (e.g., clinically-validated mental health self-assessments).
Another big focus of Google is selling healthcare-oriented enterprise solutions to cloud customers. Their productivity suite, used in many places worldwide, supports communications, scheduling, messaging, and collaboration. Even telemedicine visits are possible thanks to new certifications. 
In addition, Google pursues so-called "Industry Cloud" strategies, under which they orchestrate industry-relevant cloud infrastructure services, like data analytics and machine learning services. This strategy includes purpose-built projects like Care Studio, an AI-powered EHR search tool that analyzes structured data and medical notes to present clinicians with the most relevant information at the right time. Or C2D2, a machine learning-based approach to improve colonoscopy screening. Or Streams, a DeepMind-developed virtual assistant for clinicians that monitors patient conditions. Or Ophthalmology, an artificial intelligence service that helps healthcare workers detect diabetic retinopathy. There is even software that allows the analysis of epidemiological data; algorithms for rapid genome sequencing and genetic association studies; deep learning applications for diabetic retinopathy screening; and machine learning services for breast cancer screening, lung cancer detection, radiotherapy treatments for cancer and X-ray analytics.
Another critical aspect of addressing healthcare problems is Alphabet's love of ambitious moonshots and research initiatives. Google pushes AI research models that help detect and diagnose eye disease, cardiovascular disease, anemia, and cancer. Increasingly, Google is also interested in population-level medical research. In 2020, they launched Google Health Studies, a new medical research app everyone can download. Earlier this year, they unveiled an AI-powered dermatology app to help dermatologists and laypeople better interpret skin conditions.
Overall, Google puts a lot into healthcare. But the painful separation of Google Health in 2021 has shown that Google still seems to be searching for a focus. One can't help but get the impression that Google wants to play everywhere but hasn't yet decided where to put the spotlight.
However, Google's strengths in the cloud and artificial intelligence remain undisputed. Cloud services will be essential for the operation of a future healthcare system. This also applies to the handling of electronic patient records. Google can already draw on many partnerships here, partly because its cloud solutions are HITRUST-certified and support FHIR (Fast Healthcare Interoperability Resources)—a healthcare standard for representing and exchanging electronic medical information.
Plus, Google can bank on an innovative brand built over the past few years. With every new project based on Google's AI offerings, they get closer to market-ready models that help clinics and large healthcare companies, and office-based specialists who need to collect and analyze data with their devices.
Our verdict
In the coming years, Google will undoubtedly expand its consumer services to include health services. Why? Because staying healthy has become an essential issue for many people. And our first point of contact goes by the name of Dr. Google. Every day, Google answers billions of health-related questions and collects vast amounts of sensor data across its smartphone and wearable device portfolio. And in these big data lakes lies the key to modern healthcare services and solutions. 
Since Google has made a name for itself in untangling large and unstructured data packages and pulling targeted results from them, we think this will also be Google's north star in the healthcare market. Google will most likely double down on artificial intelligence healthcare applications in the coming months. They already have the computing capacity and cloud infrastructure needed to run powerful AI applications. Therefore, now seems like the perfect time to put the technology building blocks together.
Another promising ace up Alphabet's sleeve is the conviction to spend a great deal of money on moonshot projects. Verily, for example, is a big bet on an uncertain future. But if the gamble pays off, Google will have once again shown that you can make a substantial difference with enough money, computing power, and persuasion.

With Microsoft, you can keep it short and sweet because their strategy for healthcare is clear: The company is focusing on the enterprise side of the grand healthcare transformation. They want to become nothing less than the leading provider of digital health infrastructure.
The company has strengthened its partnerships with healthcare organizations and research institutes in recent years. Most of them were late to the cloud migration party, and Microsoft made a name for itself as a reliable partner early on. So both sides met naturally.
In October 2020, Microsoft launched Cloud for Healthcare, a healthcare-focused cloud computing offering that integrates the company's existing services, including Microsoft Teams, Azure IoT, Health AI services, automation, and low-code app development. The package supports collaboration between staff and the delivery of telemedicine consultations. Microsoft wants nothing less than to bring health data, care teams, and patients together. A prominent example of Microsoft's plans is its 2021 partnership with AXA, to build a digital health platform that offers electronic services to customers. 
The most significant push to reach this goal came in the spring of 2021 when they acquired AI-powered speech technology company Nuance for $19.7 billion. This is the second-largest acquisition Microsoft has ever made, after buying LinkedIn for $26.2 billion. The purchase should help Microsoft "to put advanced AI solutions in the hands of professionals everywhere to drive better decision-making and create more meaningful connections," said Microsoft CEO Satya Nadella in a post announcing the deal. The tech giant plans to implement Nuance into its cloud-based health-tech products, such as patient monitoring systems, electronic healthcare records, and care coordination tools.
Although Nuance supports products such as Apple's Siri, it generates most of its revenue in the healthcare industry. More than 300,000 clinicians and 10,000 healthcare organizations worldwide use Nuance's speech transcription technology. And Microsoft thinks that AI like Nuance has the potential to automate administrative tasks.
Therefore, it is fair to say that Microsoft has a vital role in AI applications in the healthcare sector. Microsoft Azure and its AI capabilities hit the ground running. A deep conviction underpinning this development reaffirms that research in ethical AI is essential. Microsoft focuses on new governance strategies to improve data privacy, reliability, and safety.
Having a strategy means clearly saying no to things you don't want to do. And since 2014, when Satya Nadella succeeded Steve Ballmer as CEO of Microsoft, Microsoft has been saying "no" more often. Microsoft discontinued its wearable plans and experiments in 2016. In 2017, they liquidated Healthcare NeXT, an AI and cloud-computing accelerator in healthcare. In 2019, they buried HealthVault, the online personal health record system they launched in 2007. So it will be interesting to watch and see which old products and services Microsoft will say "no" to moving forward.
Last but not least, there is a slight chance that Microsoft has its eye on consumer-related health services. With the Xbox, their motion-sensing camera Azure Kinect, and the AR/VR device HoloLens, Microsoft has some promising Gaming and Metaverse building blocks in their portfolio. The company's $68.7 billion acquisition of Activision Blizzard, announced in January 2022, shows that Microsoft means business. Although we think it's debatable, with this portfolio of hardware, software, and gaming expertise, Microsoft should be pretty capable of offering blockbuster healthcare services with gaming capabilities. Let's see what they come up with in the next few years. 
Our verdict
Microsoft has become a Techworld titan in the last 30 years by providing essential digital office infrastructure. And now they're trying to help hospitals and healthcare companies. Not a bad plan, considering how badly traditional healthcare players are performing in the digital revolution, and how inept they are. That's why we will most likely see lots of new partnerships in the coming months. The recently-announced partnership with Johnson & Johnson is only a harbinger of things to come.

Unlike the other three, Apple has lagged in announcing its intention to enter the healthcare market. But since then, they have been working tirelessly to catch up. And today, they are well-positioned to become the leading provider of private health records and IDs. 
Since 2011, Apple has filed more medical patents than any other BigTech player, making them the leader in hardware innovation. And it should be clear to anyone who owns at least one Apple device what Apple is capable of. Apple's homepage clarifies that the powerhouse has turned into a health tech company. The Apple Watch is not promoted as the best smartwatch on the market, but, per the slogan: "The future of health is on your wrist."
Apple's most prominent advantage: They have a decade-long lead in wearables. The Apple Watch more or less owns the smartwatch category. More than 100 million people wear an Apple Watch—and these numbers are at least a year old! The Apple Watch has helped to usher in a new computing paradigm shift, and Apple is just at the beginning of what's possible on the wrist. 
The Apple Watch manages to monitor our health seamlessly and alert us to things we should know without overwhelming us with too much data and information. With each new version of the Apple Watch, Apple expands its FDA-approved portfolio of health features. The effectiveness of the ECG function, for example, appears to be as good as clinical tests. A remote monitoring service of elderly patients with cardiovascular disease via the Apple Watch no longer seems far off. Still, Apple would need to have its sensors validated by the FDA to classify them as clinically suitable.
When it comes to AirPods, Apple has a market share of almost 30%. Initial thoughts have already been voiced about expanding the AirPods into health monitors. On the test bench are the improvement of hearing, the measurement of body temperature, and the monitoring of posture. A smart move, in our opinion, considering that smart headphones' potential as a carrier for health sensors lies in their widespread use. Again, Apple is in an excellent position to dominate this market.
With the massive adoption of the Apple Watch and the AirPods, Apple is seizing the opportunity to make patients the point of care. This will naturally lead to many more partnerships in the wearables space. The interface is where the profit lies. And this is where the next major advantage kicks in. In January 2021, Tim Cook revealed that Apple had reached an installed base of 1 billion iPhones. And most of these phones feature the Health app, which securely brings together novel wearable sensor data with external data from third-party wearables and health data. Apple perfectly orchestrates the data and bridges the gap between patients and doctors with their newest feature offensive.
At its developer conference in summer 2021, Apple impressively underlined its ambitions in the healthcare market. The new Apple Watch can now measure users' breathing and detect abnormalities. The AirPods officially have a hearing aid feature. And the iPhone can now track and measure the user's gait. The unmistakable move to turn the iPhone into a personal health record is most exciting. With iOS 15, users can store the health data collected via their devices and document lab results and medical records, including immunizations and test results. In addition, users can choose to give others (e.g., their loved ones or doctors) secure access to their health data. What Apple did with Apple Wallet for electronic tickets, they are now repeating with health data!
Tim Cook is not holding back in this regard: "If you zoom out into the future, and you look back, and you ask the question: 'What was Apple's greatest contribution to mankind?' it will be about health. We're democratizing it. We're taking what has been with the institutions and empowering the individual to manage their health." Plans even emerged in mid-June 2021 revealing that the tech giant is working on its own primary care service. We're talking about Apple-owned clinics with Apple-owned doctors and equipment. An endeavor of this caliber is a big deal, even for Apple. And so, no one is surprised that the project hasn't taken off just yet. It's probably most representative of the problems Apple has with the specifics of the healthcare system. Many regulatory items have to be considered in product development. Some would likely make products more expensive, and others would potentially make products more complicated.
But ambition does not necessarily have to result in realizing the vision. Establishing Apple's wellness and fitness services Fitness+ in Apple's community is worth the effort. The company will undoubtedly push Fitness+ and wearables sales through subsidy partnerships with payers. Discounted Apple Watches or AirPods are feasible with health plans from established players.
Our verdict
While not all initiatives are working, few arguments stop Apple from driving innovation in the healthcare market. After all, they have a reputation to lose. That's why we're convinced that Apple will double down on wearables and electronic medical records soon. It is a no-brainer to use the Apple Watch and AirPods for consumer health and research applications, and connect their respective wearable sensor data to the Apple Health app to share it with third-party services. 
In addition, Apple has the best prerequisites for providing a holistic picture of individual health: Combine your health with all the data Apple knows about you—like local, social, and mobile data points—and you get a rough idea of the possibilities. 
The key will be Apple's emphasis on health-related, software-driven features versus new sensors in future generations of wearables in the coming years. But either way, Apple is almost perfectly positioned for the nascent virtual care market. Wearables, with Apple's focus on secure data, industry partnerships, and the subscription business, are already perfectly aligned to provide a holistic care service. 

BigTech has recently taken many small healthcare steps that have become immense leaps in retrospect. In typical BigTech fashion, they saw primarily technical problems in a large and attractive market ideally suited for disruption until they realized the true extent of the challenges they faced and stumbled. Not spectacular, but still significant.
But like all those who set out full of confidence to disrupt something and lose their first battles, they did not turn their backs on their drive but emerged stronger from the defeats. This is undoubtedly due at least in part to the BigTech players' seemingly inexhaustible war chests, and their good image as innovative employers and partners, making them attractive to healthcare professionals and those who want to change the world. 
Nevertheless, one would be naive to believe that these companies do all this out of altruism. BigTech is in the game to make money. And they probably will. Most traditional healthcare players are nowhere close to prepared for what is coming. Just looking at the advent of improved personalized measurement techniques, and at the rise in the volume and importance of patient data, BigTech is in pole position.
The exciting thing from an analyst perspective is that all the companies are pursuing slightly different strategies: 
Amazon certainly has the potential to help shape the future of pharmacies. With their consumer-focused healthcare services, Amazon Care, Amazon Pharmacy, and AmazonDx, the ecommerce giant is well-positioned to exploit the increasing demand for online services. Plus, they can get things to you quickly. AWS for Health delivers necessary enterprise infrastructure.
Google / Alphabet is furthest along with artificial intelligence for healthcare applications. They do what they have always done well: crunch data. In addition, they are very interested in moonshots. It will be exciting to see what experts dream up in the Google garages in the coming years.
Microsoft is focused on a solid cloud-computing infrastructure for healthcare companies. Their billion-dollar purchase of Nuance underscores the company's strategy to build a standardized tech stack for enterprise healthcare—similar to what they did with Microsoft Office for offices.
Apple is changing the way we perceive health-related data. Apple Watch, AirPods, Apple Health, and Apple Fitness are nearly unbeatable moats. Suppose they can now manage to aggregate and orchestrate the data and share it with third parties from the healthcare system in a regulatory-compliant, individually-sovereign manner; they will further extend their lead.
Which tactic will prevail is uncertain. But all of the above companies are brimming with confidence and have announced great moves. So would it be wrong to underestimate BigTech? What they lack in industry expertise and market understanding, they make up for in vision and computing power. 
But computing power comes with great responsibility. Many of the issues currently stirring the technology industry will also affect the healthcare industry: 
Who owns the data? Who has the right to view or edit the data? What about privacy? Can we rely on data analytics? Or do we trust black boxes? Where does the human being stand in this technologized worldview? What about hard-to-quantify issues like ethics, empathy, and justice? Are new technologies like wearable devices or AI as good as assumed? What about digital health false positives? Aren't we creating more problems with all the latest digital health solutions? What about decentralized solutions instead of centralized services?
One thing is certain: Healthcare will not change through technology alone. All the harsh BigTech setbacks of recent years paint a picture of a lack of understanding of the complexity and fragmentation of the industry. Healthcare means complexity. Just think of all the players involved in individual healthcare. While BigTech has access to the end customer, it lacks connections to everyone else. 
It's challenging to reach scale in a complex and wicked environment. Disruption never happens instantaneously. If BigTech wants to make a difference, the players need to prepare for years to come. And they have to acknowledge that the margins in healthcare are not the margins that they're used to. They will hardly be able to scale at the speed they've come to know in other industries. 
In addition, BigTech still needs to convince the healthcare industry that making data available and sharing it is a good and valuable idea. Moreover, they must understand that they can't solve healthcare problems themselves, and recognize that selling tech is not the same thing as selling healthcare services. Healthcare means risk. Displaying an incorrect Google search or an incorrect record of steps is one thing. But anyone who wants to offer critical health services must meet a certain set of standards. Furthermore, most of the world's healthcare systems are based on the notion that they get paid when people are sick. That clashes with BigTech's idea of getting paid for services that maintain health.
The latest marketing campaign for the Apple Watch sums up the dilemma well: It's great that the Apple Watch calls 911 in the event of a detected accident. But what happens afterward? Because what happens in the aftermath is what we mean by the healthcare system. BigTech still has to grow into this.
So as long as BigTech is in it for a quick buck, they're not going to change much in the grand scheme of things. However, solving structural and regulatory barriers around digital issues alongside traditional healthcare players can reduce costs and improve outcomes in care massively in the long term. BigTech knows how to provide people with qualitatively different, affordable, and easily accessible services. 
But maybe BigTech also needs to step up its game. If the main players would buy an extensive healthcare system in its entirety, not just parts of it, they could finally demonstrate a coherent vision of tech-enabled healthcare that would improve care and lower costs. Think of Amazon spending years trying its hand at the grocery business, but not making headway until it bought Whole Foods. 
Buying a healthcare system would undoubtedly be a significant and risky bet. But judging by BigTech's ambitions and visions, it might be necessary. After all, only this type of bet would initiate disruptive change in the healthcare market.
In any case, we are curious to see what BigTech comes up with in the near future.