Dr. Sven Jungmann (CMO, FoundersLane)
Dr. Sven Jungmann is a former practicing medical doctor and the current Chief Medical Officer at FoundersLane's health practice. He sits on the advisory board of Wellster Healthtech and Halitus and has his own startups including a medical education gamification company. He also has degrees in Public Health (Master, LSHTM), Public Policy (Master, Oxford), and Entrepreneurship (Postgraduate Diploma, Cambridge).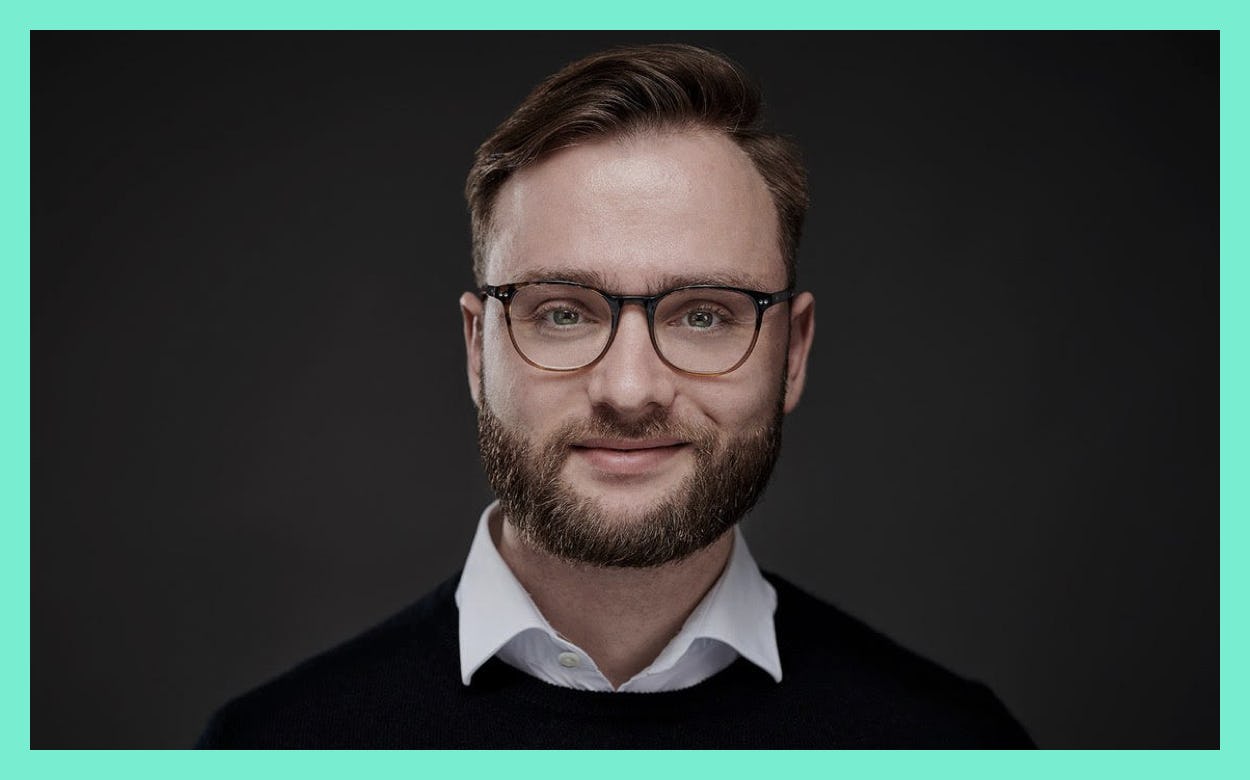 Image: Sven Jungmann
Can you explain your job to a five year old?
I try to develop new technologies that help people live healthier lives, and that help sick people live better lives.
What excites you most about your job?
I would like to point out a couple of things: I'm a physician, I've worked at the bedside, and I left clinical medicine to do something that has a much bigger impact than what I did while I was practicing. Digital technology is so much more scalable, as it can not only take away the need for things that no one wants to do, but it can also really change the way we deliver care. Even make it more human. Another thing I'm very excited about is the people I work with. I work with a very diverse team. Not only professionally, but also culturally—and they are all united by the desire to do something that helps humanity. 
Which trend will change the future of medicine?
The biggest overarching trend is the transition from reactive to proactive care. I've seen patients who suddenly couldn't move their arm or parts of their face because of a stroke, and I don't think we'll see many of those patients in the future because technologies like the Apple Watch tell you three years in advance that you have a cardiac arrhythmia that you can get treated early so you don't have to have a stroke. And that's just one example. With increasing sensor technology, which is ubiquitous in many places, and with better machine learning and other technological improvements, we will be able to respond before someone even realizes they have a problem in many situations.
Looking back, which trends have you missed or underestimated?
I'm really embarrassed that I missed crypto completely. I had a chance to invest some money in cryptocurrencies, but I chose to invest in education instead. Which I don't regret. But it would have paid off really well. Anyhow, I'm more annoyed that I didn't look into it. I just didn't get the "curiosity of that time" to do anything. That's why I look at emerging trends very differently today. 
Which MedTech initiative or startup deserves more attention? 
I really like the Digital Medicine Society from the U.S., which is a professional society for digital medicine. They are trying to understand what is happening in digital health. Not just in the U.S., but in other countries as well. But they're not doing it in a know-it-all kind of way. They're really trying to understand what local characteristics are driving certain developments, but also how things are defined differently in different markets (e.g., the definition of digital medicine). They try to foster good discussions and exchanges, and I like that a lot. Furthermore, I would like to highlight the startup scene, especially in Berlin. It has matured a lot. A few years ago, many graduates of successful ecommerce ventures founded startups in the healthcare sector. Needless to say, that was a fantastic thing. But many people underestimated the complexity of healthcare. They thought they could find and sell simple plug-and-play solutions. Well, that's not how healthcare works. But today, I'm seeing more and more entrepreneurs from the industry who understand the ins and outs of the sector, and who are willing to take on the inconveniences of a science-based and regulated industry. We are witnessing the rise of a new generation of sophisticated entrepreneurs who can come up with truly in-depth technical ideas and solutions. Plus: Investors are adapting too. They've stopped comparing healthcare startups to ecommerce metrics. And that is worth highlighting.  
Where would you put a million dollars?
Well, not in cryptocurrencies. But I'm looking at some really nice angel investment areas right now. Going back to the idea of moving from a reactive approach to a proactive approach, there are two paths you can take: sensing and acting. And right now, the area of sensing in particular is promising. That can be anything from speech or sound recognition, for example, to determining whether elderly people in care facilities are being emotionally or physically abused. Or detecting molecules in your exhalation to determine if you may have cancer. In the U.S., for example, only 13% of people who are at high risk of lung cancer get a CT appointment. So if all you had to do was breathe into a machine and get a result in 30 seconds, you could detect lung cancer much earlier and make treatments more affordable for everyone. Another big trend that I find interesting in terms of sensing solutions is longevity. A lot of startups want to help us live longer. But it's really difficult to prove the effectiveness of their longevity solutions. Biomarkers could help us find evidence here so we don't have to wait 30-40 years. It's the variety of sensor improvements that I find exciting, and that's why this is where I would focus my angel investment.
What's the best advice you've ever received?
When I moved from clinical medicine to entrepreneurship, I realized that I had a lot to learn. And that was very overwhelming at first, but I think we're always eager to learn new things, so I learned a lot of new things. But then I went to Cambridge to study entrepreneurship, and in the very first lecture someone said something that really moved me: "We know you came to us to learn new things, and that's definitely something we can offer. But we need to tell you something else, and it's probably much more complicated, and there's no prescription for it: You need to figure out what you need to unlearn. Most likely everything that made you successful to get here will be very helpful in the future. But some of it will prevent you from being successful as an entrepreneur." Reinvention is about learning new skills, but it's also about breaking old habits and patterns. It's always important to look at growth from both sides.