What a bizarre metaverse might tell us about the future of medicine
Nobody who deals with digital innovations has been able to avoid the topics of the metaverse and NFTs in recent months. In the MedTech bubble, the two terms appeared only rarely—until recently. Do we have to take it seriously? Let's find out.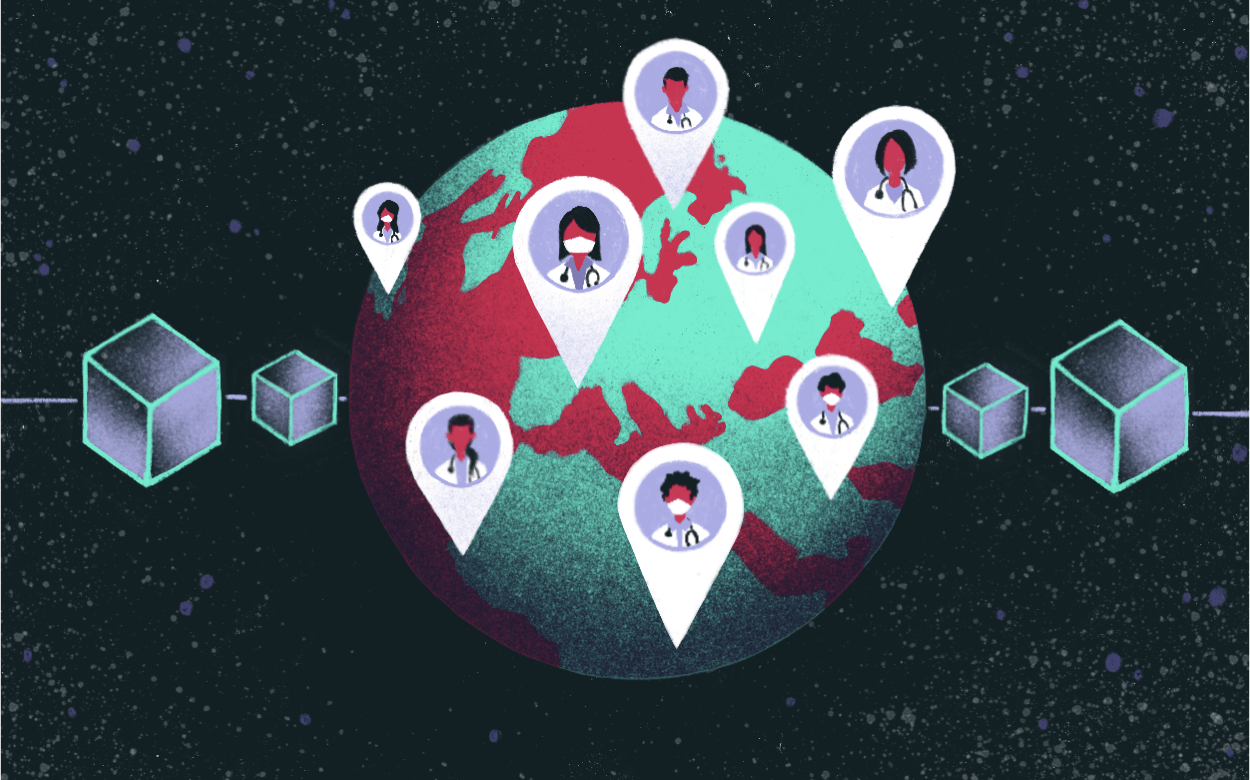 Illustration: Mary Delaney
Nobody who deals with digital innovations has been able to avoid the topics of the metaverse and NFTs in recent months. 
Metaverse? The term is now used to describe digital, three-dimensional experiences where people come together to play, shop, or work. Here's a simple explainer for those who want to learn more.
NFTs? The acronym stands for non-fungible tokens. You can think of NFTs as a certificate of authenticity, through which one can create unique digital assets. Here is a good read for those looking to learn more.
In the MedTech bubble, the two terms appeared only rarely—until recently, that is. A project called MetaDocs brought the two worlds together. 
It is likely that the project will go nowhere. Nevertheless, we find it fascinating because it might tell us what the future of telehealth will look like.
What is MetaDocs?
MetaDocs is a project selling NFTs that allows owners to join a virtual medical community and communicate with a network of influencer doctors.
The project was founded by Dr. Sina Joorabchi, an Ear, Nose, and Throat doctor and Facial Plastic Surgeon. But he's no doctor next door. He has 1.9 million followers on TikTok, whom he delights with medical infotainment. 
The other MetaDocs doctors are also distinguished in particular by their social media prominence. 
NFT owners are expected to get exclusive access to the celebrity doctors through private DMs, group "ask me anything" sessions, and one-on-one video chats.
In the future, Dr. Joorabchi hopes to develop the offering into a full-fledged virtual clinic, where patients can don a haptic suit and be examined remotely by a virtual reality doctor.
Why MetaDocs is under criticism
Like quite a few NFT projects, the grandiose announcements were initially followed by a lot of criticism. A lengthy Buzzfeed article reports the following, among other things:
MetaDocs is not licensed as a telemedicine service. That means its doctors cannot legally make diagnoses, write prescriptions, or give personalized medical advice on the platform. 
Some of the celebrity doctors formerly mentioned on the website have said their names were used without permission.
Some of the doctors affiliated with MetaDocs are still in training. Others have attracted attention for unscientific and populist comments in the wake of the Corona pandemic.
Individual doctors have made unsubstantiated recommendations in MetaDocs' public chats.
The article creates anything but the impression of a serious telemedicine platform. 
Yet as bizarre as MetaDocs may seem, we believe you can still learn some exciting things about the future of digital medicine on the platform.
The future of telehealth?
We are convinced that telehealth is here to stay. A recent Harvard Business Review article titled "The Telehealth Era Is Just Beginning" takes the same stance.
And when a physical process is digitized, it usually doesn't look like a digital replica, but instead takes on forms of its own. We believe telemedicine will soon look completely different from the virtual consultation it mostly is today. 
Through telehealth, the locally limited market of doctors (where the patient might see one of the few doctors in the area) will become a globally unrestricted market (where theoretically, any patient can be connected to any doctor in the world).
Logically, this will lead to specialization and global competition. A few physicians will become global influencer physicians for certain specialties. 
These influencer doctors, of course, will no longer be able to treat each of their millions of followers in 1:1 treatments. Therefore, we believe some kind of patient communities will form around them, where the doctors might be available in chat rooms instead of private consultations.