We're continuing to innovate on COVID and flu testing. But bureaucracy and public health messaging are getting in the way.
It's the fourth year of the COVID-19 pandemic. And related medical innovation is not slowing down.
The NIH is studying the potential of nasal vaccines for COVID—a potentially promising answer to some cases of vaccine hesitancy.
Another recent study described a new assay for detecting COVID-19 infection—it appears to be as accurate as (but faster than) the gold-standard PCR test.
Recently, the first-ever joint home test for both COVID-19 and the flu received an emergency use authorization (EUA) from the U.S. FDA. The test's clinical trial demonstrated the molecular test correctly identified around 90% of positive COVID-19 and influenza samples, and almost 100% of negative samples.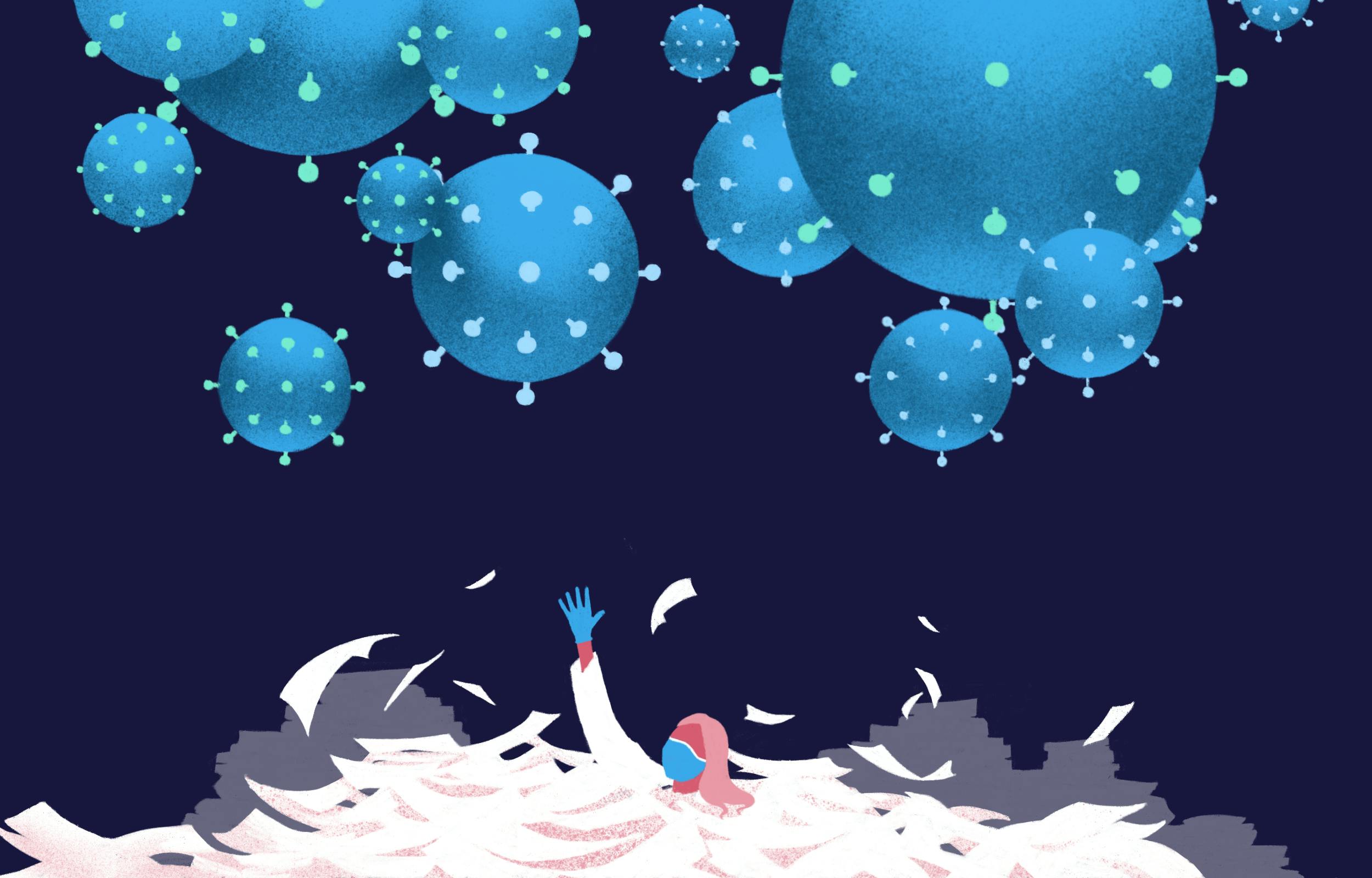 Illustration: Mary Delaney
What happened to Lucira Health?
In short: Lucira claimed the overly-long approval process caused it to miss out on vital 2022–2023 flu season test sales. And it's easy to see why.
In their press release about the bankruptcy filing, Lucira described their rapid growth from the start of the pandemic. They foresaw tremendous demand for their over-the-counter joint COVID-flu test. So, when they filed for the FDA EUA—anticipating an August 2022 approval—they went ahead and began manufacturing the tests, preparing to meet the soaring future demand.
However, the approval did not come in August. In what the company called a "protracted" approval process, the FDA took until late November to grant the EUA—when the flu season was already in full swing. 
The impact of lessened pandemic restrictions
Lucira's high manufacturing expenditures were not outweighed by the flu season sales they anticipated. Erik Engelson, Lucira's President and CEO, acknowledged that part of the problem was also lower-than-anticipated demand from consumers for tests.
"Unfortunately, as restrictions lessened in 2022, we saw lower demand for COVID-19 tests," he said. "This, combined with slower than anticipated regulatory approval for the new combined test kit developed for the 2022-2023 flu season led to insufficient revenue and capitalization to offset expenditures."
Engelson has a point. Though COVID cases and deaths are still high, testing is down. And the States' public health emergency declaration is set to expire in May, eliminating a large source of funding. For this reason, many diagnostics companies are shifting focus away from COVID—hedging their bets to avoid a fate like Lucira's.
In this way, public health messaging around the lack of urgency for testing (for both COVID and flu) also failed Lucira—and the patients who could've benefitted from the test, and others like it, in the future.
Even with lower demand from consumers, we anticipate that the availability of a convenient, joint home test may have made more consumers likely to test. 
With the primary way to access a flu test being visiting a provider, home tests like Lucira's could have, at the very least, helped more respiratory virus patients access care. If not stay home with the added knowledge that they had COVID or the flu. Lucira's bankruptcy filing thus represents a disappointing loss for public health.
When regulation gets in the way of innovation
Medtech regulation is one of the biggest challenges our industry faces. You may recall our discussion of Europe's proposed MDR delays back in December. Thankfully, in the U.S., regulation bottlenecks are not as dire an issue. 
Medical device shortages are an important problem that regulation needs to strive to avoid, of course. The FDA's Breakthrough Devices program is one pathway through which the regulatory body works to speed up its processes as much as possible when the stakes are high for patients and providers.
When it comes to public health tools like Lucira's test, however, the pressure appears to not be as high on the bureaucratic powers that be. Congress is dragging its feet with handling the expiration of the public health emergency declaration. COVID is in the news less—not to mention the flu. 
So, while we're ready to criticize regulatory bodies for dragging their feet on approving critical health tools, we also want to acknowledge the role of public health, the media, and public opinion in its role shaping the process on this outcome. It highlights the importance of accurate and urgent public health messaging on respiratory viruses—even when governments are eager to "move on" from the pandemic.