The MedTech giants of (tomorrow) today
What are the world's largest medical technology companies? Most would think of Medtronic, Johnson & Johnson, Abbott, Philips, GE Healthcare, or Siemens Healthineers. But for how long?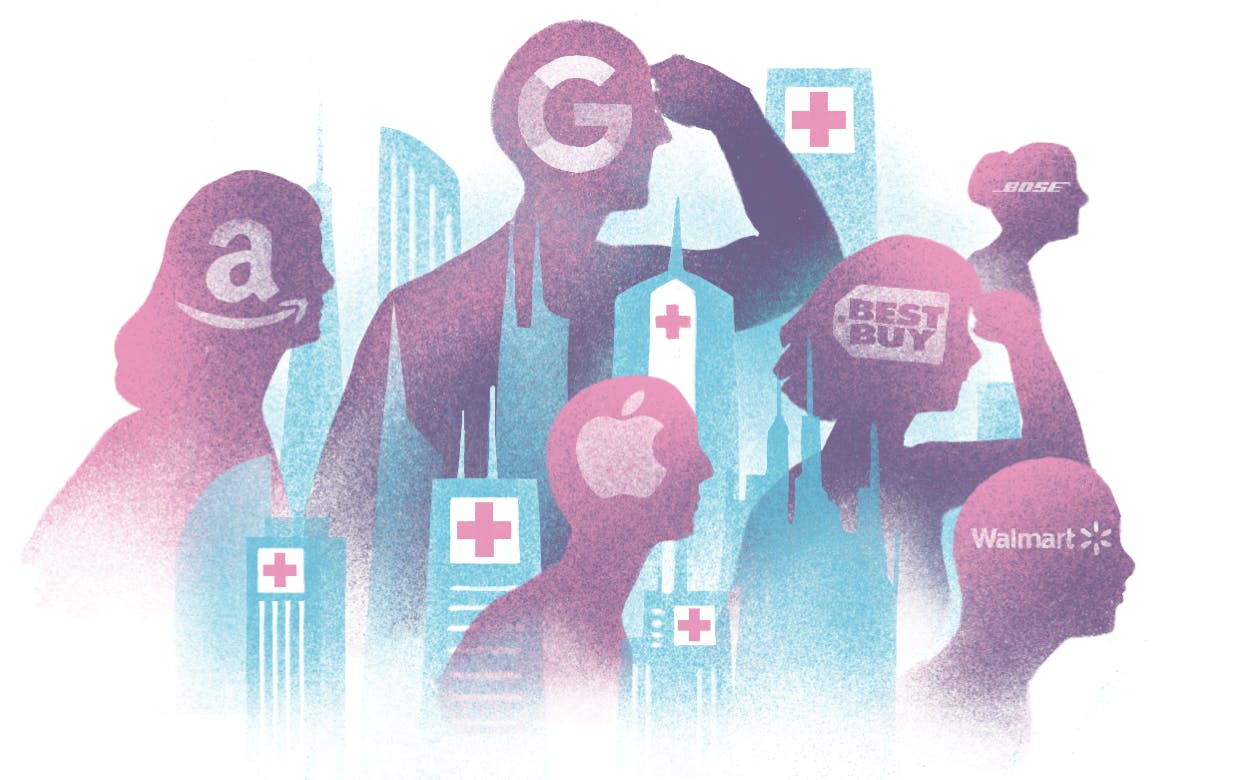 Illustration: Mary Delaney
For several years now, companies keep popping up in MedTech industry publications—many of which we know as consumers but not as patients. In the last week, these included Garmin and Google.
Garmin goes health tracking
Garmin has introduced its first smart blood pressure monitor, the Garmin Index BPM. It allows users to measure their systolic and diastolic blood pressure and sync that data with other Garmin devices. The FDA-cleared device retails for $150.
With this news, yet another company—one mainly known for other categories (in Garmin's case, navigation and sports)—is entering the health sector.
Google enters the hospital
With a new cloud platform, Google wants to enable hospitals and other healthcare organizations to use its Fitbit devices for patient monitoring in medical settings.
In 2019, Google announced it was acquiring Fitbit for $2.1 billion. The deal was completed in early 2021. Fitbit, as the name suggests, actually began in fitness tracking but is moving into health. In April 2022, the company received FDA clearance for its photoplethysmography algorithm to detect atrial fibrillation.
Google's move is remarkable because it represents another step into the medical field. Many of us use health tracking wearables in our private lives. So far, however, this has not damaged the standing of traditional medical technology companies. 
But the announcement is a clear sign that Google is leaving its home turf of consumer technology and moving into the sovereign territory of medical technology: the hospital. 
Consumer tech and MedTech merge
Google and Garmin are not the only consumer tech companies going MedTech:
The merging of the sectors brings us to an obvious question: 
What is a MedTech company?
There are various official and non-official definitions of medical technology, or medical devices. 
The following is frequently used: In general terms, a medical device is any device that is intended for medical purposes. These devices help healthcare providers to diagnose and treat patients, helping patients to overcome illness or disease and improving quality of life. (TWI) 
Of course, you can also look at it from a regulatory perspective. Thus, all manufacturers of products declared as medical devices are medical technology companies.
Let's be specific: Admittedly, Apple is not a full-blown medical technology company. And the Apple Watch is certainly not a full-blown medical device. But it helps many users live healthier lives. And it also has FDA-cleared health diagnosis and monitoring functions. 
So is it that far-fetched to call the Apple Watch a medical device? It gets interesting when you do. With the sales from the Apple Watch alone, Apple would be in the top 10 of the largest MedTech companies. 
A look at the past for a glimpse into the future
The question of what makes a MedTech company is interesting but ultimately irrelevant. The important question is what the future of established MedTech companies will look like. 
Anyone searching for answers should take a look at this eye-opening comparison of the markets for digital cameras and smartphones.  
Is a smartphone a camera? Obviously not, but smartphones have nevertheless disrupted the market for cameras.