The disruptive potential of teleneurology 
Last week, Israeli health technology startup NeuraLight announced the closing of a $25 million Series A funding round to improve the accuracy of neurological assessments through its AI-based eye-tracking teleneurology platform. 
NeuraLight uses computer vision and deep learning algorithms to extract all relevant oculometric markers—eye movement and condition—from videos captured by a webcam or smartphone. The images can accurately and sensitively measure disease progression, reduce misdiagnosis, and refine precision care in neurology. It is currently helping to treat people with Alzheimer's disease, Parkinson's disease, multiple sclerosis, ALS, and other neurological disorders.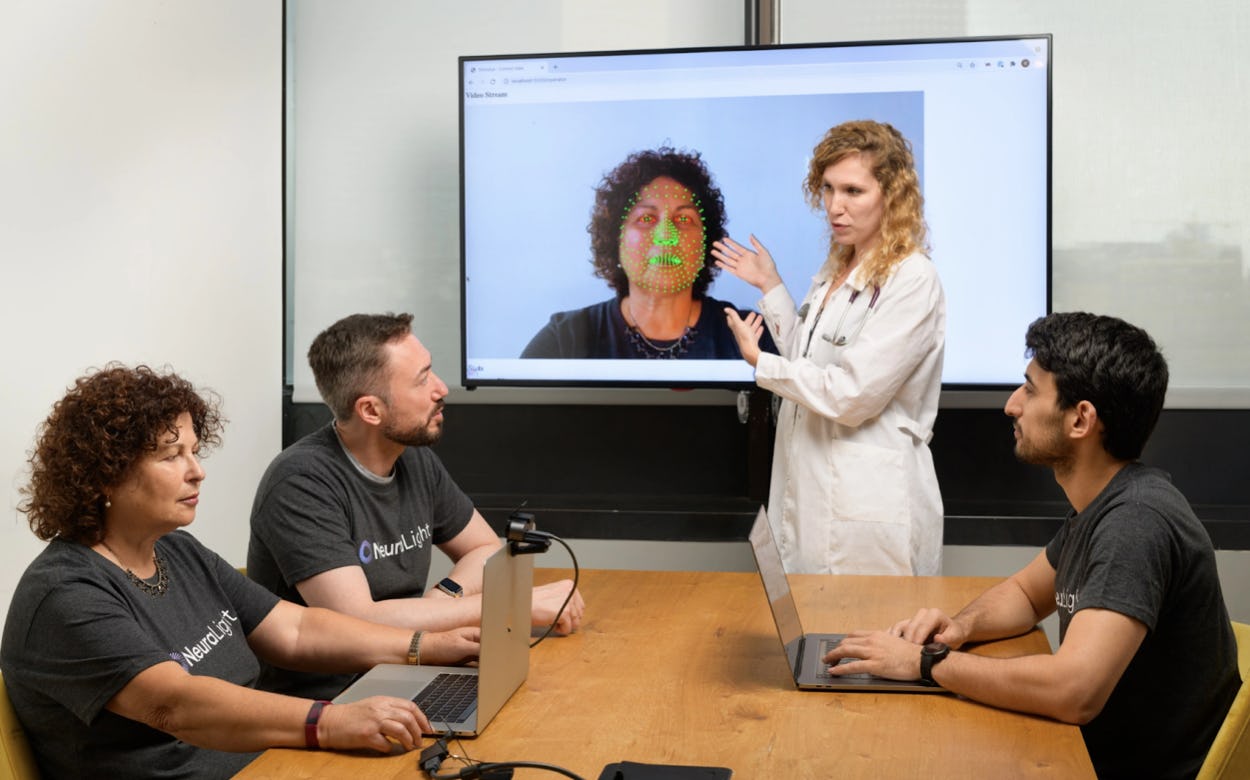 Image: NeuraLight
Why is this important?
NeuraLight may have successfully addressed a far-reaching problem: Namely, that neurological screening, diagnosis, and care are highly subjective and depend on manual examinations with a variety of signs and symptoms—those that are not trivial to inquire about or recognize.
Micha Breakstone, seasoned entrepreneur and CEO of NeuraLight, explains, "It's kind of crazy, but there's basically no objective markers for neurological disorders. You can't develop drugs for diseases you can't measure."
Although scientific studies linking eye movements to neurological disorders have existed for years, until now, there has been no useful technique to measure the progress of a disease, as this would require special equipment and expert analysis.
Embedded teleneurological analytics in your next Zoom call
Granted, a new tracking and analysis software would have been newsworthy on its own. However, NeuraLight takes it up a notch. The NeuraLight image analysis technology runs on off-the-shelf webcams and smartphones. Furthermore, its data appears as good as professional eye-trackers that cost tens of thousands of dollars.
NeuraLight's goal is to integrate the software into Zoom calls in the coming years: "Instead of coming to see someone once every quarter—at best—you can do our test twice a week. On any standard Zoom call you'll be able to get a full neurological evaluation, just by participating in the call—without any stimuli, just passively," envisions Breakstone. 
We are still a few years away from that. But the idea is breathtaking. Cloud-based health analytics embedded in low-cost, off-the-shelf applications—those that continuously monitor biomarkers and provide timely warnings of potential impending complications—would be a gamechanger. 
Things aren't disruptive until they're ubiquitous
These days, almost every emerging technology is marketed as "disruptive." Exaggeration is part of the game. But what makes something truly disruptive? Of course, from time to time, we witness unique breakthroughs that launch new markets and shape societies within months. But normally it takes years for a deeper infrastructural shift to produce new market and value networks. 
This is why one of our core beliefs is that things are not disruptive until they are ubiquitously available. Disruption takes time to reach everyone.
The exciting thing about NeuraLight is not only the innovative algorithm running in the cloud, but also the fact that the platform can reach almost all of humanity with smartphones and webcams without relying on proprietary hardware or software. 
Remember, in the early 2000s, there were fewer than 100 million people online. And they had to spend a fortune to get online. 
The combination of low-cost digital and decentralized infrastructure (across the board) and excellent healthcare research and entrepreneurial commercialization (at the forefront) holds enormous, maybe even disruptive potential.