Telehealth oncology and the question of "time toxicity"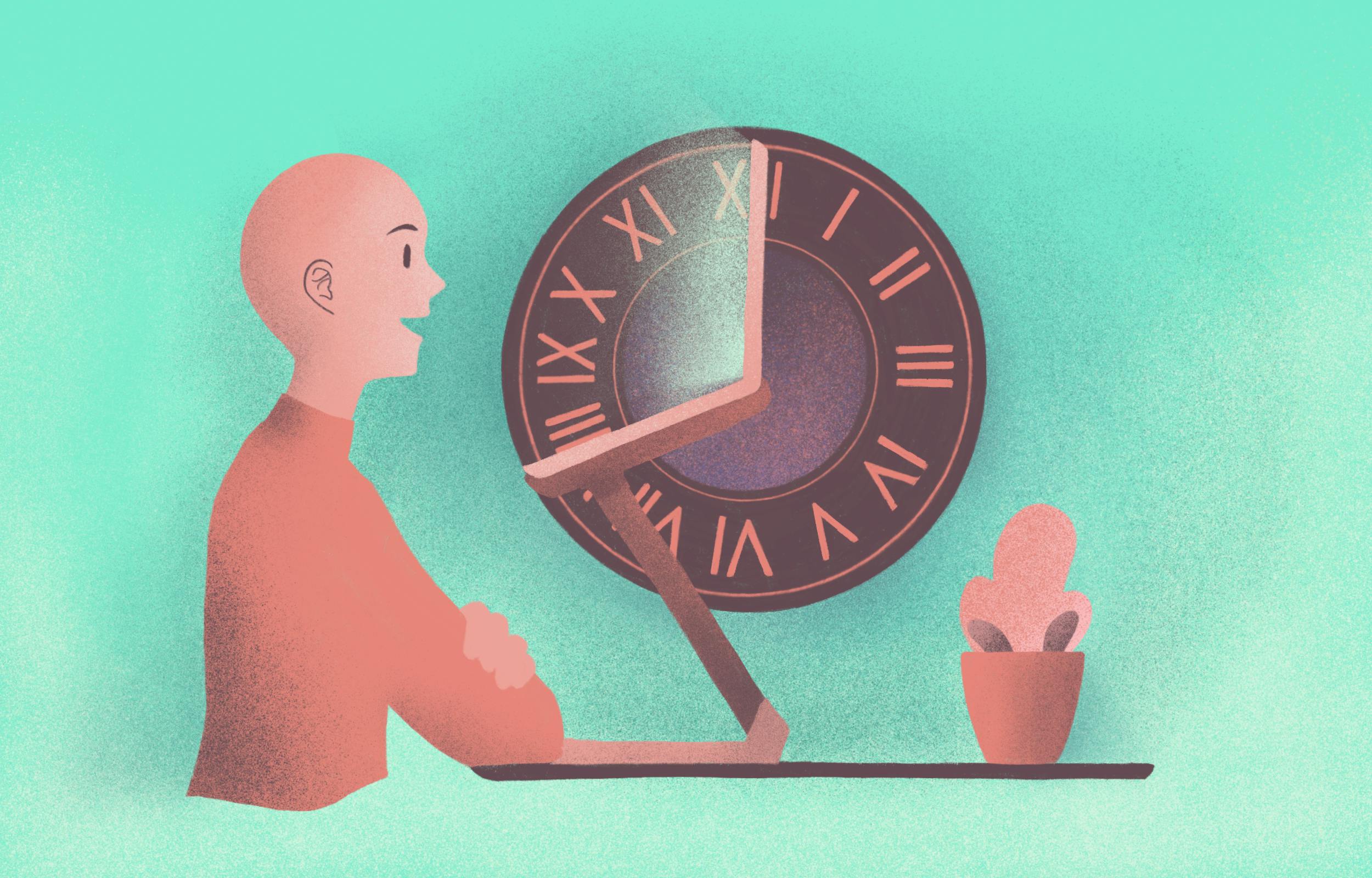 Illustration by Mary Delaney
Chemotherapy infusions take a lot from cancer patients: strength, appetite, hair. But one of the biggest—and perhaps underrated—things cancer patients lose during their treatment is time.
Over the past few years, a new term has emerged to describe the negative impact of the time patients spent when undergoing cancer treatment: "time toxicity."
In the meantime, telehealth has emerged across the healthcare industry as a way to not only provide a safe alternative to in-person healthcare—but also a way to make seeing providers easier, saving patients time.
So, is telehealth the answer to time toxicity in cancer treatment? Or does it make time toxicity worse for oncology patients? The answer, it appears to be, is a bit of both. 
Take a look at our findings and what we hope to see in the future of telehealth oncology.
What is time toxicity?
Along with the similar term "financial toxicity," time toxicity evolved as a concept that medicalizes the quality-of-life factors clinicians are increasingly taking into account when advising cancer patients on their treatment options.
Proponents of the term's use argue that more cancer therapy studies should take time toxicity into account when evaluating survival and overall benefits. In other words, researchers and therapeutics developers should ask: "If this treatment will take away X amount of time from a patient's life, how does that measure up against Y benefits?"
But quantifying that time can be a challenge, as it's not as simple to standardize as other metrics of a cancer therapeutic's impact—such as change in tumor size. Christopher Booth, a Canadian oncology professor at Queen's University in Ontario (and a proponent of the term) suggested that any day that a patient interacts with the health system—in any way—should count as a healthcare day. 
This means any touch point with healthcare would count in measures of time toxicity: in-person clinic appointments, hours spent in a chemotherapy infusion chair or radiation, standing in the pharmacy line to pick up medication, related physical therapy, time on the phone with insurance, etc.
In today's healthcare landscape, of course, that would also include telehealth.
Does telehealth contribute to or alleviate time toxicity?
With the term's popularization, studies have emerged tying the rise of telehealth in oncology to decreased time toxicity.
One such study found that the use of telehealth saved patients an average of 2.9 hours of driving time (round trip) and 1.2 hours of in-clinic time per visit. 
However, for some patients, the opposite can be true, STAT has found: The logistics involved in managing cancer care remotely eat into time which would otherwise be non-health related. 
Stage 4 pancreatic cancer patient Jeannette Cleland found that receiving more of her healthcare at home resulted in more wasted time. Waiting for her home health nurse to arrive, waiting for a courier to pick up her blood draw, waiting for her chemo drugs to arrive, waiting for a nurse to connect her infusion pump (and later to disconnect her) were eating into what would otherwise be her free time. So, instead, she's opting to go back to in-person care at the clinic.
"And since I do chemo every other week, taking up another good day to just be around my house and waiting for the person to come to draw my labs or drop off stuff at my house just sounded horrible," Cleland said.
Our perspective: We must keep improving telehealth to reduce time toxicity
It's clear by now that, especially when it effectively replaces in-person medical visits, telehealth can save patients time and money—and increases access for patients for whom traveling to a clinic is burdensome. 
Especially when it comes to cancer patients—who are often making decisions about treatments on the basis of giving themselves and their families as much time as possible—the prospect of saving additional time is no small factor. When telehealth can help, it changes the game for many cancer patients.
However, with the rapid rise and mass acceptance of telehealth across the healthcare system, we as an industry are still ironing out the kinks. As we discussed in our last edition, the question of what "counts" as telehealth can leave some patients with confusing medical bills. For other patients, using telehealth software can be challenging and present a stressful learning curve that can eat into more time.
In other cases, telehealth solutions are just not yet as interoperable as they need to be to minimize patient confusion and time spent switching between systems and tools. This is where we as an industry must innovate. 
As an industry, we often discuss interoperability in terms of data security, data quality, and provider workflows. But the question of time toxicity underscores another reason to prioritize it: It can save telehealth patients time, which can be a bigger gift than many of us can imagine.