Researchers aim to turn your voice into a biomarker
We each have a unique voice. A new research project now aims to use voice to diagnose serious diseases: the Voice as a Biomarker of Health project.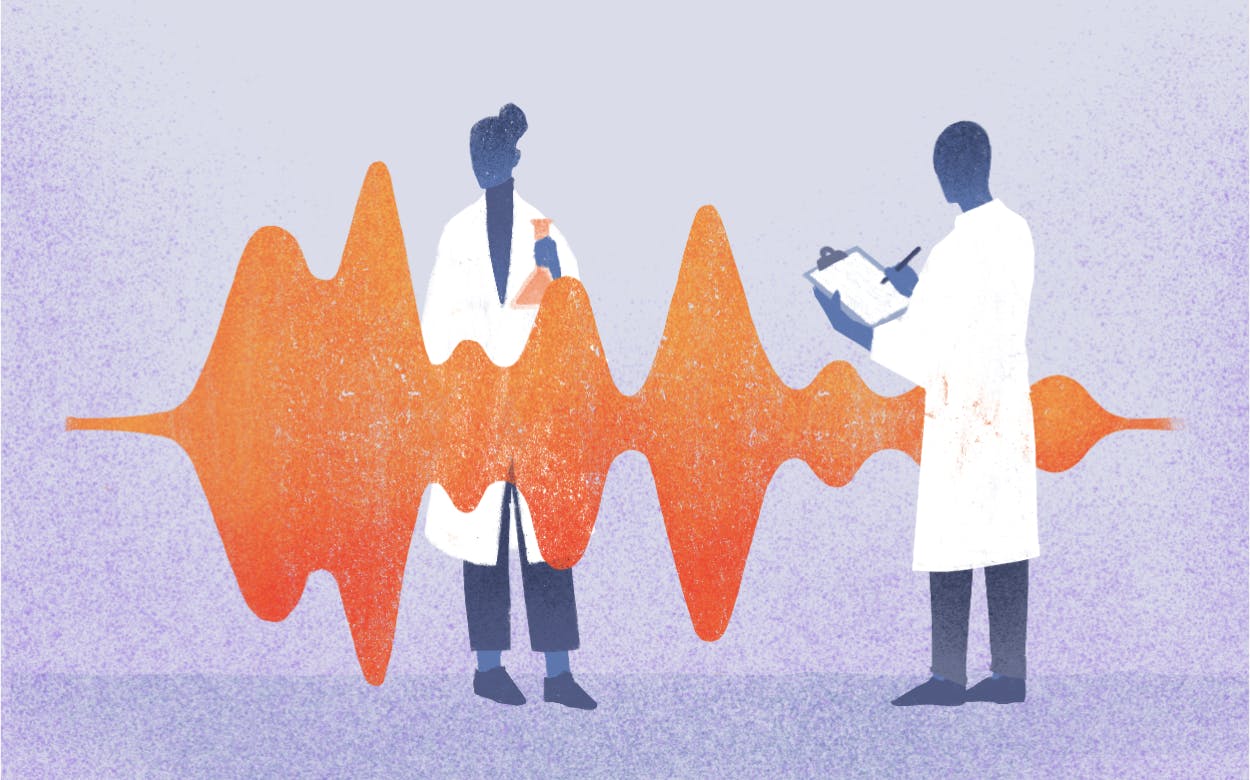 Illustration: Mary Delaney
The project just launched in the USA to explore the potential of the voice as a biomarker for serious diseases such as Alzheimer's, depression, and stroke.
The research team will start by building an app that collects voice data from participants with various diseases. Afterward, the datasets will be used to train AI models to detect the different diseases. 
Who's behind the project?
The project is a great example of collaboration in healthcare innovation. 
The University of South Florida in Tampa, Florida, is the lead institution on the project in collaboration with Weill Cornell Medicine in New York City. 10 other research institutions in the United States and Canada are also involved. 
The technology partner is the French-American AI startup Owkin. Owkin's framework keeps  patient data at the healthcare center where it was collected, while the AI model can be shared between institutions. 
The Voice as a Biomarker of Health project is funded through the Bridge2AI program at the NIH. It is part of a wider NIH effort to accelerate the adoption of AI in R&D. 
Potential indicator for serious diseases
In practice, the human voice has only rarely been used as a biomarker so far. However, earlier studies have already shown that serious diseases can be detected via the voice.
Parkinson's disease: Even though both patients and physicians often overlook changes in voice in early stages of the disease, the objective measures show changes in voice features in up to 78% of patients with early-stage Parkinson's disease.
Alzheimer's disease: Subtle changes in voice and language can be observed years before the onset of prodromal symptoms of Alzheimer's disease and are also detected in early stages of mild cognitive impairment.
Heart disease: A team from the Mayo Clinic has identified several vocal features associated with a history of coronary artery disease. 
Diabetes: One study showed differences between people with and without type 2 diabetes.
The voices of patients with multiple sclerosis, depression, and COVID-19 also show specific features.
Although preliminary work with voice data has been promising, there have never been large enough datasets to be used in medical practice.  
The Voice as a Biomarker of Health project is now creating a large, high-quality, multi-institutional, and diverse voice database that is linked to identity-protected/unidentifiable biomarkers from other data, such as demographics, medical imaging, and genomics.
In the newly launched project, data on the following diseases will be collected: 
Voice disorders (laryngeal cancers, vocal fold paralysis, benign laryngeal lesions)
Neurological and neurodegenerative disorders (Alzheimer's, Parkinson's, stroke, ALS)
Mood and psychiatric disorders (depression, schizophrenia, bipolar disorder)
Respiratory disorders (pneumonia, COPD)
Pediatric voice and speech disorders (speech and language delays, autism)
Theoretically, the approach can be used to investigate further diseases. 
Why voice is special
What makes voice so special as a biomarker is that it can be analyzed easily and inexpensively. 
"Voice is the easiest biomarker to collect, does not cause any physical risk for patients, and can be collected in very low resource settings especially with modern technology," Yael Bensoussan, project leader and assistant professor at USF's Department of Otolaryngology, told The Register.
Almost all of us have a device for collecting this biomarker in our pocket: our smartphone.
Optimistically, there are perhaps 200,000 CT scanners in the world. The number of smartwatches is about 1,000 times higher. Measured in terms of the total population, however, penetration is still minimal.
No technical device is as widespread as the smartphone. According to Statista, the current number of smartphone users in the world today is 6.65 billion—meaning 83.4% of the world's population owns a smartphone.
The fact that we can record and analyze the voice so easily via our smartphones makes it an incredibly interesting biomarker. We are very excited about what the research team will find out over the next few years and will be following their project closely.