Pfizer's bid for ResApp illustrates what's going on in MedTech
Pfizer is planning on acquiring the Australian company ResApp. We think the deal is a good fit and illustrates some of the trends in the healthcare market.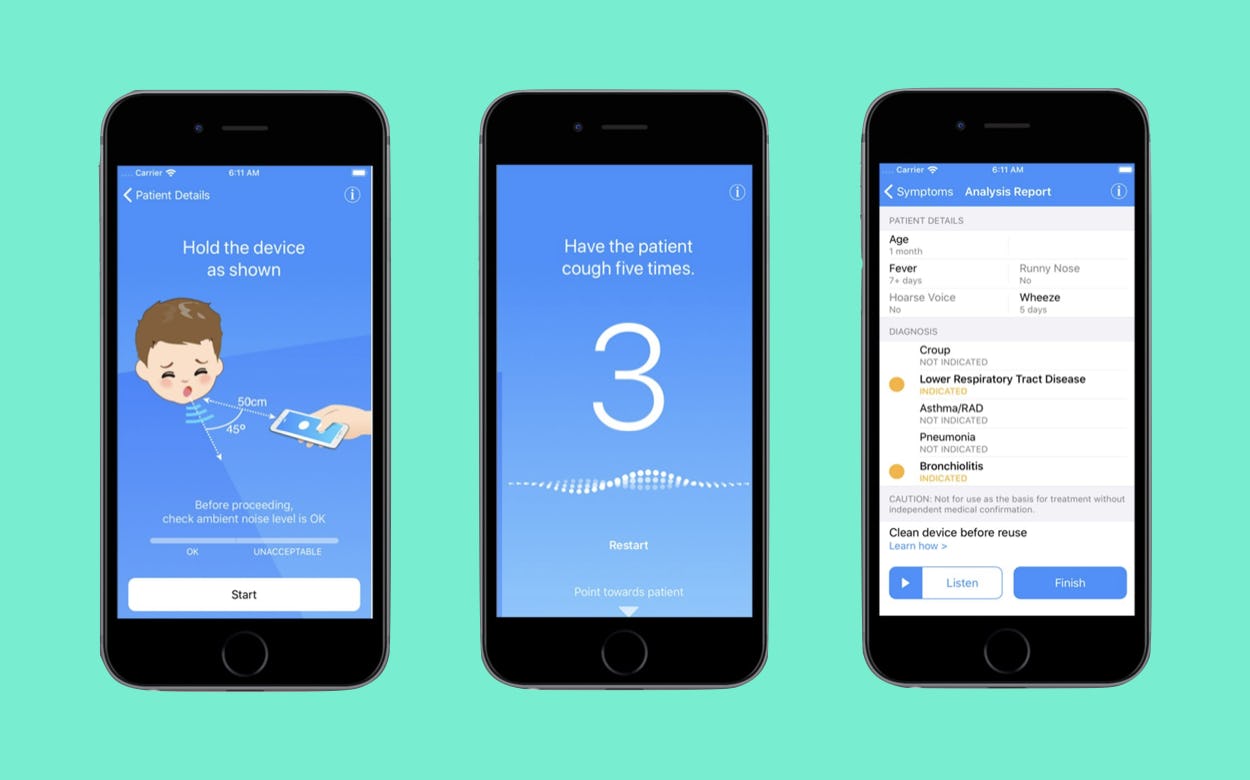 Image: ResApp Health
The deal facts
Pharma giant Pfizer aims to acquire ResApp Health, a company that developed smartphone-based diagnostic technology for respiratory diseases.
Pfizer is offering $74 million for the publicly-listed Australian company. ResApp's directors have unanimously recommended that its shareholders vote in favor of the scheme of arrangement.
ResApp Health's smartphone-based acute respiratory disease diagnostic test is used in emergency departments, telehealth, and primary care settings.
The company claims to be able to diagnose COVID-19 by listening to the sound of a cough. In March, ResApp reported positive results from clinical trials of its new cough audio-based COVID-19 screening test.
Relative to sales of COVID-19 vaccines and drugs, the purchase price is tiny. Pfizer is expected to generate $24.2 billion in sales of the oral COVID drug Paxlovid and $29.7 billion in sales of the COVID vaccine in 2022 alone. That is more than half of their total estimated 2022 sales of $101.3 billion.
Our takeaways
Every startup acquisition by established healthcare players is exciting. Each one offers a glimpse into the buyer's strategic direction. 
Here are our three takeaways from the proposed ResApp deal:
1: Decentralization of healthcare
As is often discussed here, decentralization is one of the biggest trends in the healthcare market. Diagnosis and treatment are moving out of doctor's offices and clinics, and into people's homes. 
This is exactly what ResApp technology makes possible. It helps patients to diagnose themselves—or doctors to diagnose patients—remotely via telehealth. 
2: Blurring of industry borders
The boundaries within and outside the healthcare market are blurring. Tech players like Apple and retailers like Best Buy are entering the healthcare market. But the lines within the market are also being redrawn.
In this deal, we see a pharmaceutical company stepping out of the area of treatment and into the diagnostics space. The boundaries between medical (diagnostic) technology and pharma are blurring. 
3: Acquisition of digital health startups by healthcare corporations 
Large healthcare players often fail to develop attractive digital health products in-house. They simply lack the expertise in areas such as app development or artificial intelligence. 
Therefore, they need to acquire digital players in order to keep from being left behind. 
In 2021, we saw 574 M&A deals in the digital health sector. The number has remained relatively constant in the first quarter of the year, although the number of IPOs has plummeted. 
The reason is simple: With lower valuations for digital health companies on private and public markets, established players can acquire very affordably right now. Pfizer is also paying less than one-third of ResApp's October 2019 market value.