Biggest M&A deal of 2022 underlines integration in the healthcare industry
The healthcare industry was traditionally very fragmented, with many, diverse market players. For some years now, this has been changing massively. A recently announced $8.9 billion deal underlines the development once again.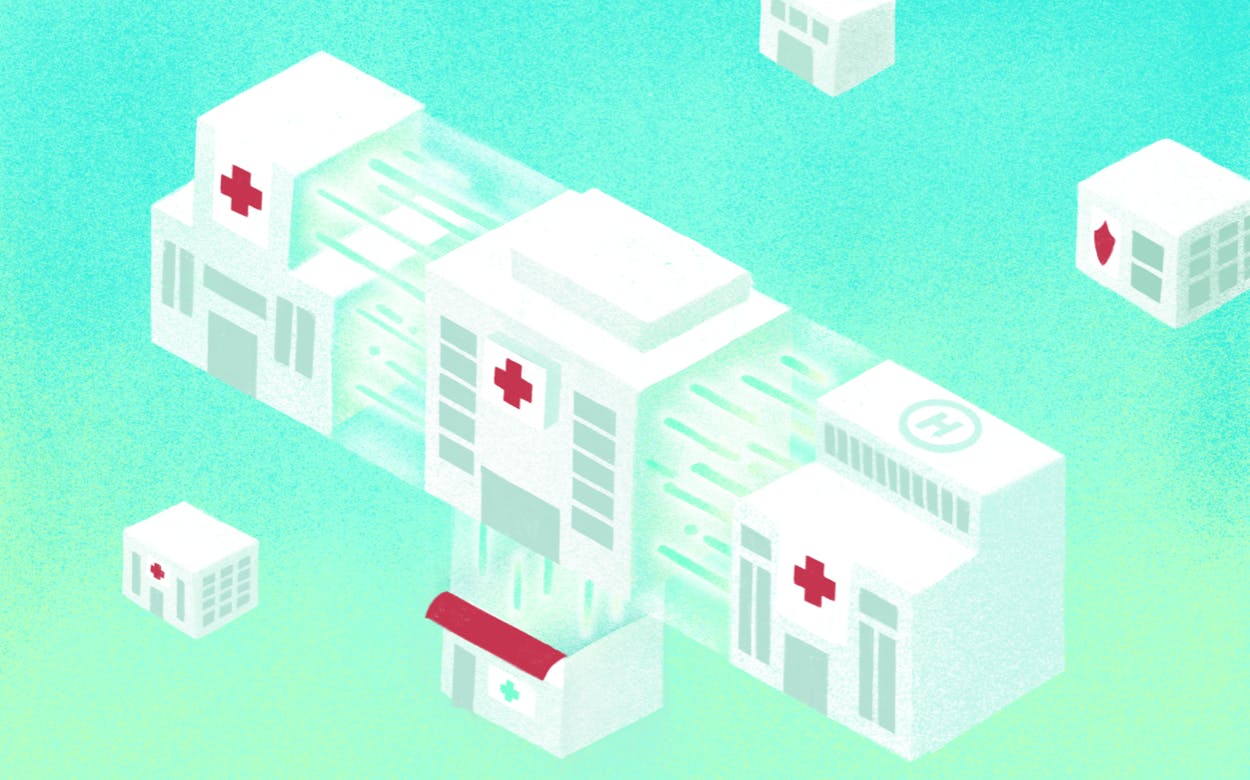 Illustration: Mary Delaney
Last week, it was announced that U.S. primary care player VillageMD will acquire its competitor Summit Health for $8.9 billion. The deal is expected to close in the first quarter of 2023. 
The deal will be the largest M&A transaction in our industry in 2022, with the largest deal to date being CVS's acquisition of Signify Health a few months ago.
Walgreens doubles down on primary care 
About a year ago, VillageMD itself was part of a massive transaction. Walgreens Boots Alliance acquired a majority stake in VillageMD for $5.2 billion, with the goal of bringing value-based primary care to communities across America. 
The acquisition of Summit Health creates one of the largest physician groups in the U.S.—providing primary care, specialty care, and urgent care. Together, VillageMD and Summit Health will have more than 680 provider locations in 26 markets.
At the earnings call in October, Walgreens CEO Rosalind Brewer announced that Walgreens sees great growth opportunities in primary care, calling the business Walgreens's "next growth engine." 
The bigger picture 
The deal is significant not only because of its sheer size, but also because it highlights a development that has been shaping the healthcare industry in the U.S. and around the world for years: the ever-increasing horizontal and vertical integration of the previously fragmented healthcare landscape. 
Horizontal integration describes the merger of competitors at one level of a value chain—for example, the merger of two or more hospital chains.
Vertical integration describes the merger of companies across different levels of a value chain—for example, the merger of primary care players with pharmacies. 
Over the past few decades, more and more independent practices and clinics have merged with larger conglomerates. For example, the percentage of hospitals that are part of a conglomerate has increased significantly in recent decades, from 10% in 1970 to 67% in 2019. Even Summit Health is the product of horizontal integration. It was created in 2019 through the merger of Summit Medical Group and CityMD, an urgent care provider in the New York metro area. 
In recent years, we have increasingly seen these large practices and hospital groups being integrated with players at other levels of the health value chain, like in the case of Walgreens with a pharmacy chain. This creates large full-service healthcare groups. 
This year alone, we have seen two megadeals of this kind:
Amazon, which entered the pharmacy business several years ago with its acquisition of Pillpack, announced in summer that it would acquire primary care provider One Medical for $3.49 billion.
In September, U.S. drugstore chain CVS Health Corp announced it would acquire healthcare company Signify Health for $8 billion. The deal will give CVS access to a network of 10,000 medical professionals who cater specifically to patients in their homes.
The benefits of merging primary care and pharmacies are obvious, as doing so gives pharmacy giants access to customers. But other elements of the health value chain are also being integrated. Both Walgreens and CVS have recently entered the clinical trials business.
The European perspective
The European healthcare market is still significantly more fragmented than the U.S. market. In Germany, for example, the vast majority of physicians still operate practices independently. 
But the number of employed physicians is increasing rapidly. For primary care physicians, the share of salaried physicians rose from 6% in 2012 to 15% in 2018—and for specialists, the share of salaried physicians increased from 11% to 26% during this same timeframe. In the U.S., the majority of physicians are now salaried. 
Funded by private equity firms, more and more large European practice and clinic chains are emerging. 
As horizontal integration continues to progress, we expect the next phase here as well—namely, vertical integration. 
The medical technology perspective 
For medical technology companies, this development is relevant for two reasons.
First, the structure of medical technology companies' customers will change. Instead of a fragmented landscape of practices and clinics, they will increasingly have to deal with fewer but larger customers.
In addition, medical technology itself can be part of a vertical integration alongside other stages of the health value chain. One example is Spotify founder Daniel Ek's healthcare startup, about which information leaked this week. The startup is not only developing a full-body scanner ("a device similar to an airport security scanner making it possible to non-invasively scan for blood pressure, irregularities in blood flow and skin conditions, and provide precise medical diagnostics"), but also operating the corresponding clinics.