New search features strengthen Google as gatekeeper between doctors and patients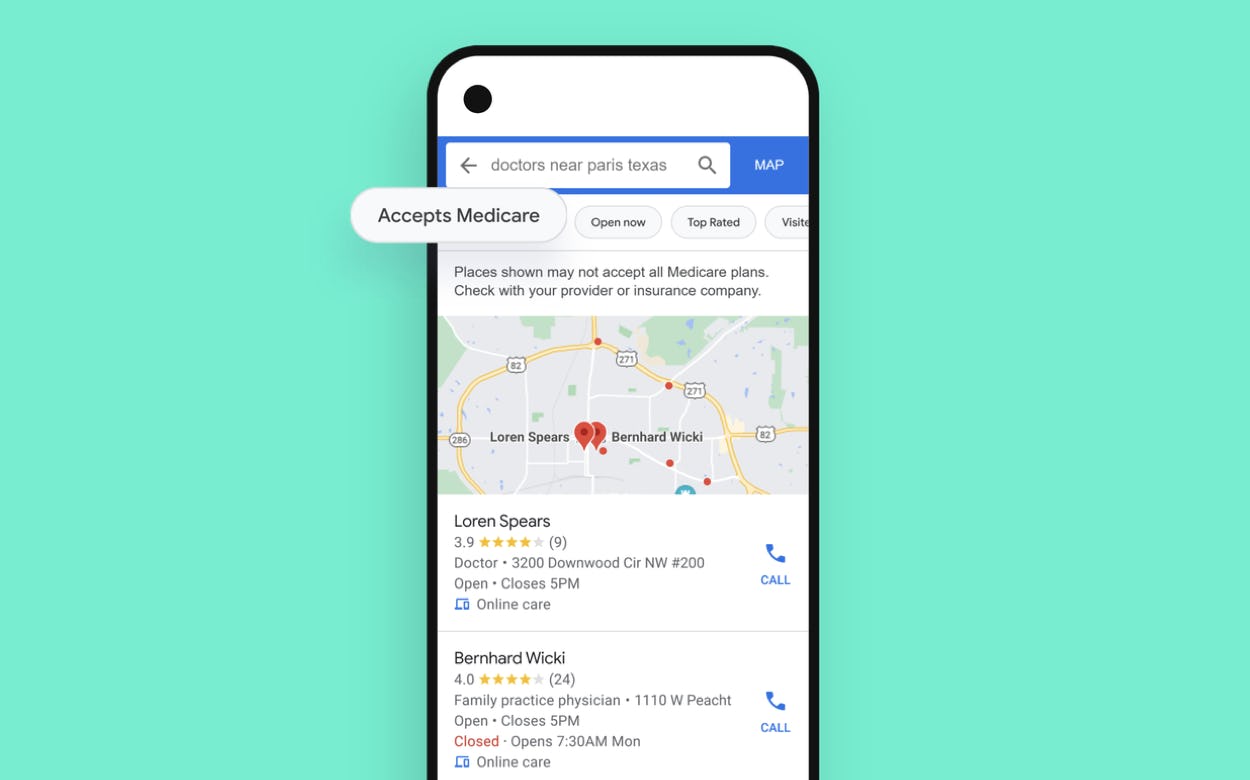 Image: Google
What happened
Google recently improved its physician search in the U.S. Here are the most important new features:
Patients can filter directly for doctors who accept Medicare or certain private insurance plans.
Also, now it's easy to see what languages doctors and practices can speak in.
If the doctor uses a service like ZocDoc to let the patient book appointments online, the user can also see that directly.
All features allow the user to spend less time getting information from doctors' websites, but still compare and decide on Google. 
The bigger picture
More and more people are seeking doctors online. While a few years ago most patients still relied on recommendations from other doctors, the internet has now become the most important source of information. That's the conclusion of a brand-new study from Press Ganey. Here are the most important facts:
Patients rely on digital sources 2.2x more than doctor referrals when choosing a primary care provider. 51.1% of patients turn to the web, while 23.8% first seek referrals from another healthcare provider.
The most important online sources are search engines, which are clearly ahead of other sources such as insurance company websites or providers. Google is by far the most important single site in the patient journey.
The most important decision-making criteria are ratings and reviews from other patients. 84% would not see a referred provider if they had a rating of less than 4 stars.
The current process for finding a healthcare provider is not optimal. 54.4% of consumers think that the process of finding and choosing a provider is difficult. 
Who should worry
The new features are only incremental optimizations, but those who know Google know where they can lead. We think it's mainly an attack on doctor comparison platforms like Doctolib or Zocdoc. 
In other industries, Google has massively attacked specialized search and comparison platforms in recent years. A good comparison from our point of view is the restaurant industry, as Mike Blumenthal shows in his great analysis. 
In the restaurant sector, Google was once far behind. Platforms like TripAdvisor and Yelp each had 10 times more restaurant reviews than Google. Since then, Google has invested heavily in local search. Users can now find restaurants in various categories, see online reviews, and book a table instantly. Today, almost 90% of restaurant reviews on Google and platforms like Yelp are largely marginalized. 
If Google plays it straight, the physician comparison platforms will have to work to avoid facing the same fate. 
What it means for healthcare providers
Google's importance in the way of patient acquisition is becoming even more important. Clinics and doctors should therefore be prepared to play by Google's rules. They should provide all the relevant information, ask their patients for good reviews, and offer online appointments. 
We know from other platform industries: Those who understand and follow the platform's rules have a clear advantage.