MedTech takes center stage at CES
CES, like everyone else, will have to wait until it can get back to normal. Nevertheless, many companies are still presenting their innovations online. We have plunged into the digital frenzy and tracked down some of the most important, curious, and exciting innovations in digital health and medical technology.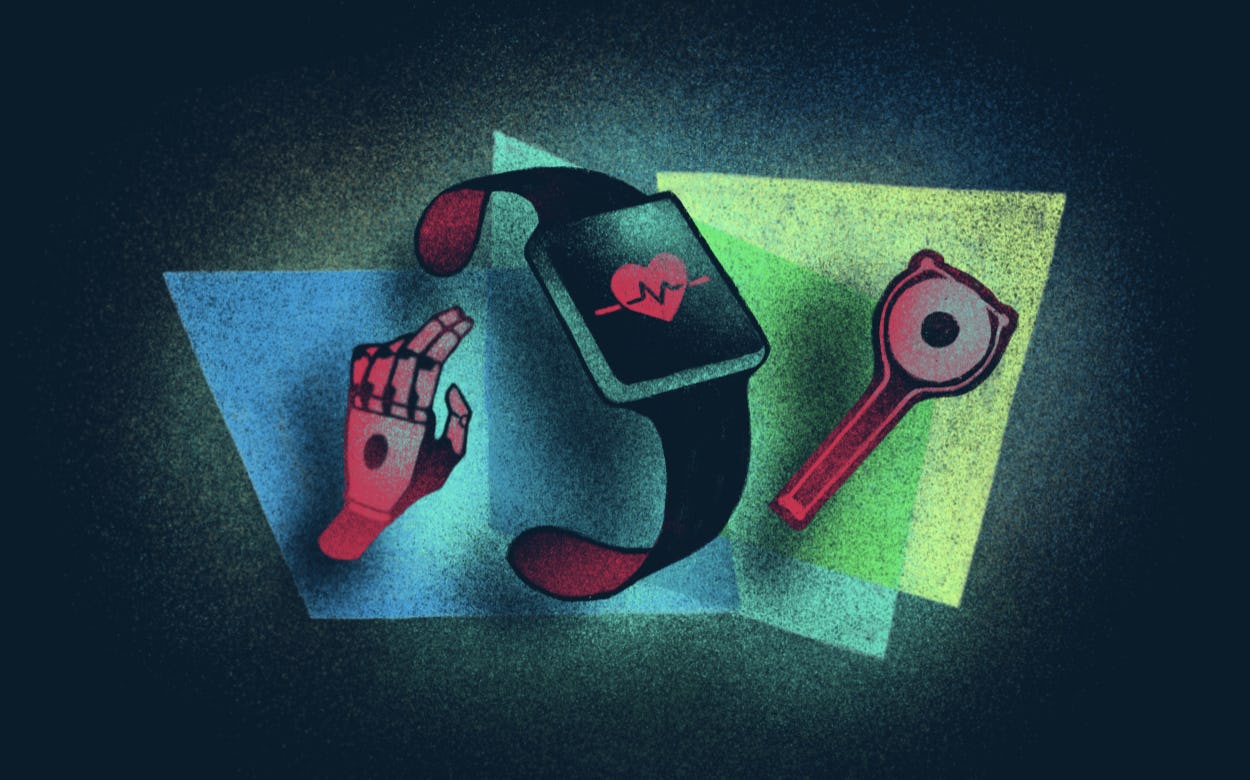 Illustration: Mary Delaney
After being canceled last year due to the pandemic, CES was looking to come back in full swing this year. But just like with all major events at the moment, we only got 20% of the total experience. This year's edition featured empty halls, lonely booths, absent tech and media companies, and record-low lodging prices in Las Vegas. From a MedTech perspective, it was still an insightful and exciting week. Here are six things that caught our attention:
Healthcare and consumer electronics are no longer two different worlds
Even though most of them are not onsite, this year's edition of CES recorded the participation of more than 100 healthcare companies. In addition, Abbott CEO Robert Ford became the first executive from the traditional medical device industry to deliver a keynote. 
This is definitely a sign of the growing acceptance of new internet and networking technologies in a previously very rigid healthcare system. Tech and healthcare have realized that they can only move forward together.
Ecosystems are the next big thing
Many health companies talked about how they want to build a service and data ecosystem around their products. One example is the partnership between Highmark Health and Bosch. They have partnered to test Bosch's SoundSee audio AI technology and see if it can detect lung disease in children. Another example is Omron, manufacturer of home blood pressure monitors. The company has laid out a roadmap for building an ecosystem of healthcare services around its products, including a broad expansion of its remote patient monitoring services in the U.S. and a global rollout of a hypertension-focused service in the UK. 
Ecosystem strategies are nothing new in the digital world. With increasing connectivity and remote services, healthcare companies are now also starting to think about how they interact with partners, competitors, and startups. Be it at the product, data, or service level, the more the focus is on the patient and their needs, the less you can avoid seamless ecosystem experiences.
Gadgets beyond your wildest imagination
Sengled has unveiled by far the most controversial health gadget. They presented a system of networked light bulbs that can monitor a home 100% virtually and detect human behavior. The health bulbs are designed not only to detect whether someone has fallen within the room and call for help, but also to track your sleep and vital signs like your heart rate with radar waves. Of course they are smart home-ready and connect with Amazon Alexa, Google Assistant, Apple HomeKit, and Samsung's SmartThings.
Brave new connected world. The press release doesn't mention privacy, and the idea of being watched by light bulbs around the clock will scare off more than a few people. The bulbs are still in development, so you'll have to wait a bit before you can realize your personal 1984 smart home dream. But technologically, this type of system does not seem problematic. Although we don't think the technology will make it into every home, deployment in hospitals, nursing homes, and other care facilities may make sense.
Second-row tech manufacturers start to ride the telehealth wave
LG has announced that all its 2021 and 2022 smart TVs will feature a health education and telemedicine app from Independa, the senior-focused health platform. 
The news may not sound particularly exciting; after all, almost every adult in the world today has a smartphone in their pocket. But it does highlight how easily and quickly internet services can scale if the smart interface lets them. In principle, every screen today is controllable (via pre-build features or retrofitted) and serves as a channel for health services. We are only at the beginning of a major transformation.
A flood of new health-focused wearables and smart home gadgets is coming
CES is known for blurring the line between pointless gadgets that will eventually end up on home shopping TV and useful innovations. This is also true for wearables and smart home appliances designed to help you stay healthy. You can question the usefulness of the innovations that follow, but it's still fun to see what's possible:
ElderTech or AgeTech establishes itself as a promising startup area
Technology is not just a pastime for young people. At this year's CES, startups in the field of ElderTech are showing how modern digital health platforms, devices, and services can help older people live more pleasant lives. At CES, attendees presented mobility aids, health monitoring platforms, and services for long-term financial planning, among others.
AARP Innovation Labs, an AgeTech incubator program, unveiled a list of ElderTech startups in the community, clinical, wellness, financial services, and housing categories during its virtual CES presentation. TechCrunch took a closer look at the startups. 
The abovementioned announcement from LG fits into this pattern as well. Also worth mentioning is Eargo 6, a new hearing aid from medical device startup Eargo. The 2021 trend toward new, smaller, and more connected devices seems to be continuing. Medical devices and consumer electronics are converging.
Other CES startups that use a combination of IoT sensors, AI-based tech, and mobile apps include Nodeus Solution, Caregiver Smart Solutions, UTech, and Smart Macadam.