It's complicated—Apple's relationship with the MedTech industry
Last week, Bloomberg revealed exciting insights about new health features from Apple. We believe the rumors will give some digital health startup founders at least a handful of sleepless nights.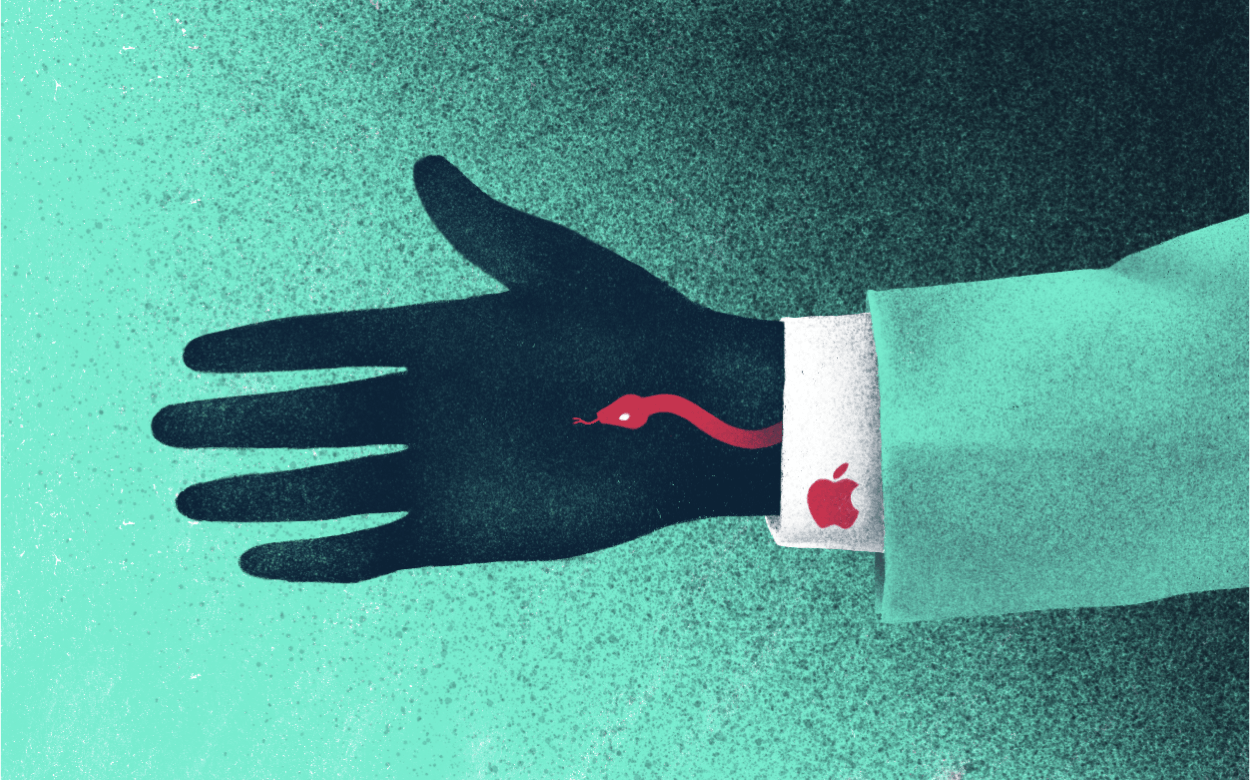 Illustration: Mary Delaney
What Apple is planning for 2022
The updated 2022 version of the iPhone Health app is expected to feature:
An expanded sleep tracking functionality.
A medication management tool. 
New women's health features.
Emergency texting and SOS response over satellite networks.
For its Watch, Apple is planning:
A body-temperature sensor to help with fertility planning.
An upgraded atrial fibrillation detection solution.
Products become features
Today many of the above features are standalone product categories.
There are countless companies (both hardware and software) that focus on sleep tracking. The same thing goes for the fields of medicine management and women's health.
In period tracking alone, there are several dozen players. One of the best-known is the Berlin-based company Clue. CEO Ida Tin addressed the "skewed power distribution" between Apple and app developers three years ago.
All these companies run the risk of their standalone product becoming an iPhone feature. 
A long history of copycatting
If you want to know how quickly a (health) app can be destroyed by Apple, simply look at the history of DoApp.  
Do you know the iPhone's flashlight feature? Chances are you do—but did you know that it was a product once? 
DoApp, a small company of Minnesota-based software developers, built the first flashlight app myLite, which reached 10 million monthly users in 2013. After the announcement of Apple's flashlight feature, income from MyLite "fizzled down to essentially zero" over the course of several months, according to DoApp CEO Wade Beavers.
Many app developers complain that Apple has a track record of copying the most successful apps. There's even a word for this practice: sherlocking. 
Years ago, Apple had a search tool called Sherlock, and the company Karelia Software developed an alternative called Watson that adopted Apple's approach to building a web search app. Apple then added the exact same functionality to the next version of Sherlock, and Watson died.
Remember: Apple has big plans in healthcare 
In 2019, CEO Tim Cook stated: "If you zoom out into the future, and you look back, and you ask the question: 'What was Apple's greatest contribution to mankind?' It will be about health. We're democratizing it. We're taking what has been with the institutions and empowering the individual to manage their health."
Besides the Health app, the Watch is currently Apple's most important asset in the health market. Apple dominates the smartwatch market with its device and is responsible for more than 50% of all smartwatches sold. The second most important player, Samsung, sells just a quarter as many smartwatches.
One lesson: A friend can quickly become an enemy
Apple is a perfect partner for many in the healthcare industry, as it offers both distribution and extremely valuable health-related data. 
But almost everyone in the healthcare industry who works with Apple should be aware that they are dealing with a potential competitor.  
This year, it's hitting digital health app developers hardest—but could it also hit the MedTech industry? 
Bloomberg reported: The company (Apple) also has teams working to add noninvasive blood sugar monitoring to the watch, a move that could be a boon to diabetics. That feature is still several years away and hasn't been assigned a target year of release yet. In the interim, the company has discussed adding improved support for third-party glucose meters to the watch and the iPhone's Health app. 
This sounds like great news for the device manufacturers in the short term—and a dangerous threat in the long run.