How startups aim to bring back healthy sleep
In the eyes of science, we should spend about one-third of our lives sleeping. And although it's the most natural thing in the world, we've unlearned how to sleep well.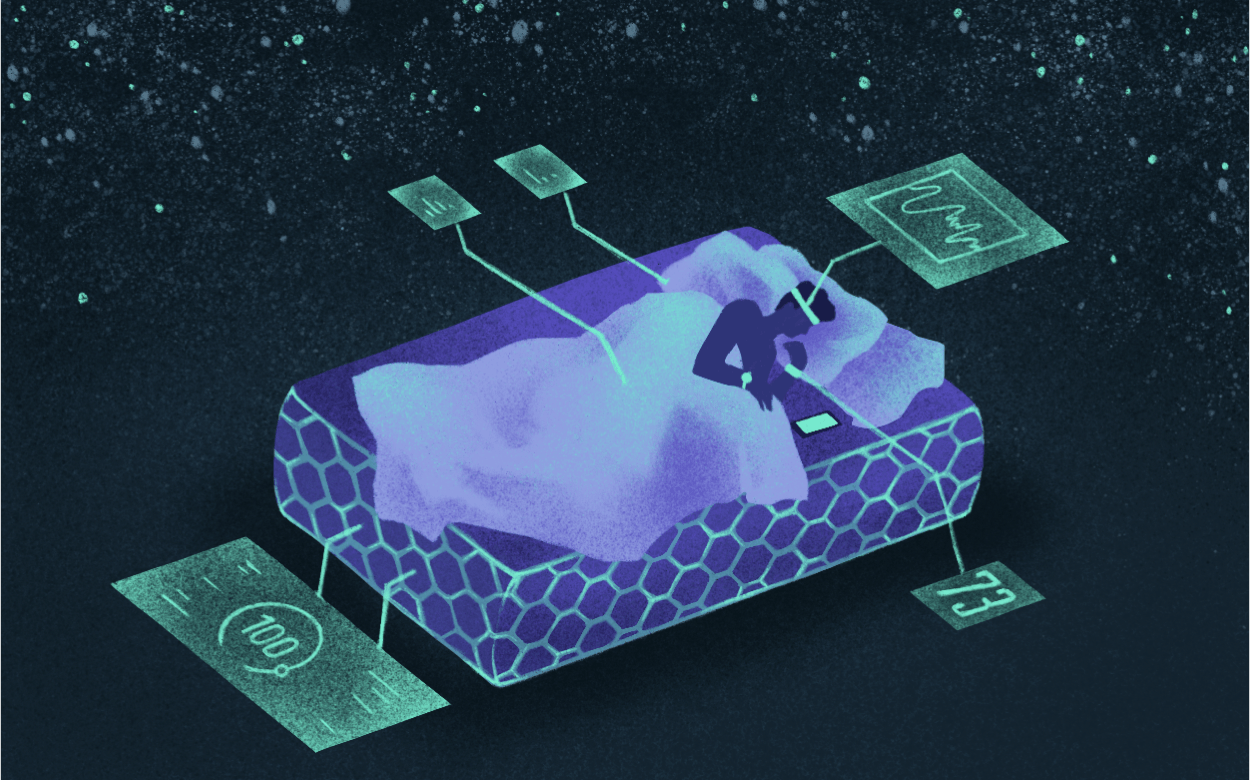 Illustration: Mary Delaney 
How bad sleep became an industry
More than half of all people get less sleep than science recommends (read more about this in our chart of the week). And that doesn't just make us tired—it makes us sick. 
Lack of sleep has shown to weaken our immune systems and increase the likelihood of obesity, mental health issues, diabetes, and other illnesses.
In recent years, the problem has gotten worse. So it's no wonder that a large industry has emerged to help people sleep better. 
According to a study by Frost & Sullivan, the global sleep economy (the products, services, and applications connected to sleeping) is worth half a trillion U.S. dollars. 
Established medical technology companies, and especially startups, are working on innovations to help us sleep better once again. 
In 2020, $611 million was invested in sleep tech startups. Here are the innovation areas we find most exciting.
Sleep tracking
Fitness trackers are ubiquitous today. Last year alone, more than half a billion fitness trackers were sold. And many of the devices no longer just count steps—they also measure sleep. 
With the Whoop bracelet or the Oura ring, users can measure their sleep phases and thus improve their sleep. 
There are also medical devices designed to help users analyze their sleep. Onera Health, for example, announced last month that it received FDA clearance for its patch-based sleep testing system.
Another device comes from the Zurich-based ETH spinoff Sleepiz, whose device measures movements originating from heart contractions and breathing patterns, as well as body motions with medical grade accuracy. It is capable of diagnosing sleep apnea, a disease from which more than 1 billion people suffer worldwide.
The exciting thing about these devices is that they help people analyze their sleep at home. A few years ago, you had to visit a sleep lab to do this. 
The company Dreem launched a few years ago with a sleep analysis headband. Recently, they started offering a full-fledged sleep clinic via telehealth.
New sleep apnea treatments
New technologies can help not only in the diagnosis of sleep apnea, but also in the treatment of this condition. 
Typically, sleep apnea is treated with so-called CPAP (continuous positive airway pressure) masks, which continuously deliver compressed air via tubes into a mask you wear while you sleep.
Smart mattresses
Today health features are built into smart bracelets, smart toilets, smart scales, and smart mirrors. And of course, into smart mattresses as well.
EightSleep is the leading smart mattress startup. Founded in 2014, the company has since raised $162 million in venture capital.
The company's mattress contains several sensors such as piezo films, ballistocardiography, and temperature sensors. It can detect heartbeats and breathing patterns, and continuously adjust temperature.
A few weeks ago, the company acquired Span Health, a fitness-tracking app that offers personalized health recommendations for users. 
Sleepy soundscapes
Soothing music can help us fall asleep faster. Meditation apps Calm and Headspace have each raised more than $200 million in venture capital. Both apps offer special podcasts and soundscapes designed to make falling asleep easier.
Meanwhile, Berlin-based startup Endel works with sleep experts like SleepScore Labs to create a personalized sound environment for every aspect of sleep.
Both adults and children have trouble falling asleep. This is exactly where startups like Snorble and Moshi come in—supporting children in their effort to wind down. 
Our perspective 
As is often the case, the healthcare industry focuses on the illnesses that result from poor sleep. This is why it's great that there are so many startups that help people return to better sleep.
Nevertheless, we should also think about why we sleep so much worse than we did previously. According to a study Philips conducted last year, stress is the number one barrier to a good night's sleep.