How digital health devices help unhoused patients access care
When you think of a medical device, do you picture a GPS tracker? We'd bet the answer is no.
But healthcare providers working in the field with unhoused people in Los Angeles might change your mind.
In LA County, almost 70,000 people don't have homes per the 2022 census. Many of these people live in fear of the police sweeping their encampments, leading them to move frequently. That makes locating their patients the first order of operations for medical providers serving this population.
A STAT feature on these providers details how homeless outreach organizations in LA have begun experimenting with different forms of technology to help them better serve their patients. Some—like the GPS trackers—have been more successful. Other experiments, like reaching remote patients using telehealth, haven't stuck.
Dig in with us to explore what these providers have learned from their use of technology and digital health tools in the field. And see what we think this story can teach us about medical innovation.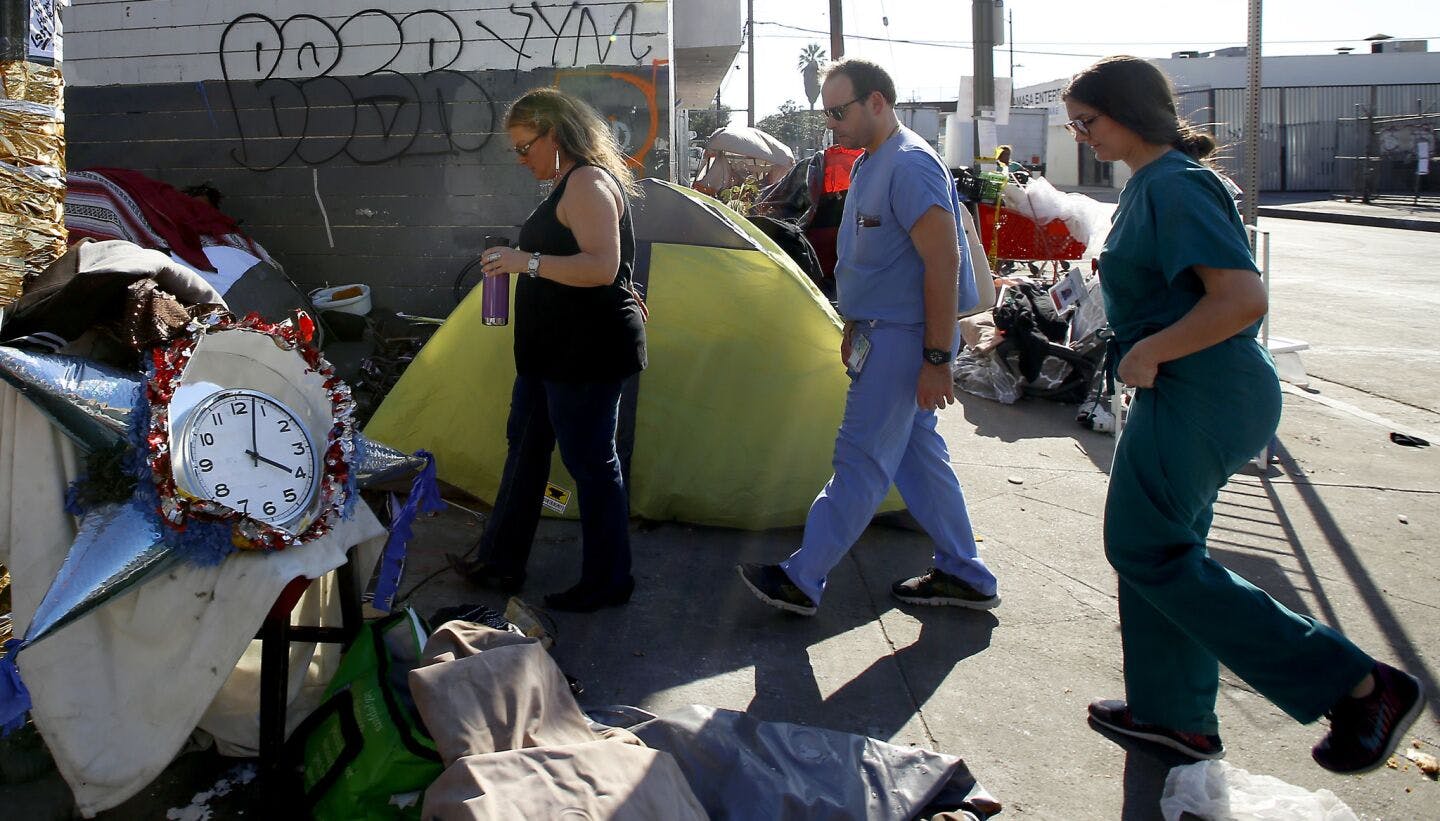 Image: Los Angeles Times
An immense, unmet healthcare need
For the tens of thousands of unhoused people living in LA County, traditional healthcare is beyond challenging to access.
Some of these patients avoid traditional providers and clinics due to stigma from fellow patients and clinicians themselves. Others can't easily access the care when they do seek it out, because many traditional medical offices don't take walk-ins, especially not from new patients. As a result, many unhoused people tend to not get preventative care, and their health conditions tend to worsen to the point where they end up in preventable emergency department encounters. 
Social services organizations with "street teams" of healthcare providers aim to bridge this gap, coming to see unhoused patients outside of traditional brick-and-mortar clinics. But even then, they face challenges with getting patients to follow-up. Many patients don't have phones, so keeping track of time to make appointments is a challenge.
"It's really hard to have a good sense of time when you live outside," said Catherine Parsekian, a physician assistant at Healthcare in Action. Her team, which treats roughly 10 patients a day, always reminds patients they see of the current day and time when they visit.
For these providers, GPS works better than telehealth
But what if providers didn't need to rely on their patients to follow up with them at all? Following this hunch, last year, Healthcare in Action, started using Cube GPS trackers to help them locate their patients. 
The devices joined a toolbox of field-ready devices these providers rely on to provide thorough healthcare in unpredictable settings—including portable blood pressure cuffs and point-of-care ultrasounds connected to iPads. 
While prompting fears of surveillance in some patients, the providers' use of these devices has overall helped to grow trust between them and their patients. They're able to visit more often and pay closer attention to individuals' needs. And they don't insist if a patient isn't willing the use the tracker.
"I always couch it in a conversation about privacy," physician assistant Robert Finch said. "It's simply a way for us to find you, to make sure you have access to the resources you need and quite frankly deserve … Some people jokingly compare it to an ankle bracelet, but they'll accept it."
While this innovative technology experiment has taken off, Healthcare in Action has experienced some disappointments with what many readers will identify as a more "traditional" form of medical technology: telehealth. Patients didn't always have reliable WiFi access—or a private place to take a call. Even after trying to hand out phones to some patients who didn't have them, many patients lost or had the phones stolen.
A different perspective on medical innovation?
One lesson about medical innovation comes to mind from this story: Sometimes the most creative solutions involve using existing technologies in new ways. 
In traditional medtech innovation, this can look like taking advantage of off-label uses of available tools or therapeutics. But when you're treating a hard-to-reach patient population with a limited, social services budget, innovation can look like simple thinking outside the box with the tools you can afford. 
Headlines about our industry after fixate on new discoveries and technological advances that make the public think of science fiction. But sometimes the best medical innovation is the simplest interpretation of all: providers using their existing, easy-to-use tools to better connect to their patients. No complex training or significant digital literacy involved.