Healthcare haptics—from disability access to next-level telemedicine
Have you watched Prime Video's popular series The Peripheral?
Whether you have or not, the show's premise is one familiar to many serious gamers: Haptic technology brings video games to the next level through sensory stimulation.
But in our world, these devices are changing assumptions about sensory limitations, too. 
New applications of the tech—like helping deaf people enjoy live music more—are making us ask: How can the medical field take advantage?
Dive in with us as we explore the latest medical applications of haptic technology. We have a hunch you'll really feel our excitement—not haptics needed—for how these devices are redefining accessibility in medicine.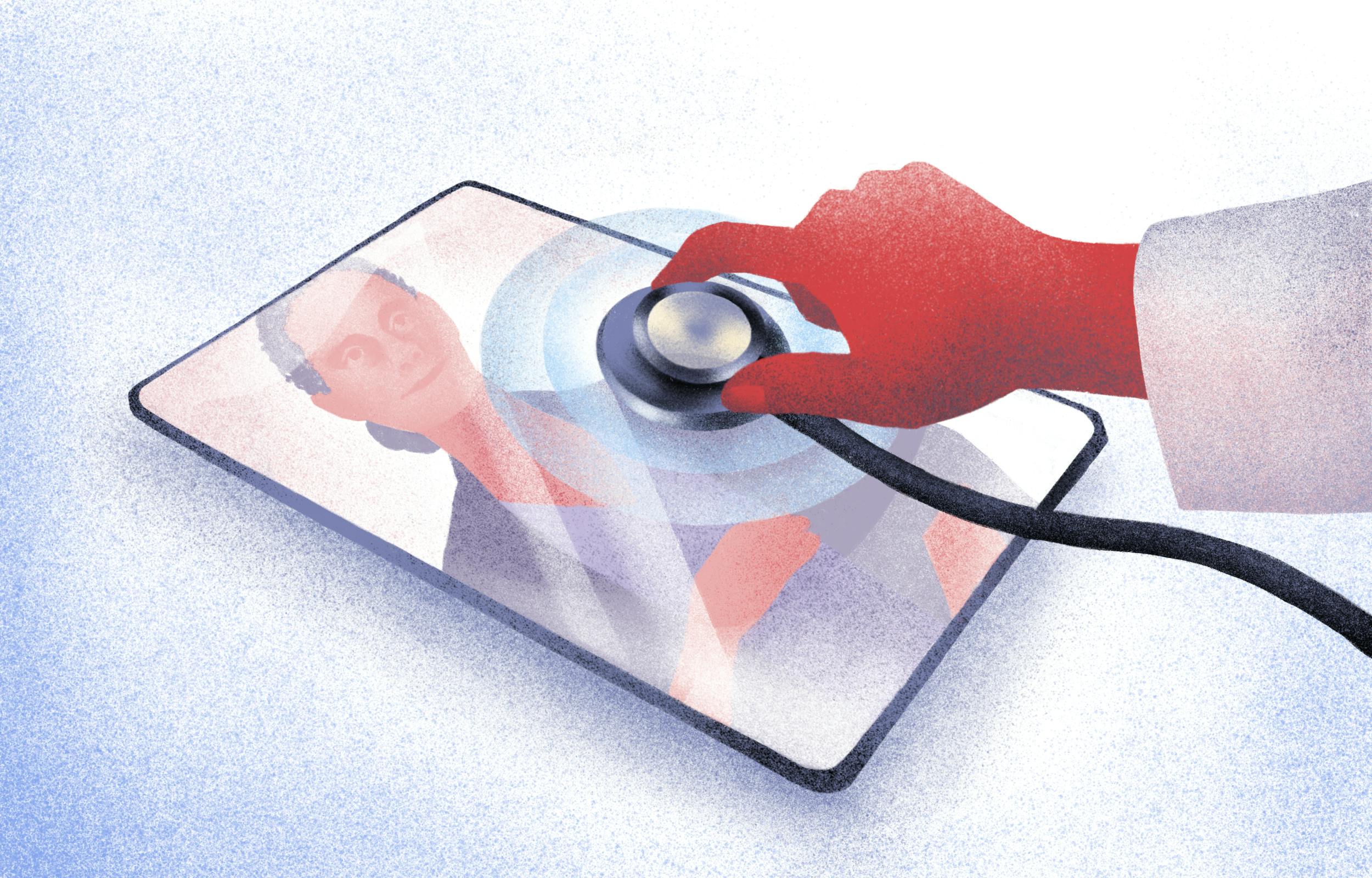 Illustration: Mary Delaney
Better medical AR through haptic tech
We've discussed the power of AR to improve surgery before. Simulating touch via haptics is in itself a way to extend reality. Adding them to existing medical AR applications amplifies these technologies' value.
In fact, haptics are part of how we're building hyperrealistic medical training for tomorrow's providers.
One way we'd illustrate this is to invite you to imagine how the use of medical haptics can increase how life-like AR demonstrations can be. Many dental schools even began using a paired haptic and VR simulator to train students during the early days of the pandemic.
"Many off-the-shelf haptic devices are like a stylus attached to a robotic arm, so it naturally feels like a drill," medical imaging developer Roman Vlasov said.
But feeling like a tool is an extension of your arm is not where the magic of haptics ends. One of the coolest use of haptics in medical training that we've heard of is a Merck project called My Other Life. The immersive experience helps doctors understand multiple sclerosis better by literally letting them feel its symptoms—by altering their hearing, sight, and sense of smell. The project's graspable controllers also numb users' sense of touch via vibration.
Haptics for better telemedicine
Returning to the clinical context, research suggests that haptic-enabled AR telehealth consultations can be effective. 
In fact, one of the most significant potential future applications of haptic tech in healthcare addresses a downside of telehealth: the lack of touch. Haptics can transform the power of remote medical exams.
Rather than being limited by the two-dimensional nature of standard telehealth appointments, virtual appointments enhanced by haptics can help providers see beyond how tissue looks. They can feel, for instance, the firmness of the patient's flesh.
Telehealth continues to be more effective for some specialties, like mental health, than others, like dermatology, where the in-person component of care is critical. So, haptics' enhancements to our current telehealth status quo are poised to potentially level some of the playing field, allowing more patients—and providers—to benefit from the wider access to care telehealth provides even now.
Haptics for people with disabilities
Increasing the efficacy of telemedicine is not the only way medical haptics may be improving the accessibility of healthcare in the future. 
Haptic tools specifically for people with disabilities are making it easier to interact with software and three-dimensional renderings. For instance, a tactile display can help visually impaired patients—or perhaps even clinicians—better be able to access and use online health tools and understand medical imaging.
But perhaps the most evident way in which haptics are transforming healthcare's accessibility is through how they're improving the control of smart prosthetics. A Johns Hopkins and Drexel study found that adding haptics to prosthetic hands lowered patients' mental loads—something they could literally see via neuroimaging. By lowering that mental effort, tasks were easier to control and perform using the prosthetic.
Our perspective: Haptics show us where we can make our existing tools better
Don't get us wrong. The technology that gives us telemedicine is incredible. Years ago, we couldn't have imagined how many more patients healthcare would be able to help through the large-scale rollout of virtual care.
But that also means we have a duty to constantly strive to make these tools better. After all, innovation isn't just about uncovering technology that doesn't yet exist. It's about making the tools we already know and trust better for providers and patients.
Especially when it comes to helping people with disabilities, we don't need to settle for the tools we already have. These applications of haptics show us that we can—and we should—do better. Ultimately, it comes down to user-focused design. A medical tool can work well, but if we can make the experience more natural and comfortable for the patient, we think the design effort is worth it.
As researchers and designers keep innovating, we're excited to see what's next to come in the world of healthcare haptics. Though we're not keen to live in a video game, we think this gaming-inspired tool might just be what helps us level up our field's approach to accessibility. And that's something to celebrate.