Digital health is shifting to B2B in 2023
If you think you've noticed some of your favorite DTC health brands, like Calm, starting to partner more with companies rather than advertising solely to consumers, your eyes aren't deceiving you. The digital health industry is undergoing a shift to B2B, which we believe will continue through 2023.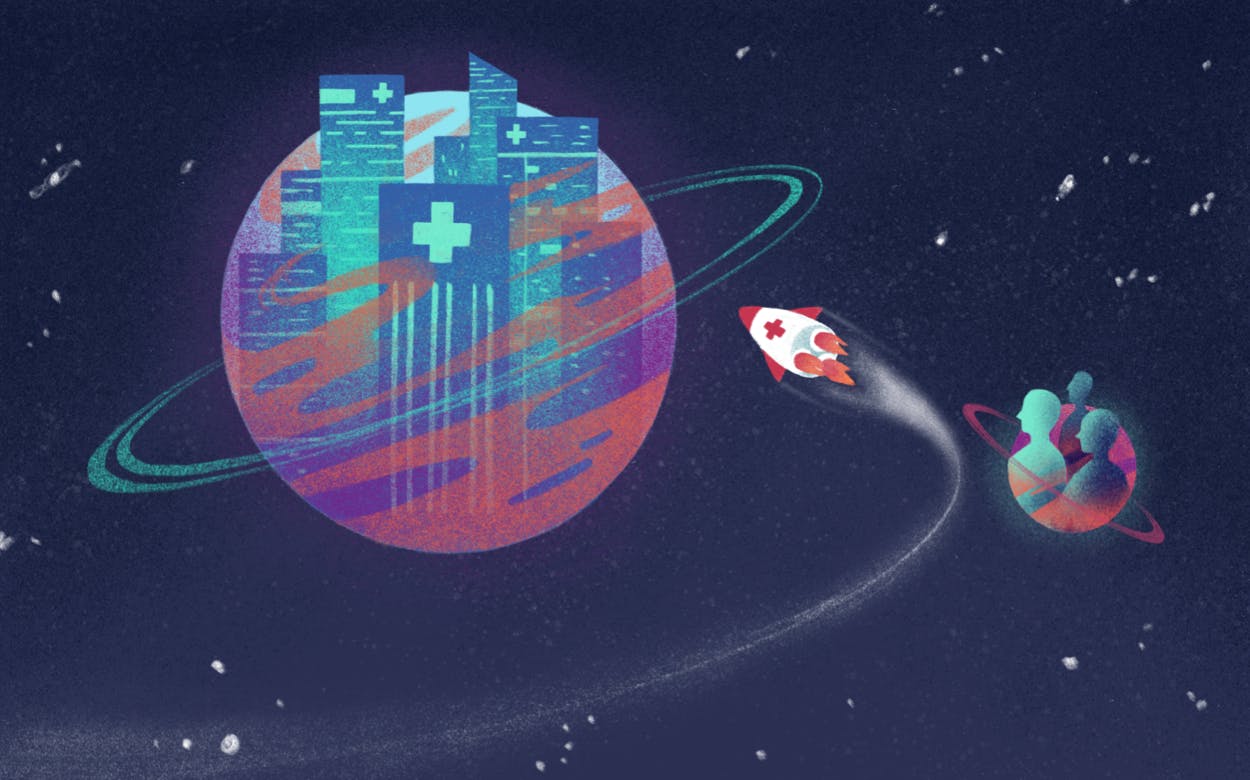 Illustration: Mary Delaney
As digital health funding slowed significantly in 2022 compared to 2021, many companies in the space have shifted from DTC to B2B.
Some of the industry's biggest players have embraced the trend. For instance, Calm, Cost Plus Drugs, and GoodRx have all shifted their strategies to favor B2B employer and payor partnerships alongside their DTC efforts.
What's behind this digital health trend?
The math isn't complicated. In an economic downturn, consumers are less willing—or simply unable—to spend money, and consumer-driven companies suffer.
The shift in digital health toward B2B is an indicator of this macroeconomic situation, with consumers having less disposable income to spend on DTC health solutions. In comparison, B2B appears to be a safer bet for big companies and startups alike.
As Healthcare Huddle's Jared Dashevsky said recently, "The direct-to-consumer space isn't dead but is becoming a scary place to do business."
In an interview with Digital Health Business & Technology, DarioHealth President Richard Anderson spoke just as bluntly: "The market is the market. You can like it or dislike it, but it's still the reality. 
"If you're B2C, there's less interest in spending money," Anderson elaborated. "If you're B2B and your value proposition is that you can make a company's members healthier and, therefore, you'll spend less money on them, this resonates even more in economic downturn."
For companies with both DTC and B2B offerings, like DarioHealth, this means prioritizing simply breaking even on the DTC side—and reinvesting any money saved in the B2B side of the business.
And according to ACME Capital partner Aike Ho, DTC in digital health is generally an uphill battle with high advertising costs. So while the pandemic shepherded in DTC healthcare growth, this may have been a temporary spike outside the status quo, predicated on increased concern about personal health and the demand for at-home health solutions during lockdown periods.
When it comes to startups, Aegis Ventures' John Beadle commented that with a lower deal volume and smaller funding checks this year, companies looking to to maintain their high valuations from 2021 need to "be generating clear value to customers and compelling ROI metrics, but also demonstrating a path to profitability and scalable unit economics."
Beadle agreed that the shift to B2B is part of many companies' strategy to demonstrate that likelier profitability down the road for 2022 and 2023's less bullish investors.
The growing promise of workflow solutions
One area of B2B digital health development we'll be watching this year is clinical and non-clinical workflow solutions.
Rock Health moved workflow from #7 on their ranked list of top-funded value propositions in 2021 to #1 at the start of Q4 2022. With deals like Alma's $130 million Series D, Grow Therapy's $75 million deal, and Tebra's $72 million funding round, it's easy to see why.
This area of development is especially crucial for the U.S., which the Commonwealth Fund ranked last in a list of its peers when evaluating healthcare systems' administrative efficiency.
Chances are you don't need convincing that clinical workflows are critical (or even the difference between life and death for patients). Prolific writer and physician Atul Gawande wrote a whole book on the topic.
Yet even with no direct impact on patient care, administrative bottlenecks and inefficiency have widespread negative impacts on healthcare systems. This can be traced back to individual providers.
As Dashvesky put it, overwhelming bureaucracy leads to clinician burnout—which leads to additional providers leaving the healthcare workforce when we need them the most. 
"Therefore, any startup that can improve workflows by streamlining 'trivial' tasks for the clinician will allow the clinician to spend more time focusing on patient care—the reason they originally went into medicine," he said.
We agree with the urgency of this characterization. As digital health embraces this new B2B-prioritizing status quo, we applaud the rise of workflow solutions that'll improve providers' work lives—and benefit patients downstream.