Amazon enters primary care with an expensive bargain
Last week Amazon announced it would acquire primary care company One Medical (1Life Healthcare, Inc.) for $3.49 billion. 
One Medical operates 182 medical offices in the U.S. Customers pay a yearly subscription fee of $200 for access to the platform's physicians and virtual digital health services. 
One Medical is slated to be Amazon's third-largest acquisition in the company's history, after organic grocery chain Whole Foods ($13.7 billion, 2017) and the film studio Metro-Goldwyn-Mayer ($8.5 billion, 2022).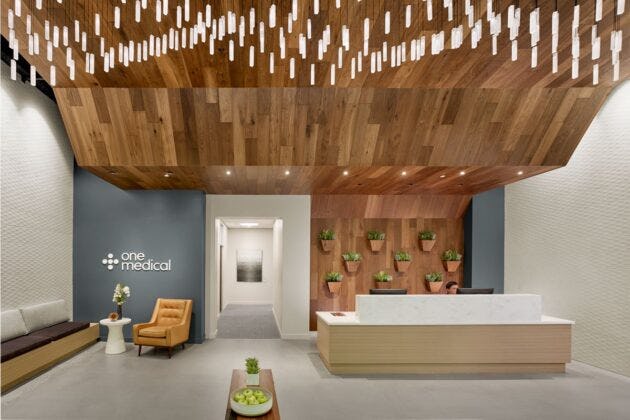 Image: One Medical
The bigger picture
The acquisition is Amazon's biggest move in the healthcare market, but not the company's first:
Amazon entered the pharmacy market in 2017 with the acquisition of Pillpack. With One Medical, Amazon offers not only drugs, but also the doctors who prescribe them.
With Amazon Care, the company has built a virtual care service for its own employees. It offers the service to other employers as well. 
With Alexa Together, Amazon has created an elderly home care service. 
In the announcement press release, Neil Lindsay, SVP of Amazon Health, suggests that the One Medical transaction is just another building block on the path to an integrated healthcare offering: "We think health care is high on the list of experiences that need reinvention. Booking an appointment, waiting weeks or even months to be seen, taking time off work, driving to a clinic, finding a parking spot, waiting in the waiting room then the exam room for what is too often a rushed few minutes with a doctor, then making another trip to a pharmacy—we see lots of opportunity to both improve the quality of the experience and give people back valuable time in their days."
In the United States, health plans are mostly run by employers, which brings us to Amazon's significant unfair advantage in its closed healthcare system: being its own customer. Amazon has more than 1 million employees in the U.S. Last year, J.P. Morgan predicted that the company will overtake Walmart as the largest U.S. employer in 2022. 
An expensive bargain
$3.49 billion is a lot of money—but compared to One Medical's February 2021 valuation, it's still a bargain. Amazon acquired One Medical for 44% of its market cap 17 months ago. Before the deal was announced, One Medical was trading below the price of its 2020 initial public offering.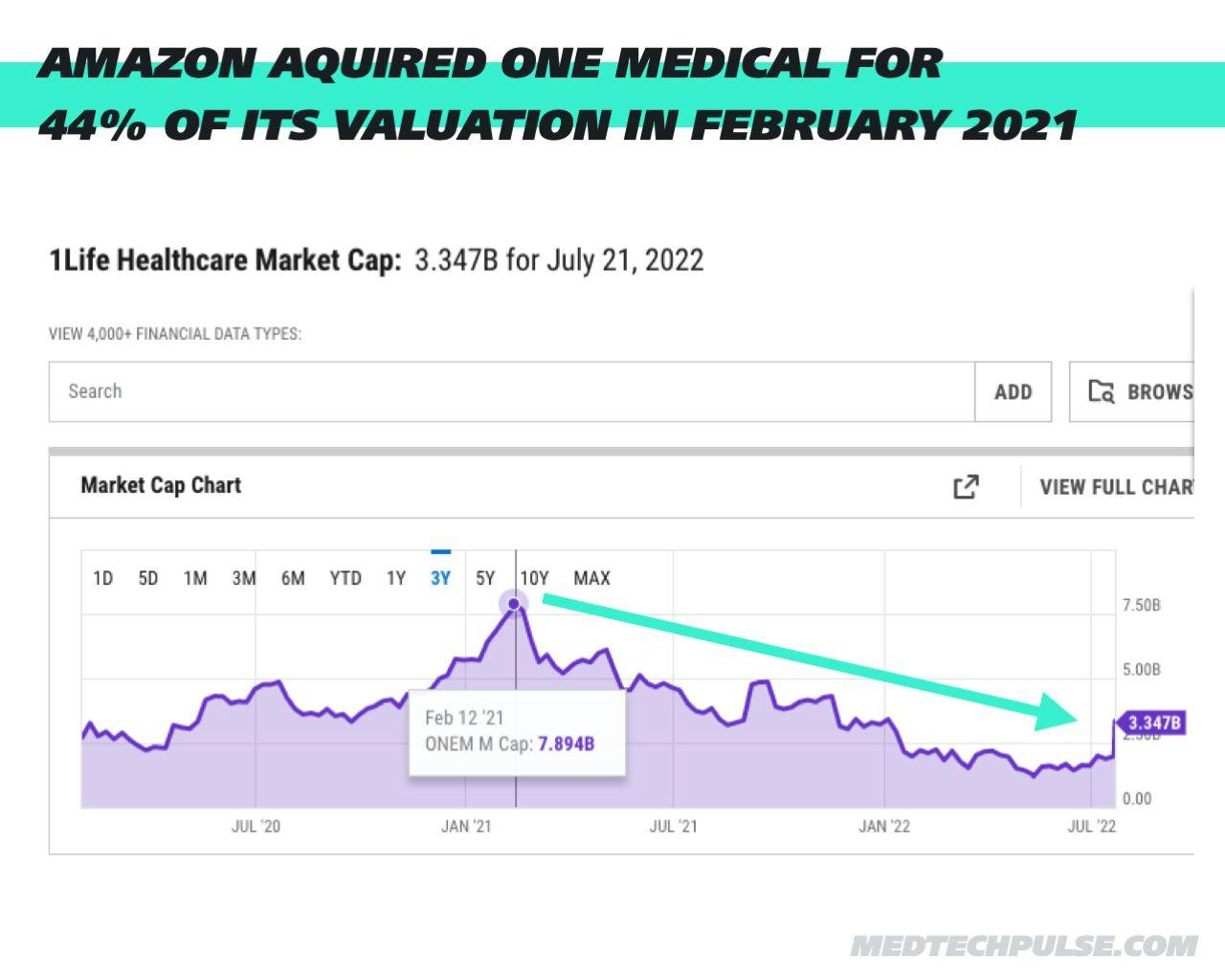 We believe that the deal was just the kickoff to a hot M&A autumn, as there are many digital health companies out there whose valuations have fallen massively in the last few months. The bargain hunt is on.