A new generation of wearables keeps track of our mental health
So far, wearables have mainly helped us keep track of our physical health. Now mental health is coming into focus.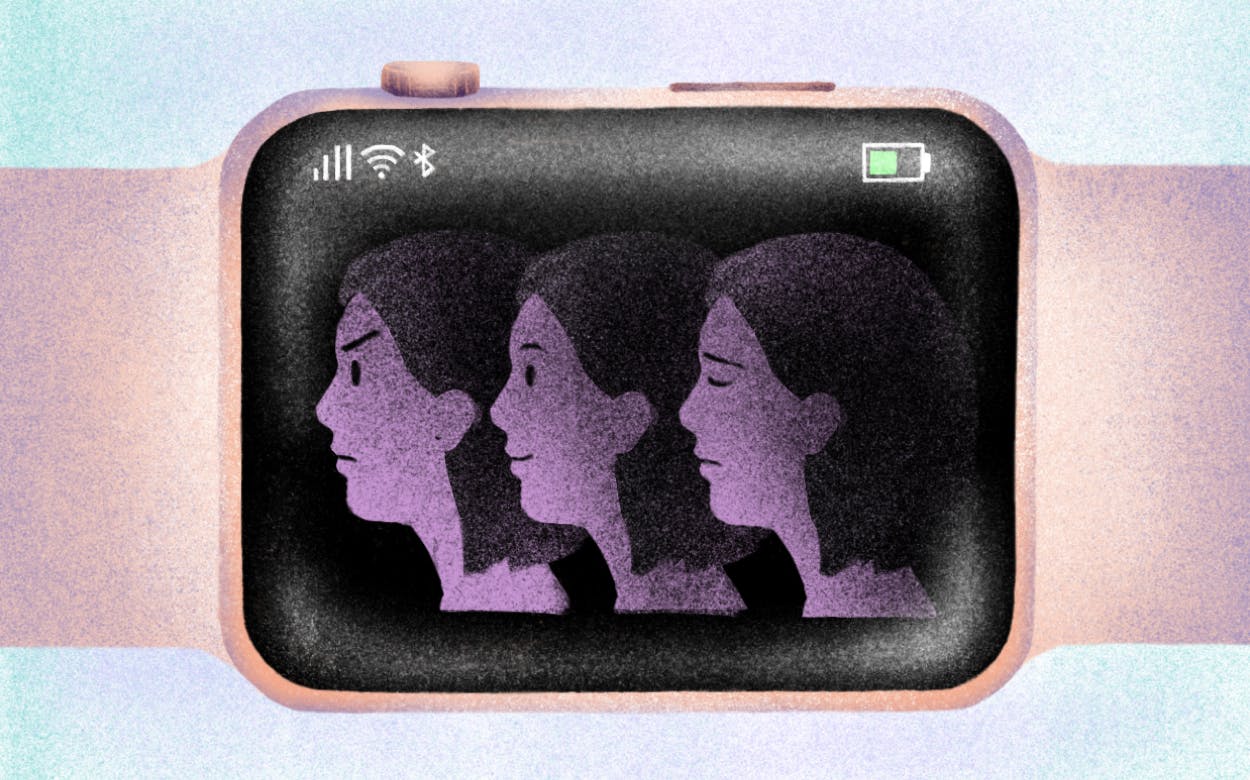 Illustration: Mary Delaney
One ring to relax them all
One company that wants to focus on stress tracking is Happy Health. The company works on a ring—the Happy Ring—that promises to continuously measure the wearer's stress level.
To this end, an EDA sensor is integrated into the ring, measuring the electrodermal activity of the skin resulting from changes in sweat gland activity.
In an accompanying app, users can track how their stress level has developed over the course of the day. The company aims to help users not only measure their stress levels, but also cope better with stress. 
Stress is not bad per se. It keeps us alert, motivated, and ready to avoid danger. For example, facing an important milestone at the office, a stress response might help your body work harder and stay awake longer. But stress becomes a problem when stressors continue without relief or periods of relaxation.
Happy Health, cofounded by Tinder founder Sean Rad, aims to teach us the difference between healthy stress (which aids in performance) and toxic stress. Users get personalized insights on how to manage stress and can follow close friends to share how they're feeling and manage stress together.
The rise of mental health tracking 
Happy Health was founded in 2019 and just announced a $60 million Series A round led by ARCH Venture Partners. But it's not the only wearable company focused on mental health.
Fitbit is trying to differentiate itself from the top dog Apple by addressing stress and mental health. The recently introduced Sense 2 smartwatch has a sensor to continuously measure electrodermal activity. Combined with heart rate, skin temperature, and other metrics, it is supposed to accurately determine the wearer's stress level.
The Amsterdam-based startup NOWATCH claims that its wearable can predict the user's state of mind up to 60 minutes in advance. Its sensor was developed in partnership with electronics giant Philips. NOWATCH recently announced a $8.7 million funding round.
Other players are also focusing increasingly on mental health, even if their products do not yet have EDA sensors. The Oura ring measures stress levels via heart rate variability. 
From niche to mainstream
Currently, stress tracking is still a niche topic in the wearables space. We believe it will soon be as commonplace as activity, sleep, and heart rate. 
Stress is omnipresent and keeps increasing:
80% of U.S. workers feel stress on the job, and nearly half say they need help learning how to manage it.
American employers spend $300 billion per year on healthcare and missed work days linked to stress.
According to the American Psychological Association, stress is a top health concern for U.S. teens—and if they don't learn healthy ways to manage that stress, it could have serious long-term health implications.
It's good that we, as a society, are now talking more openly about stress. Wearables can help each of us better understand the effect of stress on our minds and bodies. 
There are still many unanswered questions about stress. A recent study has shown, for example, that people who reported feeling no stress experienced better moods but were also less likely to experience positive events and scored lower on cognitive tests.