Venture capital targets underserved health markets, not the biggest ones
Rock Health recently published its report on the state of the U.S. digital health startup landscape in the first half of the year. As always, it's an extremely interesting analysis.  
Here are the most important facts:
In H1 2022, U.S. digital health startups raised $10.3 billion across 329 deals, with an average deal size of $31.2 million. 
While Q1 2022 funding generally matched Q1 2021, Q2 2022 ($4.1 billion) was the lowest funding quarter since Q2 2020 ($2.9 billion).
In H1 2022, approximately 30% of digital health investors were new investors, whereas in the boom year 2021, 45% of investors were new to the space.
Average check sizes for Series B, C, and D+ deals declined by 25%, 22%, and 12%, respectively compared to 2021. Series A deals, on the other hand, didn't drop. 
What we found most exciting was the analysis of how much money went into different clinical indications over the last five years.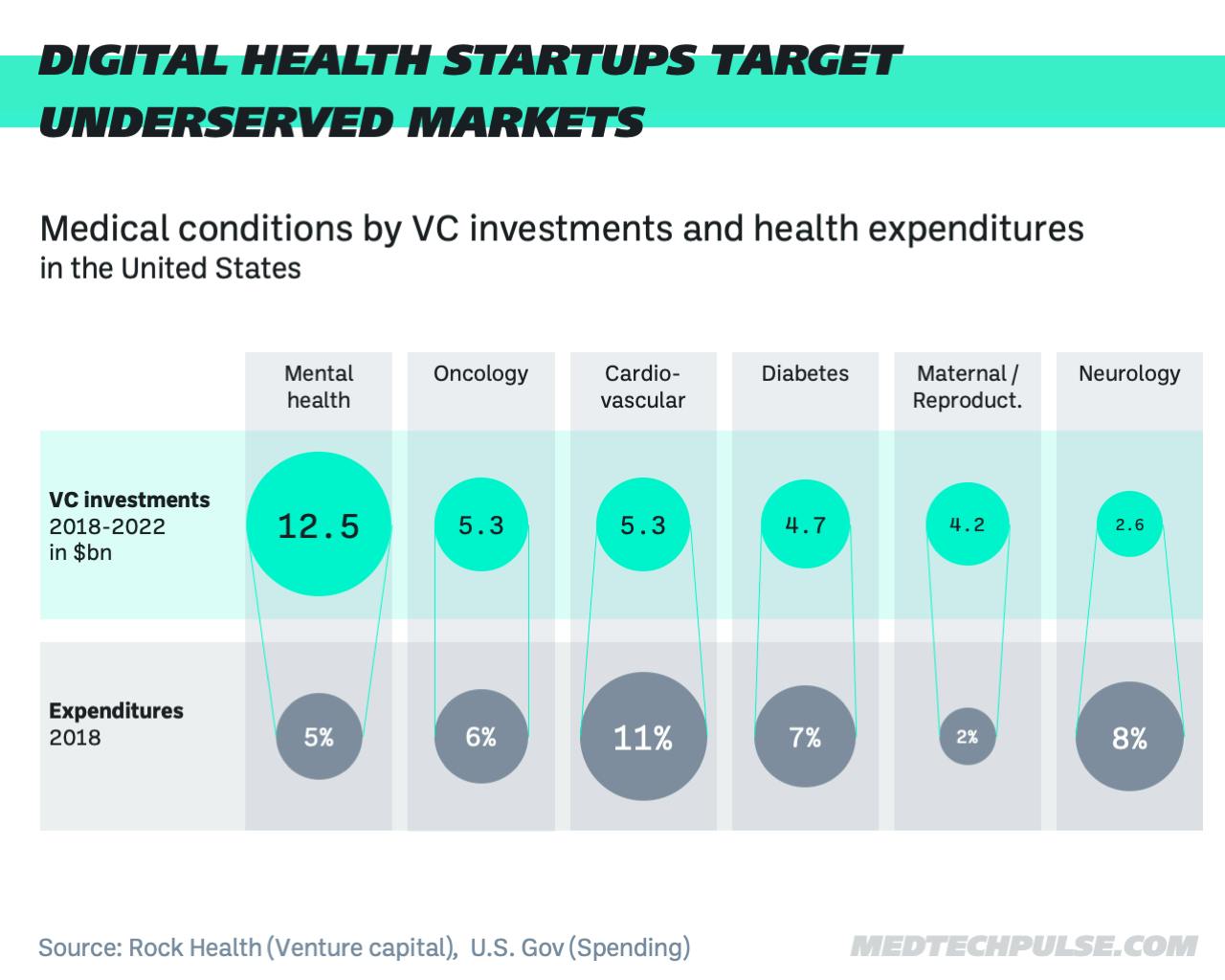 Infographic MTP
The numbers demonstrate the boom of mental health startups over the years:
Since 2018, $12.5 billion of venture capital has been invested in mental health startups. 
More has been invested in Mental Health than in the next two largest indications, Oncology and Cardiovascular.
Although startups like Cerebral are facing massive criticism and laying off staff, mental health is once again the top-funded clinical indication in H1. 
But of the $1.3 billion closed in H1, just $300 million closed in Q2 2022—likely an early sign of the end of the mental health startup hype.
As is often the case, numbers are particularly exciting when you put them into perspective. We compared the VC investments in the most funded clinical indications with the healthcare expenditure for the respective conditions. 
One would expect that the largest markets would also attract the most venture capital. But that isn't the case. The conditions with the highest healthcare spending in the U.S. are Cardiovascular, followed by Musculoskeletal and Neurology. 
Our conclusion? VCs do not bet on the current largest markets, but on the most underserved markets. Many people with mental health problems are not treated at all because there is simply no capacity for them. The same thing applies to fertility. Here, too, startups are entering the game because there is a capacity problem. Many people are not being treated, even though they would like to be.