Venture capital takes aim at the fast-growing fertility industry
In 1978, Louise Brown was born—the first human to have been born after conception by in vitro fertilization.
The rise of IVF
A lot has happened since doctors Patrick Steptoe and Robert Edwards invented the assisted reproductive technology over 40 years ago: 
Over 8 million IVF children have been born.
Over 2.5 million IVF cycles are performed every year, resulting in over 500,000 deliveries.
The process has gotten better and better. In the past 30 years, birth rates after IVF have more than tripled.
The infertility market
According to various studies, 48.5 million couples (or around one in seven couples) are affected by infertility. 
In Germany, almost every 10th couple between the ages of 25 and 59 is unintentionally childless. Significantly fewer than 10% of these couples have undergone IVF treatment, according to a study from 2020.  
According to a study by the British National Institute for Health and Care Excellence, however, more and more couples are not resigned to their unfulfilled desire to have children. Instead, they are seeking reproductive help.
Analysts expect the IVF market to grow massively in the coming years:
The market for IVF devices and consumables is expected to grow to over $10 billion by 2030—a multiple of 2019 levels.
The market for IVF services is expected to grow to over $35 billion by 2030. 
The largest market is Europe, followed by the U.S. The market is growing fastest in the Asia-Pacific region. 
The cost of treatment is still extremely high. The average cost of a single IVF cycle in the U.S. is between $10,000 and $15,000. The average couple spent $19,234. 
Startups come help 
IVF is a large, growing, and underserved market, so it is no surprise that more and more startups are emerging in this space (and that venture capital is being invested).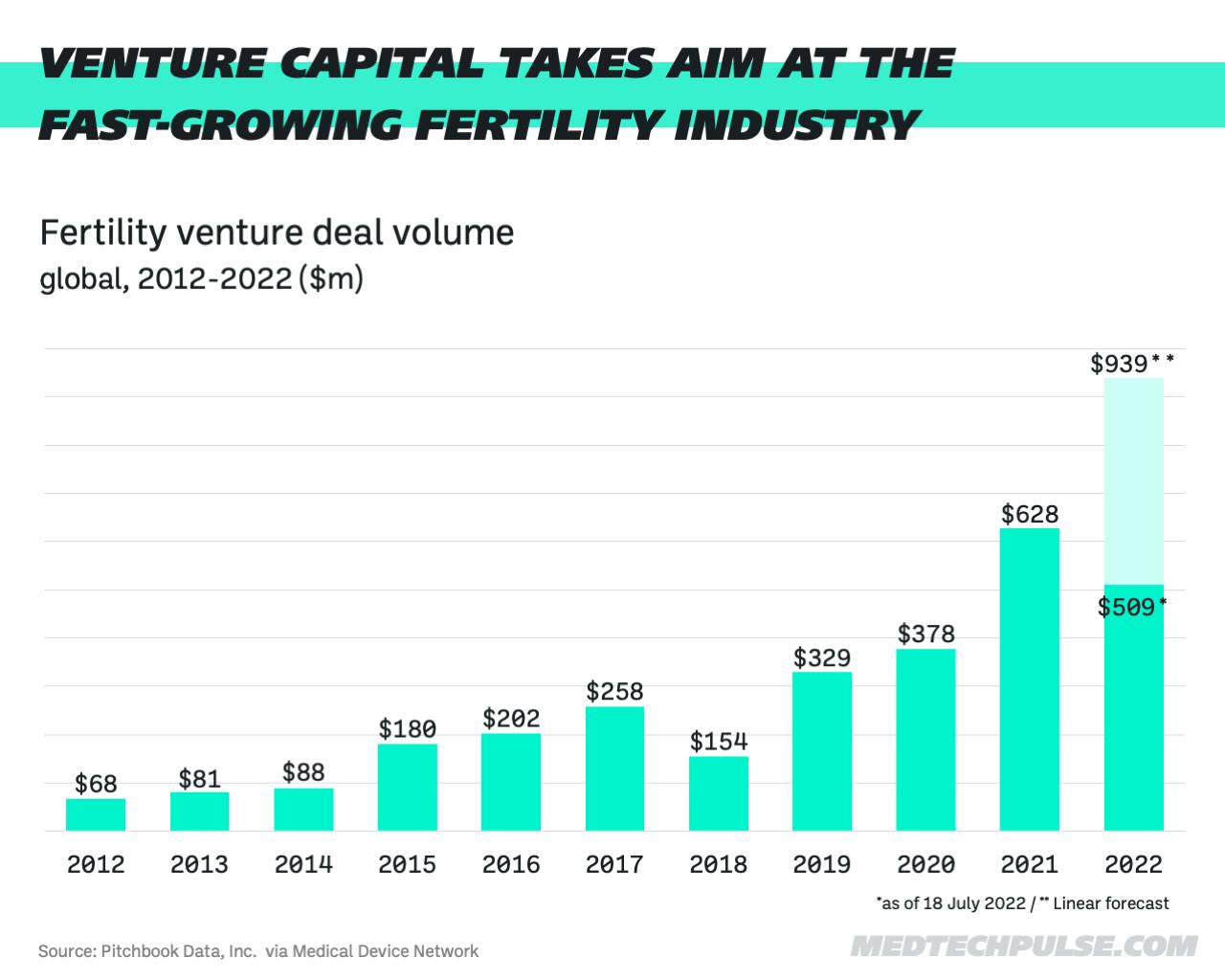 Infographic: MTP
According to Pitchbook data from the Medical Device Network, $627 million flowed into fertility startups last year. By mid-July 2022, the amount was already over $500 million. This makes the sector one of the few in which more capital is flowing in the crisis year 2022 than in the boom year 2021.