U.S. physicians would have to work 26.7 hours a day to deliver recommended care
The global problem of overworked healthcare workers and overburdened healthcare systems may seem like old news. Yet a new study underlines once again how drastic the problem is.
Scientists have published a paper where they determined the daily required working hours of U.S. physicians to care for all patients according to national guidelines.
Their analysis showed that primary care patients in the U.S. could not be cared for according to the guidelines, even if all the available physicians worked around the clock.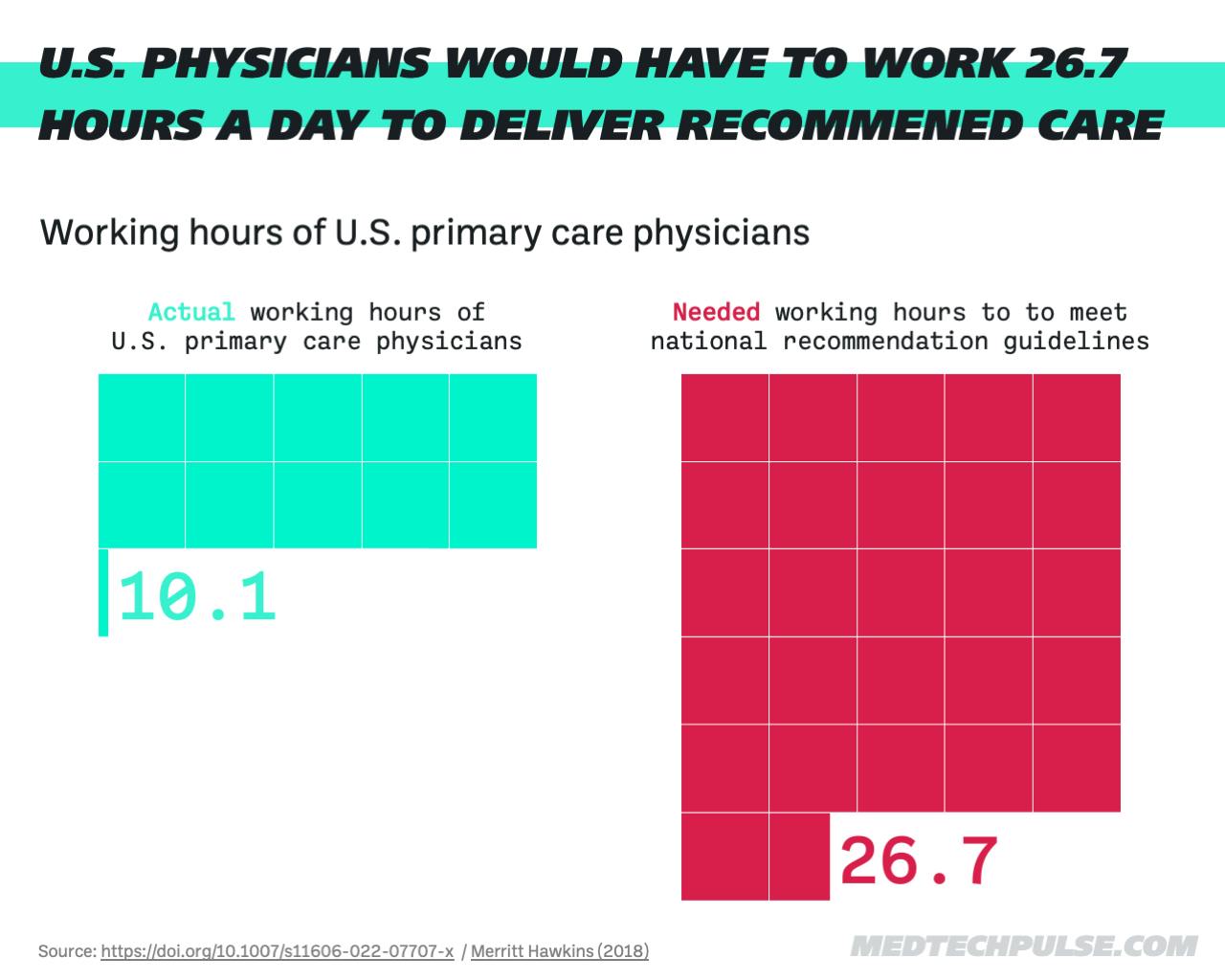 Infographic MTP
Each physician would have to work 26.7 hours per day, with 14.1 hours per day set aside for preventive care, 7.2 hours per day for chronic disease care, 2.2 hours per day for acute care, and 3.2 hours per day for documentation and inbox management.
Justin Porter, assistant professor of medicine at the University of Chicago and lead author of the paper, said: "There is this sort of disconnect between the care we've been trained to give and the constraints of a clinic workday."
This means that more than twice the number of physicians would be needed to care for the patients. 
This is a completely unrealistic idea, especially in light of the fact that there is already a physician shortage in most Western countries—one that will continue to worsen as societies age.
The authors of the study see the solution in a shift toward team-based care. The researchers expect that 65% of primary care services could be handled by other team members, bringing down the required time per day to 9.3 hours. 
The big problem is that the shortage of workers in the healthcare system affects not only physicians, but all healthcare workers. 
Certainly, technological innovations can help make healthcare systems more efficient. But without significantly improved working conditions, the problem will not be solved, as Hadi made clear in this newsletter a month ago.