The stage is set for the big digital health M&A spree
A few weeks ago, we predicted an M&A wave in which established healthcare players buy up digital health startups. 
Recap: Zombie unicorns become M&A prey 
We argued primarily about the target side of the equation: The tech market crash makes the public markets a no-go area for unprofitable tech startups, because they would lose a lot of their valuation here. Venture capitalists are also becoming more cautious, because the upside of an IPO is no longer in sight. M&A deals are often the only way out for these unicorns, which cannot take their natural route to the stock market. 
The buyer perspective: Cash triumphs once again
In recent years, low interest rates have made the stock market all about growth fantasy. Profitability didn't matter as long as the growth rates were right. But in 2022, the wind has changed, with profitability and cash flow being the keys once again. That is why solid old-economy companies have come full circle. They are currently winning compared to the acclaimed tech newcomers of recent years. 
This is true in all sectors, and especially in healthcare, as a comparison of four stock market indices shows:
The S&P500 as an indicator for established companies 
The S&P500 Health Care as an indicator for established healthcare companies 
The NASDAQ Composite as an indicator for tech growth stocks
The NASDAQ Health Care as an indicator for healthcare tech growth stocks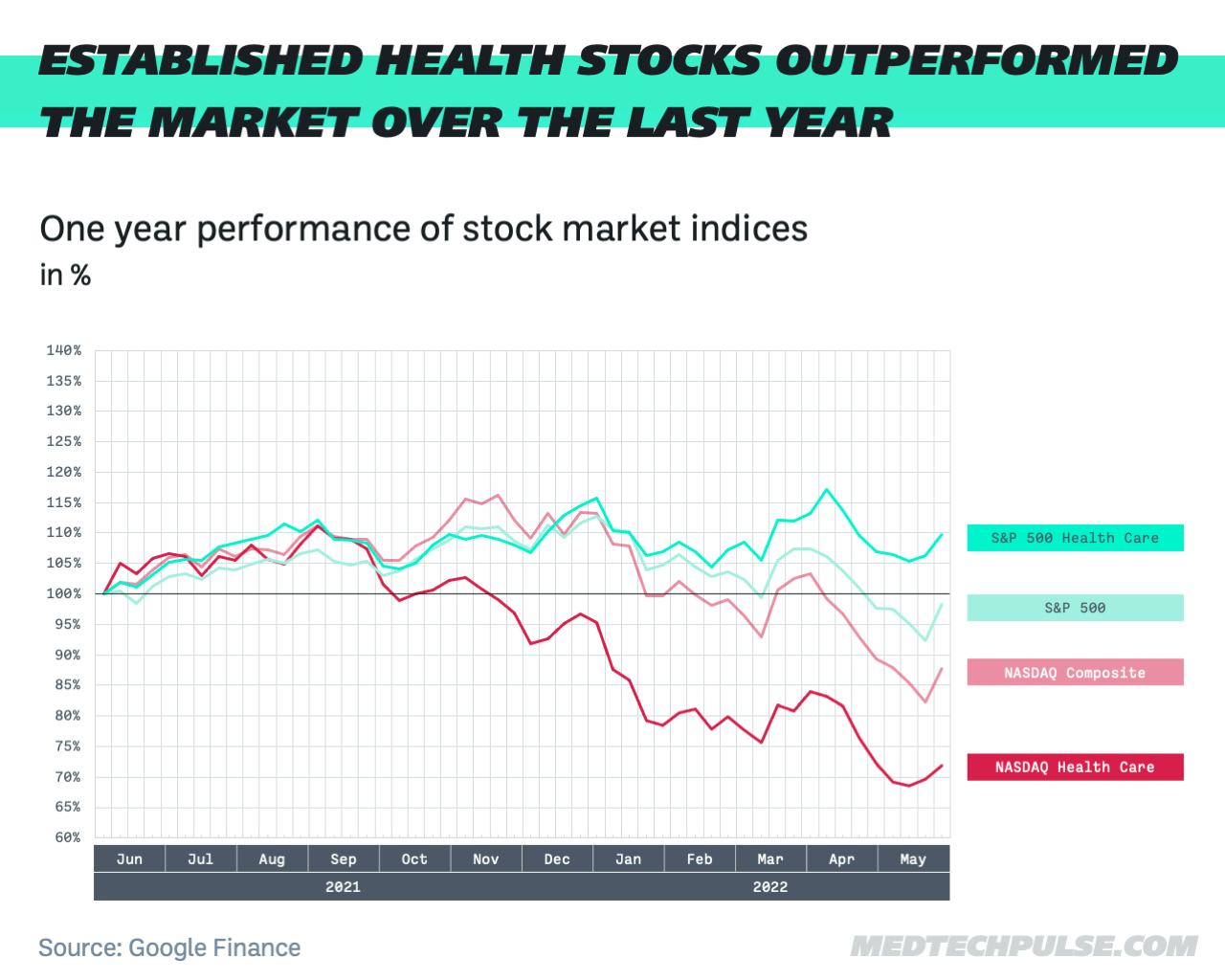 Infographic MTP
The graph shows that in the last year, growth companies have performed much worse than established companies.
The gap looks even more extreme in the healthcare sector, as healthcare growth stocks have been hit especially hard in the latest crash. 
The established healthcare companies, on the other hand, have grown well above the market average. 
Currently, healthcare companies that are profiting today are significantly better-valued than companies that promise future growth. 
The opportunity: Growth is a bargain
As we all know, the market wind will change again at some point. Just as some growth companies were overvalued last year, some are bargains in the current downturn.
And here is the opportunity for profitable healthcare companies: They can use their cash and their high valuation to go bargain-hunting for digital health companies.
Bottom line: We continue to believe that we will see a hot M&A autumn.