Healthcare experienced a funding drop across all major segments in Q3 2021
The latest healthcare startup funding figures go against the trend
CB Insights just published their latest quarterly VC analysis of the healthcare ecosystem: The State of Healthcare. In the same procedure as Q1 2021, we worked through 229 pages of data charts and funding figures to derive the most interesting takeaways.
Surprisingly, quarterly venture capital funding in healthcare startups dropped for the first time in over three years in Q3. However, total funding value still came in at an impressive $30.7 billion—the third-highest quarterly funding sum in the history of the healthcare sector.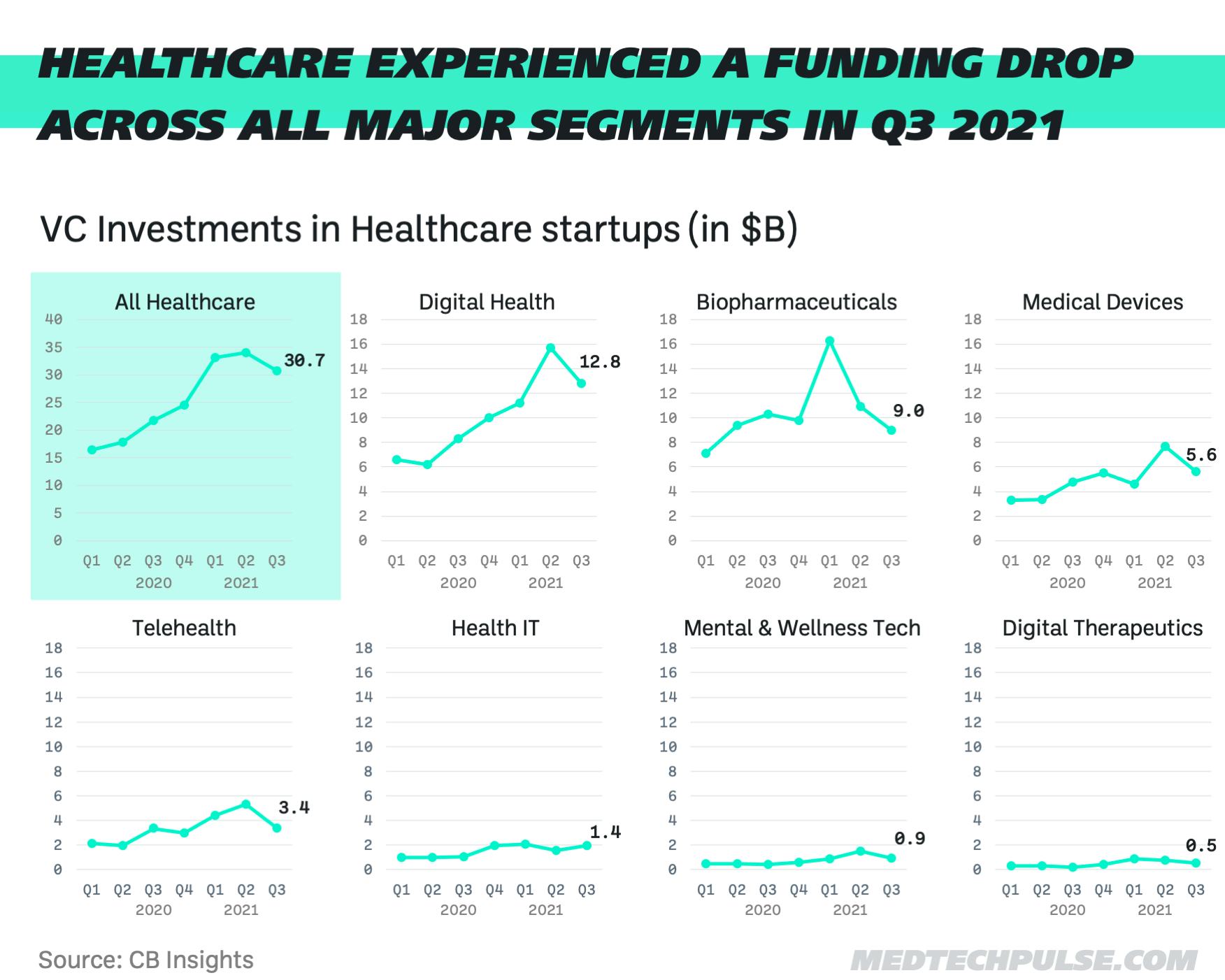 Has MedTech lost its momentum?
Nevertheless, the quarter-over-quarter drop might indicate an end to what many skeptics have long considered an accelerating investment bubble. But in contrast to overall funding trends across all startup verticals (which continued to climb to new highs in Q3'21), healthcare appears to have lost its hyper-growth momentum.
When looking at the major segments in healthcare, this trend is apparent across all major categories, from Digital Health to Biopharmaceuticals, as well as Medical Devices.
In fact, Health IT was the only sector scoring growing funding figures in Q3 compared to Q2, with year-to-date funding sums already surpassing 2020 levels by 11%. This is primarily due to average deal sizes of Health IT startups being 76% higher than last year—for instance, due to mega-deals into grownups such as Olive, MediTrust Health, Commure, and Infervision.