State of the digital health startup ecosystem in 2022
Over the last two editions, we took a look at the venture capital activity and IPO performance of the digital health startup ecosystem in 2021. 
Now the latest figures from Q1 2022 are in, and we want to take a look ahead.
A quick recap of our 2021 analysis
2021 was an absolute record year, with 324% growth in venture capital invested in digital health startups.
The rally of tech stocks over the past few years was the main driver for an all-time high of 94 IPOs in 2021.
IPO newcomers from 2021 landed hard in 2022. None of the 12 highest-valued companies that went public in 2021 were up in 2022 compared to the first week of trading!
The big question: How bad will it hurt?
Against the backdrop of the (health) tech wreck on the stock markets, many analysts expected a negative impact on the startup ecosystem and digital health stocks. 
The stock market is, after all, the most important catalyst for startup valuations. The more money a startup can be worth at IPO, the more venture capital investors are willing to invest along the way. 
In our last analysis, we predicted fewer unicorns (private companies worth $1 billion or more) and IPOs in 2022, but that the VC sector as a whole would not drop massively, as the digitization of the healthcare sector would not come to an end due to a short-term decline in stock market prices. 
Q1 2022 numbers: Trickledown of the (health) tech wreck
The figures from the first quarter support our thesis:
The total number of VC deals decreased slightly. 
The invested capital has decreased even more, meaning the average deal size decreased. 
Significantly fewer unicorns emerged in Q1 2022 than in any quarter in 2021.
Only one company went public in Q1 2022.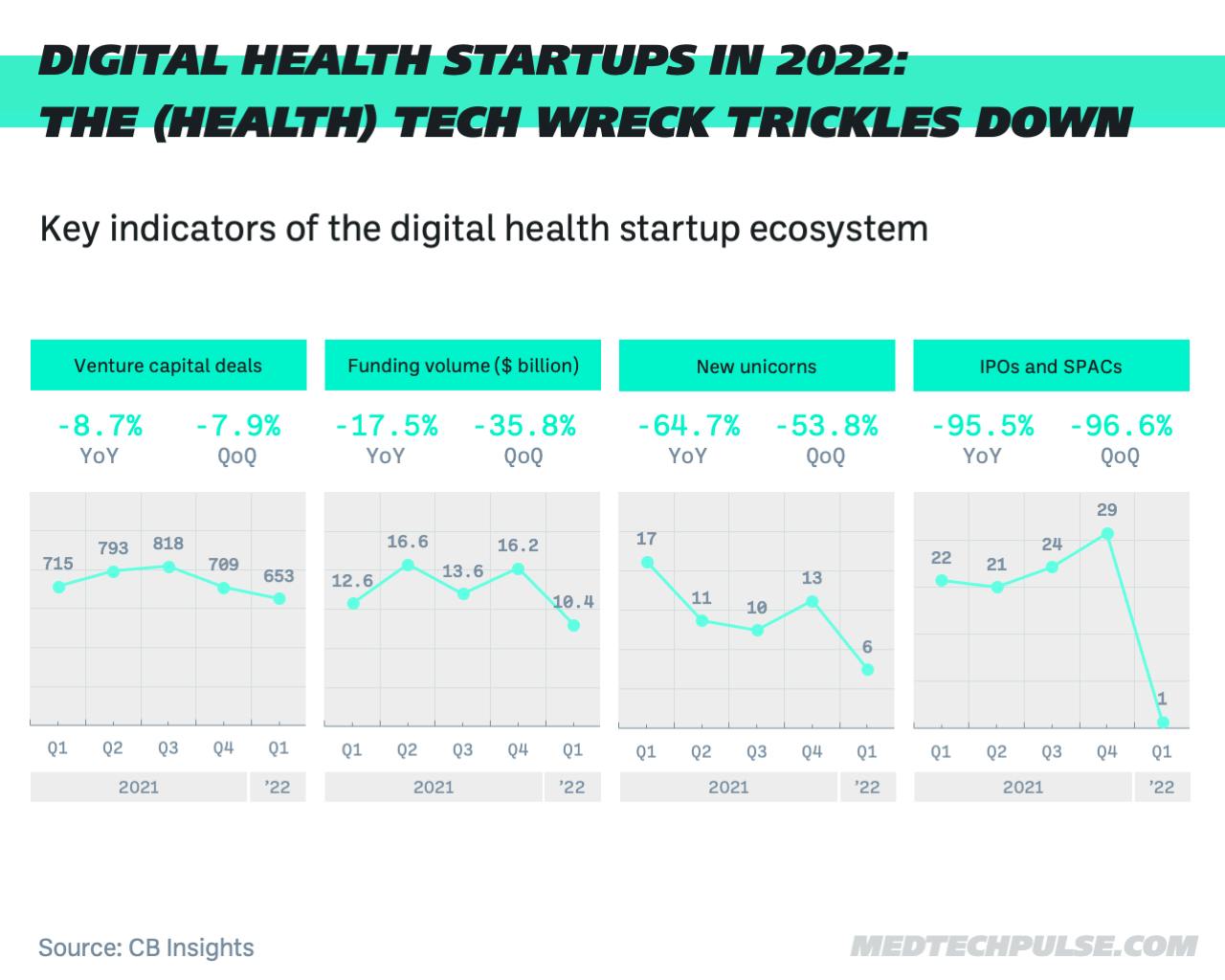 Infographic MTP
The crash of digital health stocks makes the public markets a no-go area for digital health companies.
The lack of investor exit perspectives results in significantly fewer late-stage investments, and thus, fewer new unicorns.
In earlier phases, investments are slightly down, but certainly not to the point of a complete crash. 
Prognosis: A digital health M&A wave
We believe M&A is becoming a more important exit channel for startups.
With valuations low, established healthcare corporations can now acquire digital health startups on bargain terms. 
Therefore, we expect more headlines along the lines of "established healthcare company acquires digital health player" in the coming months.