Share of women in leadership positions at MedTech startups still low in 2022
About a year ago, we took a look at the percentage of female founders and CEOs in MedTech and other startup verticals around the world. The result: Only 15% of all startups working at the intersection of medicine and technology are led by women. Things didn't look any better in other verticals.
The narrative is changing
No doubt, a lot has happened in recent years and months. The media in particular has paid more attention to the topic, and the tone is also changing on social media. There is more and more talk of women founders and the types of businesses they are starting. 
This is a good thing, but we are still a long way from where we could be. Even though they make up 51% of the population, women are underrepresented in venture capital-driven ecosystems. 
Change is starting, but it's been slow
To see what has changed since last year, we fired up the data machine once again and looked at the percentage of active female executives at venture capital-backed startups (position levels: C-Level, General Manager, Founder, and President).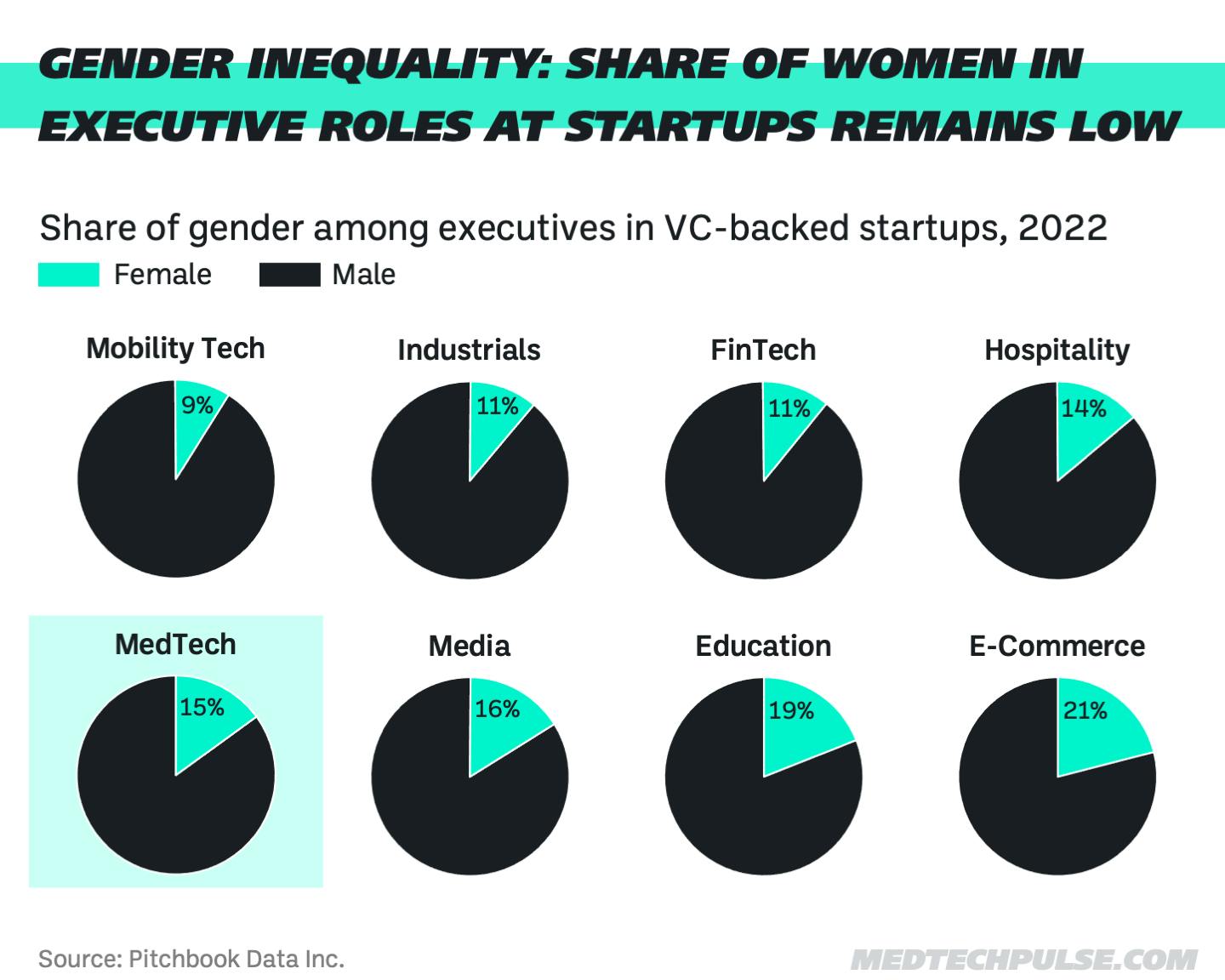 Infographic MTP
Well. Compared to last year, not much has changed.
The Mobility Tech (+2%), Industrials (+2%), FinTech (+1%), and E-Commerce (+1%) verticals recorded slight increases in the proportion of women in leadership positions. The Hospitality (-2%) and Education (-1%) verticals, however, show declines. 
And in the MedTech ecosystem, things remain the same as last year: a 15% share of women in leadership positions.
Outlook
We don't need to beat around the bush: The results are sobering.
Other figures are no better. In its Female Founder Dashboards for Europe and the U.S., the data provider Pitchbook shows that venture capital funding has risen in recent years—but the numbers for female founders have not improved to the same extent. 
Last year, companies founded exclusively by women received only 1.1% of the total capital invested in venture-backed startups in Europe and 2.3% in the U.S.
Nevertheless, to end the insight on a positive note, the amount of VC funding for companies founded or co-founded by women has increased in recent years—in both markets. And 2021 saw the creation of several women-led funds, incubators for female founders, and more women-led companies. 
These are important steps being taken right now.