New care solutions for an aging society
New care solutions for an aging society
The biggest disruptions do not happen suddenly, but slowly and steadily. We can observe and project them easily. This is the case with climate change, urbanization, and also with one of the most important global trends in the MedTech sector: aging societies.
80 is the new 60
We all know it's happening, and yet the numbers are overwhelming. 
According to the United Nations, the proportion of over-70s in the world population will double from 2020 to 2050, and the proportion of over-100s will grow by more than four times.
By 2090, almost one in five of the world's inhabitants will be 70 or older. Today, the group makes up only about 6% of the world's population. 
In 2100, there will be as many 80-year-olds as there were 60-year-olds in 1950. 80 is the new 60.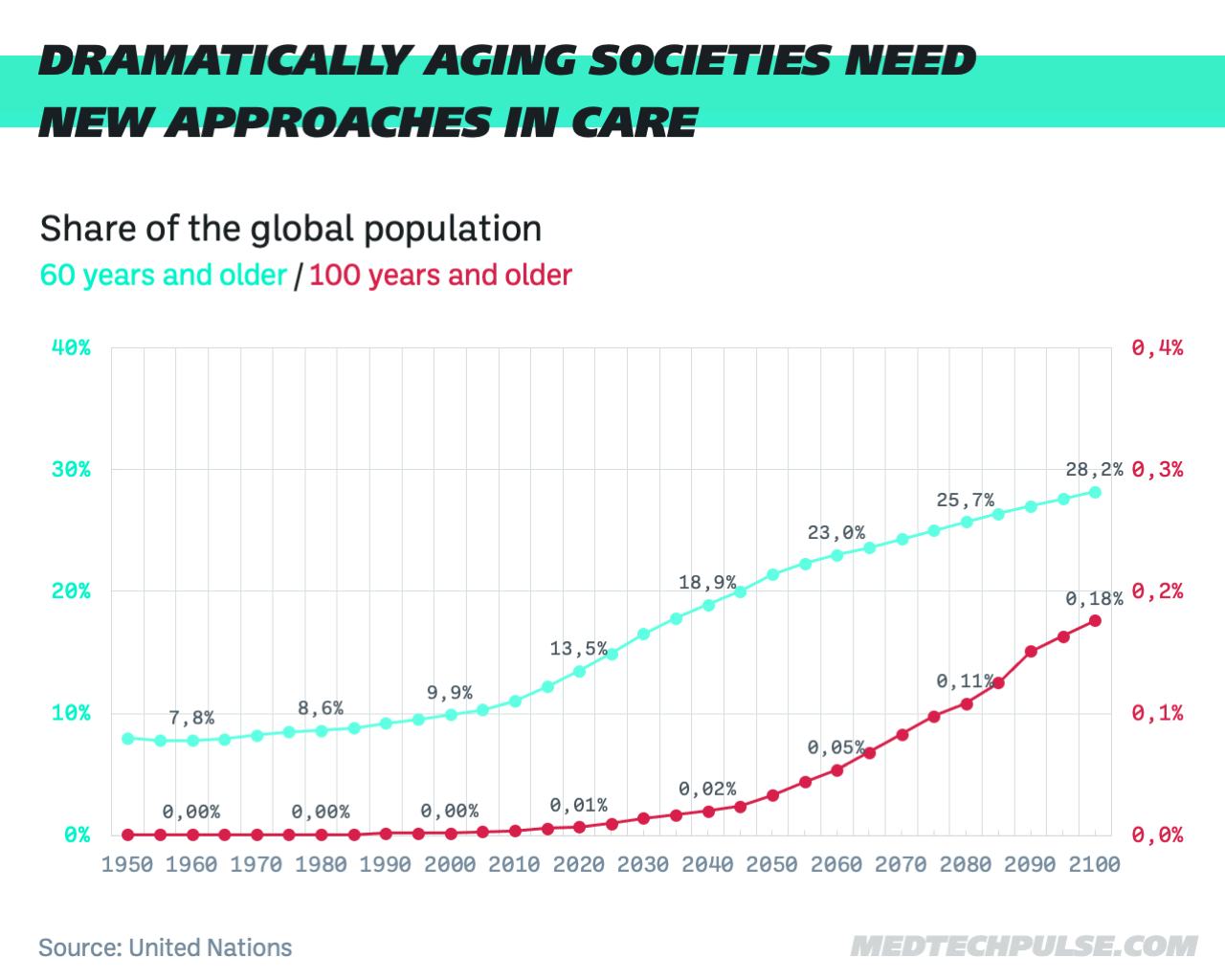 Infographic MTP
Birth rate halved, life expectancy doubled
Why is the proportion of old people in the population increasing so massively? Put simply, there are two reasons for this development:
Rising life expectancy in all regions of the world. Globally, life expectancy has increased by more than 50% since the 1950s. 
Declining birth rate. Since the 1950s, the birth rate has halved worldwide. 
Aging society, growing market
According to the Federal Statistical Office in Germany, the cost of illness rises sharply with age. 
The annual medical costs per inhabitant between 15 and 65 in Germany are €2,780. 
For the age group 65-85, the value is €8,350 (+200%). 
For people 85 and older, the cost of illness is €19,790 per year (+612%). 
Smarter homes, more efficient care
From a societal perspective, this development presents a major challenge. From a MedTech perspective, it is also a massively growing market. We see a particularly high level of activity in two areas: 1) Smart home solutions and 2) New care platforms.
In the area of smart home solutions, both startups and established names are playing a role. 
Last year, we wrote about BestBuy's bold moves in senior care. 
In December, Amazon announced a new subscription service that offers a minimally-invasive way to use its voice assistant and associated Echo speakers to both assist and keep tabs on an elderly loved one or other person who requires a caregiver.
We also find UK startup Oxehealth, a remote vision-based patient monitoring and management platform, exciting.
Another field where a lot is happening right now is senior care platforms in various forms. 
A prominent example is Honor, a senior care startup that achieved unicorn status after a $370 million round in October. Honor connects home care agencies, caregivers, and seniors looking for care to stay at home.
Birdie is a platform that helps care business owners to manage their daily operations. The London-based company has raised $22.6 million to date. 
Kenbi operates more than 20 decentralized care services in Germany. In the coming months, the startup plans to devote more of its software development efforts to patients and their families.
No "carry on as before" in care
One thing is clear: The solution to such fundamental developments as an aging society can no longer be as it has been. New, more efficient and humane solutions must be found in the field of elderly care.