MedTech innovation is driven by the longtail
The MedTech industry thrives on innovation like no other.
German MedTech companies, for example, make more than a third of their sales with products that have been on the market for less than three years. 
The medical technology industry is regularly at the forefront of patent applications. In 2021, only the digital communication sector registered more patents at the European Patent Office. In 2020, medical technology took first place.  
With good reason, the approval of MedTech devices is heavily regulated. Simultaneously, medical innovations should be made available to patients as quickly as possible. 
This is why the U.S. Food and Drug Administration (FDA) initiated the Breakthrough Devices Program in 2017. The goal of the program is to give patients and healthcare providers faster access to novel medical devices.
Since the program's launch, 693 innovations have been awarded breakthrough status—nearly half of them in 2021 and 2022. We took a closer look at the companies behind the innovations. Only 13 companies have three or more innovations in their program.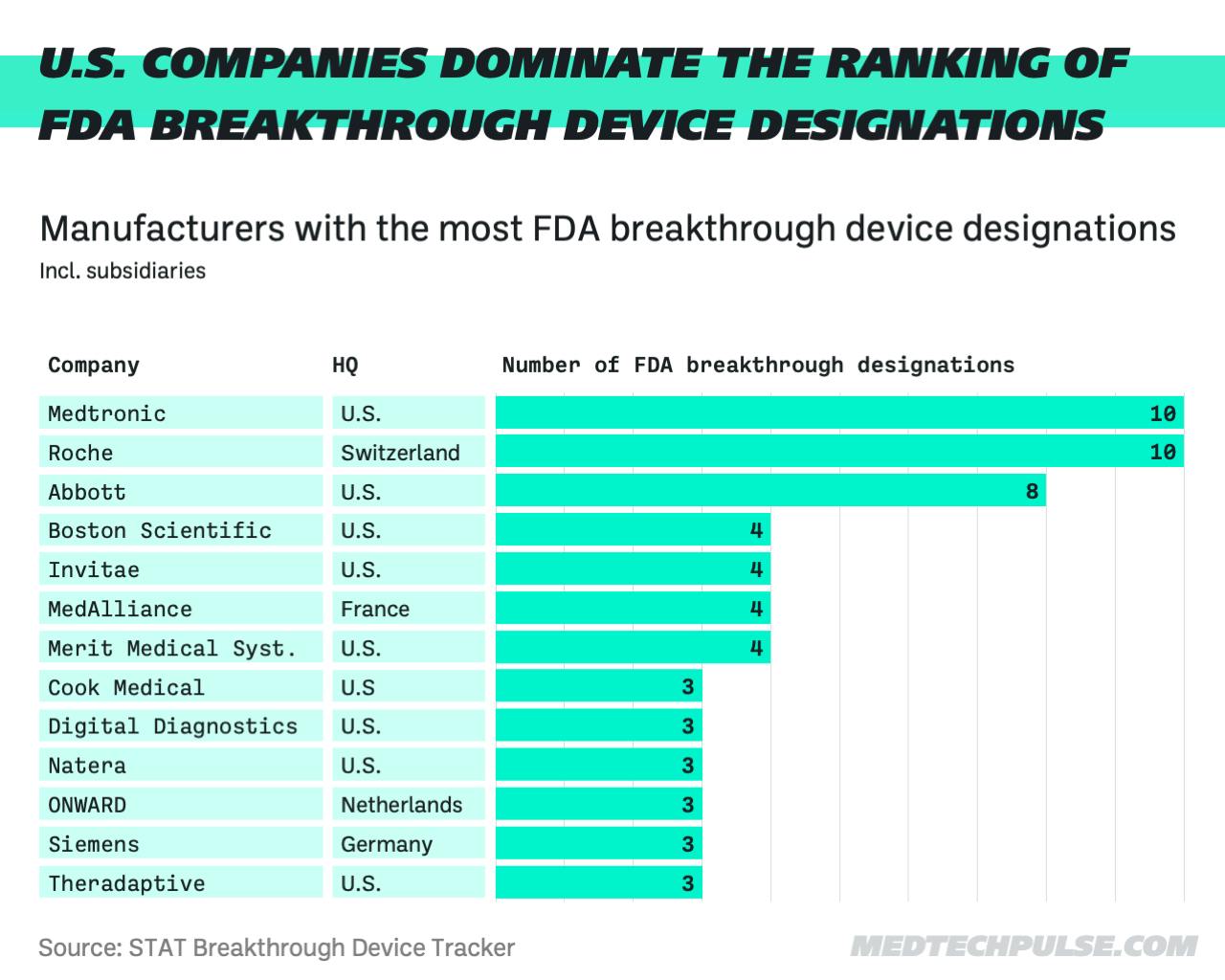 Infographic MTP
Three MedTech heavyweights are clearly leading the charge.
Medtronic, the world's largest medical technology company, has received 10 breakthrough designations—seven of them in the cardiovascular field.
Roche, including its subsidiaries Roche Diagnostics and Foundation Medicine, is also represented 10 times. Six of the innovations are in the field of oncology.
Abbott follows in third place with eight designations, four of which are in the field of neurology.
Interesting, however, is who is not represented on the list. 
Over 90% of the innovations in the Breakthrough Device Program come from companies that have only one or two devices in their program. 
With Johnson & Johnson, Thermo Fisher, Philips, GE, Fresenius, BD, Cardinal Health, and Philips, eight of the 10 largest medical device companies are not represented on the list.
The 10 largest medical device companies in the world are responsible for 40% of the total market. In the FDA Breakthrough Devices Program, they represent less than 5% of the companies. 
Our key takeaway: MedTech innovation is driven by the longtail, although the market is (still) dominated by a few major heavyweights.