The European MedTech industry directly employs more than 800,000 people
Once a year, MedTech Europe, the European trade association for the medical technology industry, publishes its state of the industry report.
The latest edition was published a few weeks ago. The report is full of exciting facts about our industry. Here are our five key takeaways:
In 2021, more than 15,300 patent applications were filed with the European Patent Office in the field of medical technology, representing 8.1% of the total number of applications.
The average global R&D investment rate is estimated to be around 8% in the medical technology sector. Products typically have a lifecycle of only 18-24 months before an improved product becomes available.
There are more than 34,000 medical technology companies in Europe. Small and medium-sized companies make up around 95% of the medical technology industry, the majority of which employ fewer than 50 people.
€284 is the per-capita spending on medical technology in Europe. This represents 7.6% of the total healthcare expenditure.
The European medical technology market was estimated at roughly €150 billion in 2021. The top five markets are Germany, France, the United Kingdom, Italy, and Spain.
For the chart of the week, we took a closer look at the employment numbers.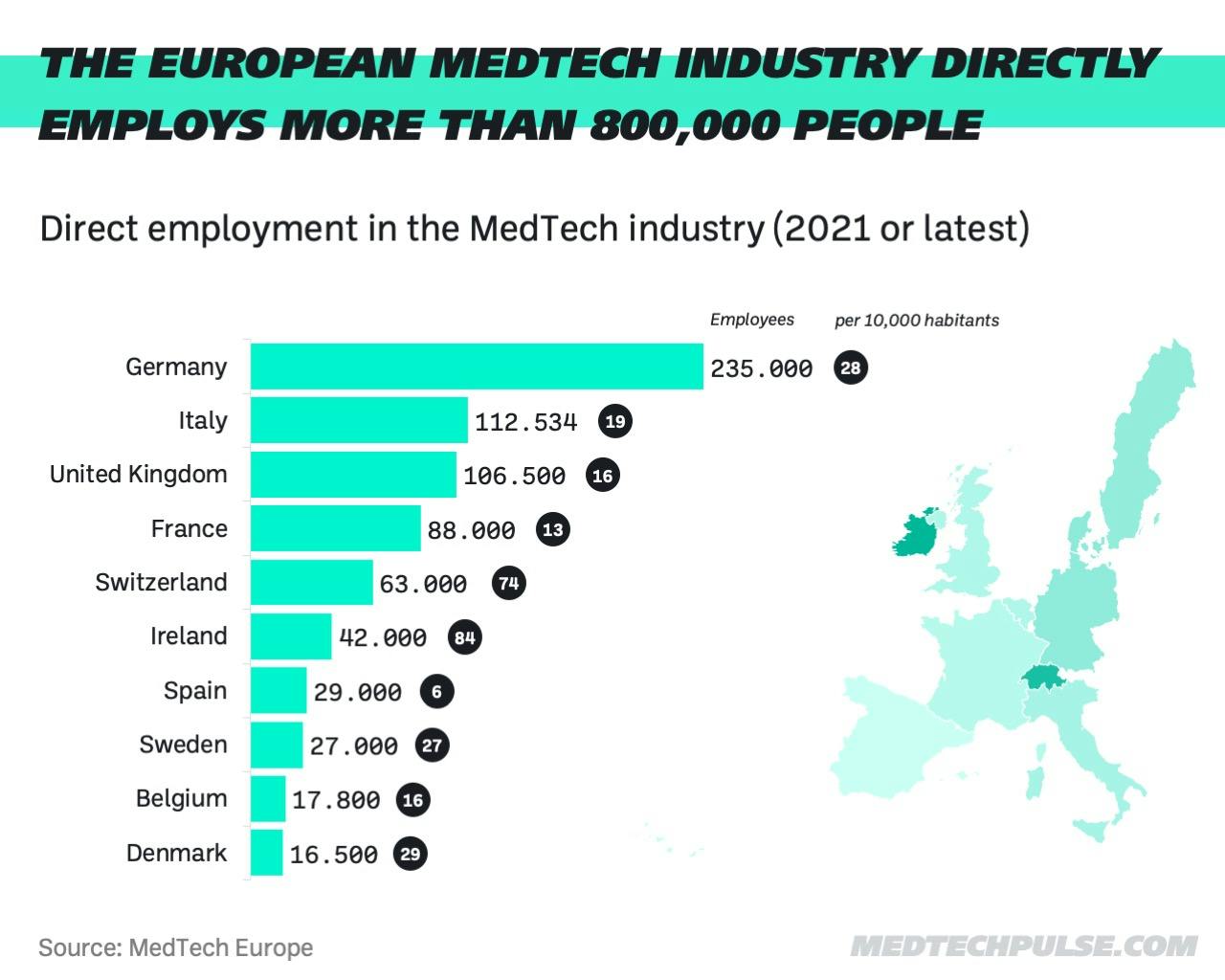 Infographic MTP
800,00 people are directly employed in the medical technology industry. That is 5% more than a year ago (760,000).  
A look at the individual countries shows that there are clear hotspots in the European MedTech ecosystem: 
Germany is the country with by far the most employees in the industry. Almost 30% of all European jobs are in Germany. 
Compared to the previous year, Italy has grown the most. Almost 20% of jobs have been added. This puts Italy ahead of its significantly larger neighbors France and the UK. 
Ireland and Switzerland have the relatively strongest medical technology industry. This is also reflected in the trade balance. Ireland's medical device exports exceed its imports by a factor of five. 
Overall, the jobs account for around 0.3% of total employment in Europe. This may not sound like much, but these jobs are extremely important for European value creation. Medical technology jobs are highly productive, as the value added per employee is estimated to reach around €184,000.