Last year's digital health IPOs and SPACs have crashed 
Digital health companies flooded the stock markets in 2021
In the last edition, we discussed that not only digital health startups were showered with money, but that even more money flowed into other sectors such as FinTech.
Today, we turn our attention to the stock market. According to CB Insights, 94 digital health companies went public last year (77 via IPO and 17 via SPAC). A year earlier, there were only 40 IPOs (+135%). 
The cocktail that fueled the IPO flood
A big driver of the flood of public listings of digital health companies was the overall rally of technology stocks that began with the Corona crisis. Two megatrends fueled the rally:
The major central banks injected money into the markets to prevent a recession. This money has been looking for investment opportunities.
Low interest rates are especially positive for technology, aka growth stocks, because with zero interest rates, future earnings are just as valuable as today's. 
The pandemic has been a major catalyst for digitization. Technology stocks have benefited well above average from this development.
The investors and founders of digital health startups have been eager to join this party, and so they have taken digital health startups public in droves.
The big hangover
We're sure you've all noticed that the prices of previously booming technology stocks have plummeted in what the industry is now calling the tech wreck.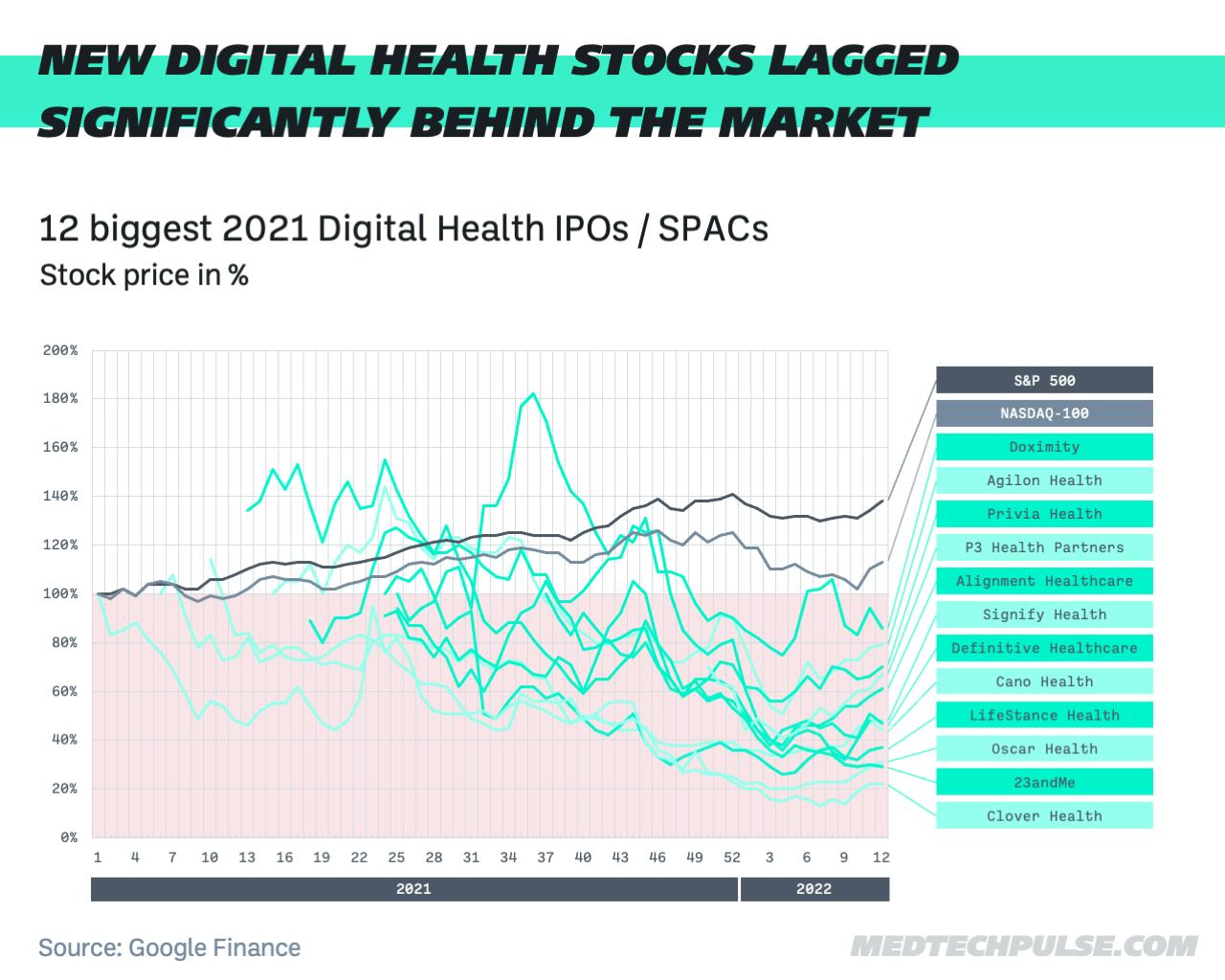 Image: MTP
As our analysis shows, the stock market newcomers from the digital health sector have been hit particularly hard:
None of the 12 highest-valued companies that went public in 2021 were up as of last week compared to the first week of trading!
7 of the 12 companies have lost more than half of their valuation. 
The digital health stocks underperformed the S&P 500 and the NASDAQ 100.
We took the companies from Healthymuse's Health Tech Index. Kudos, Blake Madden!
The end of digital health?
Is this the end of digital health? We do not think so at all. It's an overheated market cooling down in an environment of rising interest rates and global crises. 
After all, the Internet didn't disappear when the dotcom bubble burst in 2001.
But the pressure on digital health companies to actually deliver and become profitable faster is increasing. 
And for all those who have privately invested in the stock market newcomers, we can advise you to expand your time horizon: Teladoc has also lost a massive amount of value in the last year. However, since the stock market launch in 2015, the share price has increased by more than 150%.