Apple's Watch division would be one of the biggest MedTech firms in the world
In the last edition, we raised the question of whether Apple is a MedTech Company.
Apple is obviously not a full-blown medical technology company—and the Apple Watch is certainly not a full-blown medical device. But it helps many users live healthier lives. It also has FDA-cleared health diagnosis and monitoring functions. 
So, from our perspective, it is not that far-fetched to call the Apple Watch a medical device. 
What this means for the established medical technology industry becomes clear when one puts the revenue and shipped units into perspective. 
Apple is very secretive when it comes to concrete sales figures. That is why we have estimated them as follows: 
According to data from Canalys and Strategy Analytics, 46.1 million Apple Watches were sold in 2021. 
Prices range from under $300 for entry-level models to $800 for the high-end versions. The entry-level price for the then-current Watch 7 model was $399 last year. We have taken this price as the average price. 
Based on these assumptions, Apple made $18.4 billion in revenue from its Watch in the last year.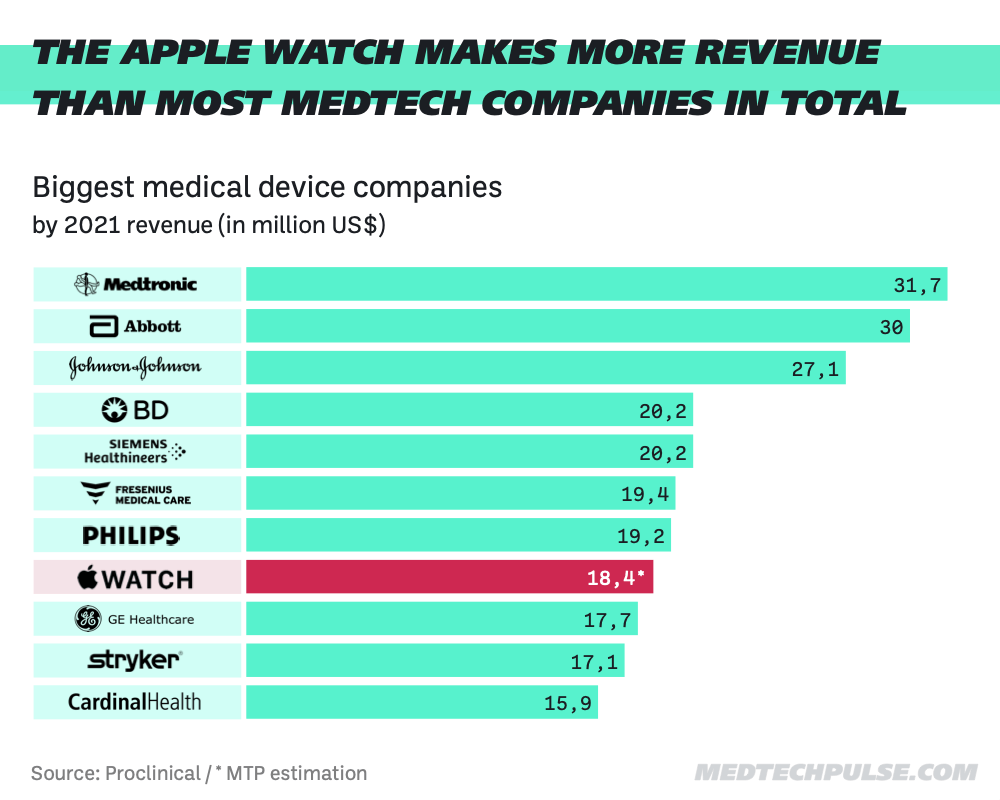 Infographic MTP
This would make Apple's Watch division one of the largest medical technology firms in the world. And considering that the medical technology top-dogs have several devices in their portfolio, the Apple Watch would certainly be the top-selling medical device in the world.
Why does that matter, you ask? The answer is: scale.
Apple can scale any technical innovation over millions of units sold. They have much more R&D capacity than any other company involved in medical sensing and measurement.