Nine out of 10 AI-enabled medical devices were authorized in the last five years 
A few weeks ago, the U.S. Food and Drug Administration (FDA) published an interesting dataset that shows how prevalent artificial intelligence has become in medical devices in recent years.
According to its own data, the FDA has authorized a total of 521 AI- or machine-learning-enabled medical devices. Almost nine out of 10 devices were approved in the last five years. Last year, there were 115 approvals, an 83% increase from 2018.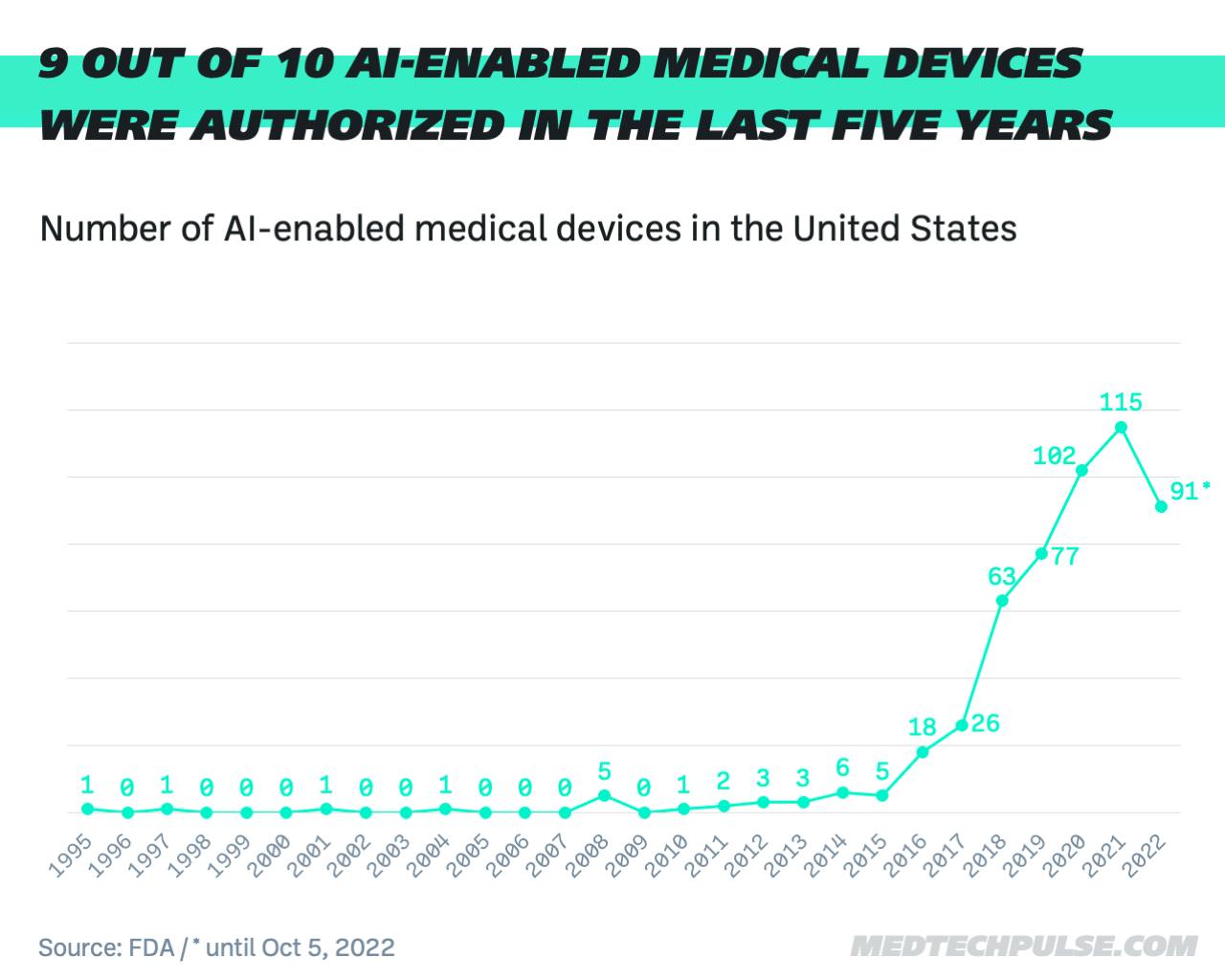 Chart: MedTech Pulse
Here are a few figures on the topics and companies behind the data:
Radiology is by far the leading medical field when it comes to artificial intelligence in MedTech. 392 of the devices, or 75%, are in the field of radiology.  
Cardiovascular (57), Hematology (15), and Neurology (14) follow by a wide margin.
Among the companies, GE Healthcare clearly takes the lead with 42 approvals, or 8% of all devices.
Siemens Healthineers (31, including Varian) and Canon Medical Systems (17) follow.
Two approvals went to Cupertino for Apple—one of the key MedTech companies of the future, if you ask us.
But approval is only the first step. More important is that the devices are also used. And according to a study by the American College of Radiology from last year, the adoption of AI in radiology is not yet very advanced: 
Only 33% of radiologists reported using any type of AI in 2020.
Only about 11% of radiologists used AI for image interpretation in a clinical practice. Of those not using AI, 72% stated they have no plans to do so.
Only 5.7% of the users reported that AI always works, while 94% reported inconsistent performance.