A new perspective on the 2021 startup craze
2021 was an absolute record year in terms of venture capital investments in digital health startups. In summer 2021, the total amount raised in this space had already surpassed that of the previous year in its entirety. At the end of the year, research firm CB Insights reported investments of $57.2 billion in digital health startups—up from $32 billion in 2020.
But a lot has happened since then. On public markets, tech stocks landed hard in early 2022, after soaring in recent years. Also, many public digital health players like Teladoc, Amwell, and GoodRX have lost 30% or more in value since the beginning of the year.
Everyone is now curiously waiting for the venture capital figures from the first quarter of 2022, which will reveal whether the upward trend will continue, or whether the fall of public tech companies also has an impact on the venture capital sector. 
While we wait for the numbers, we've taken a closer look at last year's record figures and put them in perspective. 
Digital health: A giant among giants
The above funding figures for HealthTech startups seem crazy, but in the context of the overall VC landscape, they are not that surprising. 
Startup funding across all sectors grew heavily in 2021. According to CB Insights, $621 billion was invested in startups in 2021, a whopping 111% growth over the previous year. In the digital health sector, there was "only" an increase of 79% from the previous year.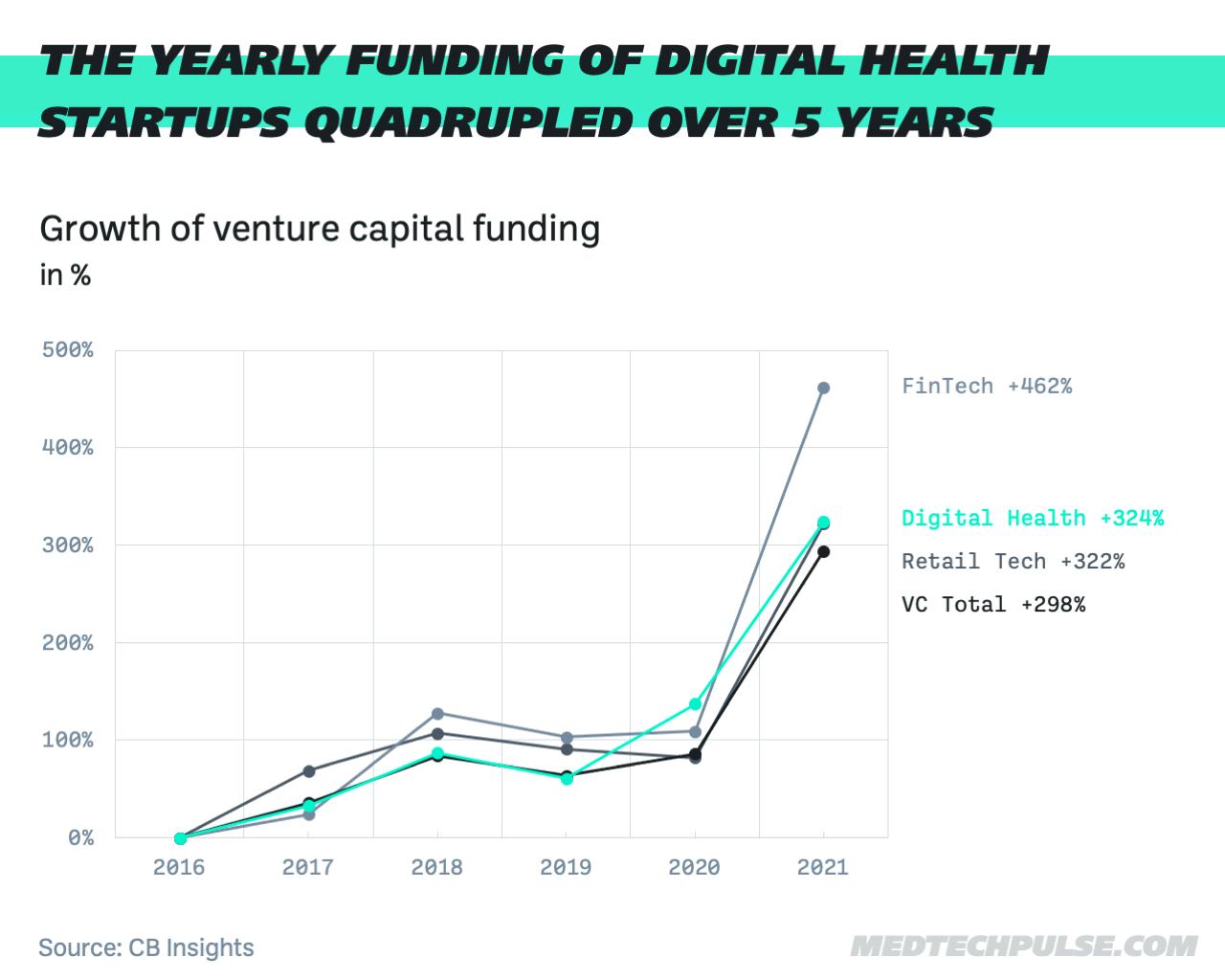 Infographic: MTP
Selected segments in the VC sector have grown even stronger. Investments in the FinTech sector have increased by 168%, although this sector is already much larger than digital health overall. A total of $131.5 billion was invested in FinTech startups in 2021, twice as much as in digital health startups. 
The retail tech sector with hyped grocery delivery services like Gorillas and Flink also grew faster than digital health in 2021.
So there was no dedicated digital health boom, but simply a general boom of venture capital-financed startups.
100 is the new 10
In our article with the unicorn map, we discussed that these once-rare creatures are becoming more and more ubiquitous in startup land. The decacorn is the new unicorn.
And the number of digital health mega rounds—financing rounds in which more than $100 million was invested—also increased enormously in 2021. While only 1% of all deals reached this volume five years ago, mega rounds accounted for 5% of all deals in 2021.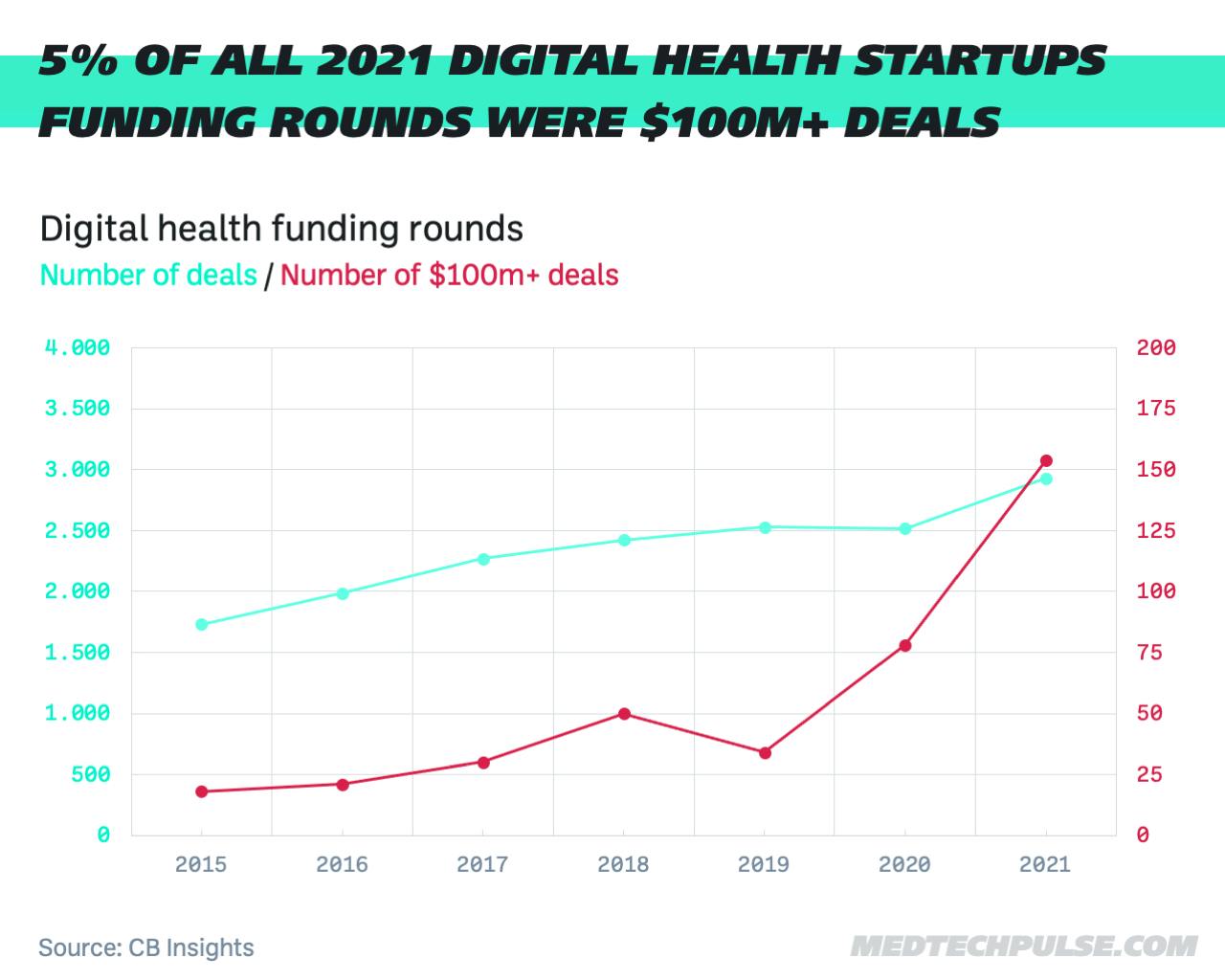 Again, however, these figures only reflect the general development in the startup ecosystem. Across all segments, the share of mega rounds has grown from just over 1% to almost 4.5%.
Overall, mega rounds account for nearly 60% of the money invested—although they only make up about one in 20 deals. With hopes for big money at IPO through ever-increasing tech stock valuations, valuations for late-stage startups are now also above average. 
What's next?
The strong price declines for tech stocks will put immense pressure on the valuations of late-stage startups. Dan Primack from Axios assumes that many of the unicorns will become zombies—companies that survive but face major problems growing into their valuations. They will probably hire slower and may have problems with morale and recruiting, as many top employees in these companies are incentivized by stock options.
We expect to see more cautious venture capital investors, especially in the late-stage space, and investors looking even more closely at company fundamentals. Accordingly, the number of unicorns will certainly grow much more slowly in 2022. 
That said, we do not expect a massive collapse in overall funding. Many VC firms have raised new funds in 2021 and thus capital waiting to be deployed.