The wearable revolution
Wearable medical devices will reshape the healthcare industry. Looking at statistics from the last few years, we see a clear rise in new technologies, patent applications, and users. And the industry is not expected to slow down. The adoption of smart wearables in healthcare is driven by the patients themselves. Over a quarter of Americans are expected to wear smart wearables in 2023. That opens a door with huge potential for the healthcare sector as well—wearables can drive a transition from sick care to proactive healthcare. With the patient in the driver seat.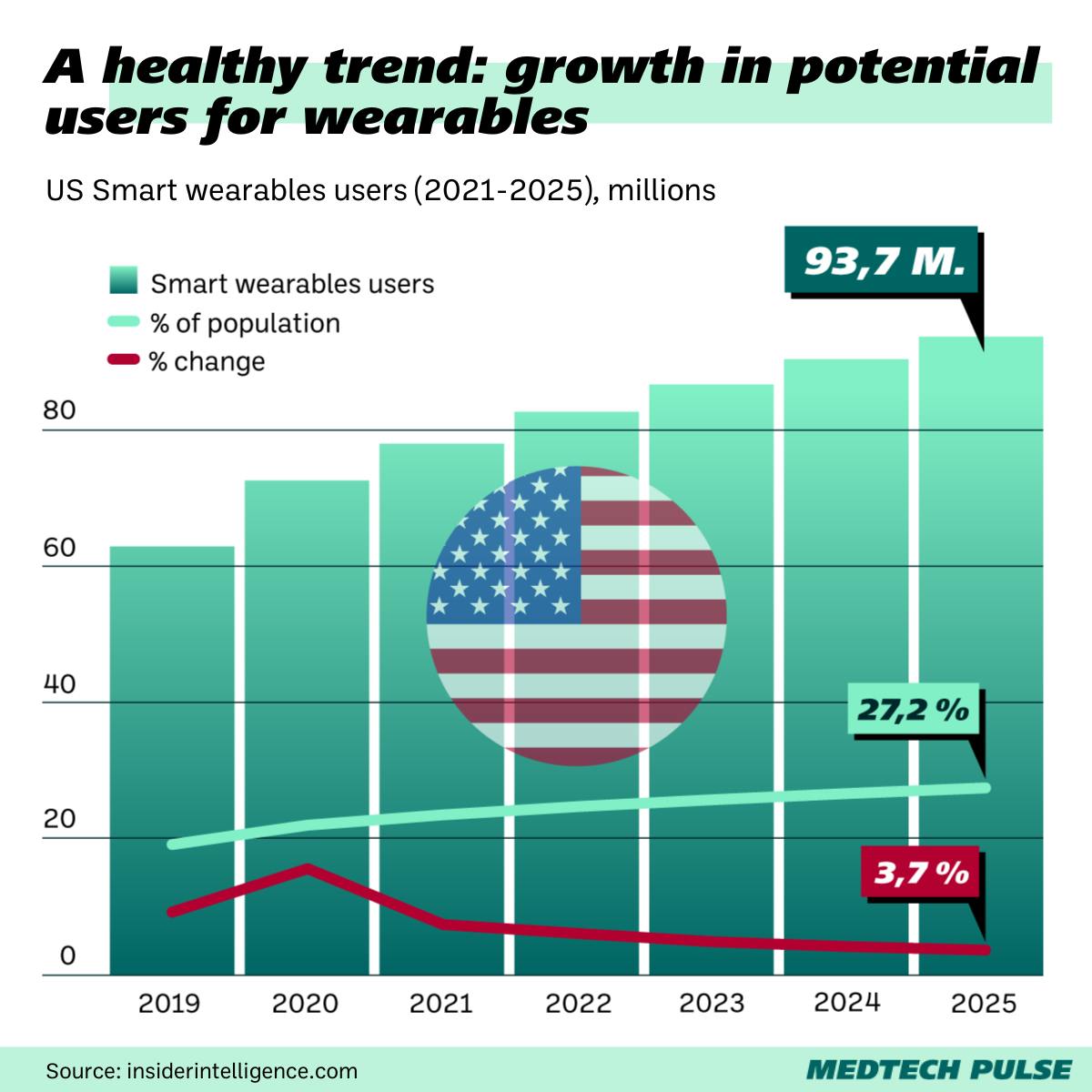 Chart: MedTech Pulse
According to the WHO, "noncommunicable diseases (NCDs) kill 41 million people each year, equivalent to 74% of all deaths globally." Physical fitness and good eating habits are important to counteract many of the negative externalities associated with these conditions. And as the population ages, chronic illnesses such as diabetes and heart disease are on the rise, the anticipated need for wearable medical devices will as well. Technologies in this field will probably move from lifestyle devices to life-changing ones. 
We often talk about the challenge of adoption in medtech. Wearable technology in healthcare paves the way to increase focus on health and self care in society at large. Wearables' ease of use and affordability encourage a quick adoption. Patients can use this tech to track their blood sugar, heart rate, physical activity, and food intake as well as share those data with healthcare professionals, automatically and often in real time. Patients and healthcare providers can be alerted to potential health problems before they become serious. This proactive approach to healthcare can lead to earlier diagnosis and treatment, resulting in better health outcomes. And the potential of smart wearables in healthcare is far from exhausted—the fast progress in AI and data analytics will be a driver as well. It will play a huge role in interpreting that data, connecting the dots and foreseeing scenarios. 
The affordability and accessibility make the adoption of smart medical wearables easier than that of other innovations. It brings attention to the role of patients in the adoption process. Medtech innovations often prioritize the needs of healthcare providers and payers over patients. The fewer barriers, the easier the adoption—wearables have the advantage of cost efficiency and popularity. But could this approach be translated to other innovation and adoption processes as well? We believe it can. In today's lead article, we give you an example of just that, showcasinging the success of Tidepool Loop, where patients and families have led the innovation and development stages, resulting in a more easily-adoptable technology.
The increased usage of smart wearables is an important and positive trend that will improve health outcomes. I am looking forward to seeing the numbers of people using these technologies rising year by year—and thereby, proactively taking care of themselves.