The innovation-implementation gap
Innovation in healthcare is vital for us humans. The advancements over the last decade have been extremely impressive. And — of this I am sure — if we look back ten years from now, we will see that this trend has continued. 
We've seen a much-needed boost to digital health technologies. The expected further growth of the digital health market will improve the healthcare system by addressing all its ongoing challenges. We have to face the rising costs that make preventive care and medicine overall inaccessible for many patients. The elderly population is increasing. Chronic diseases are on the rise. Innovation is needed to move healthcare forward.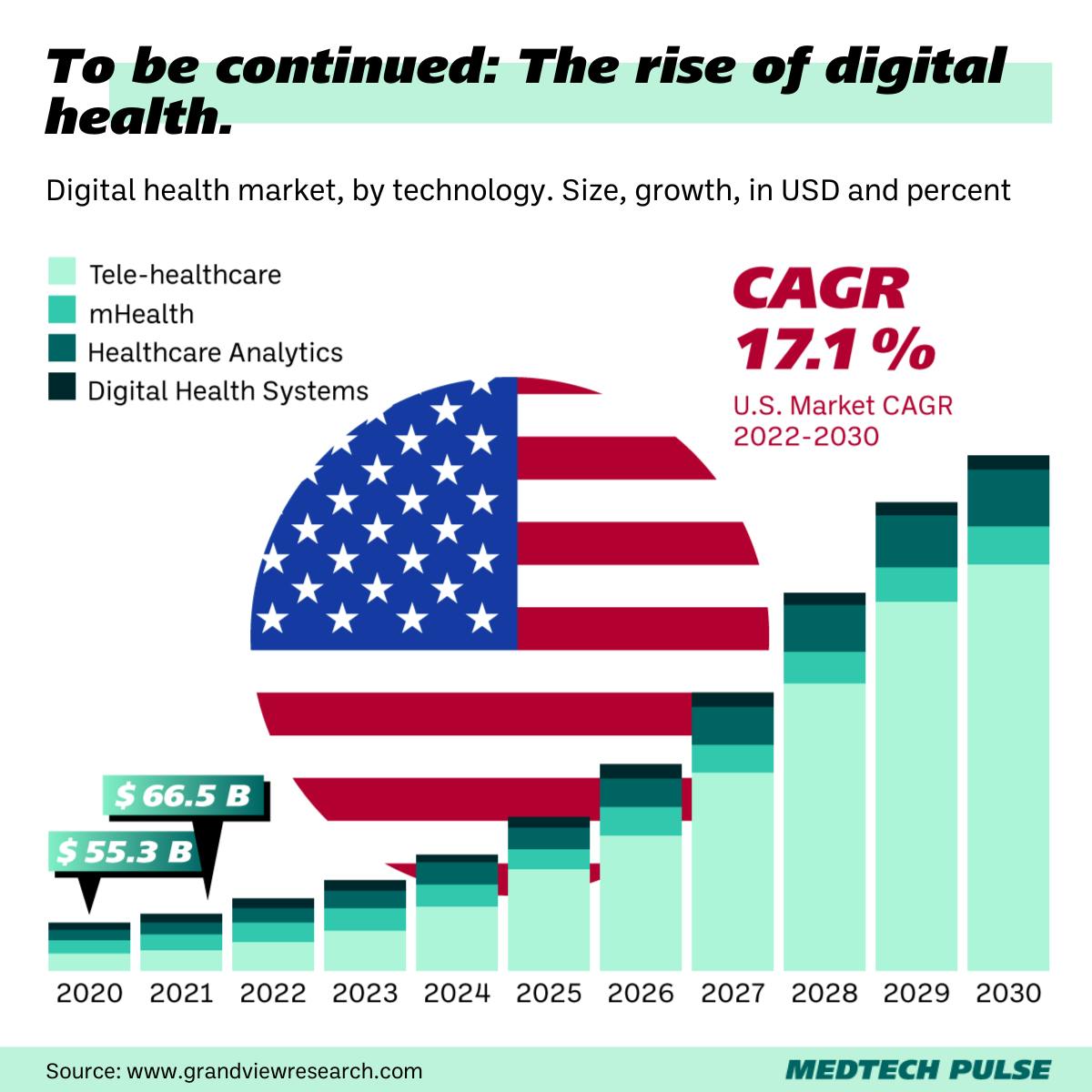 Chart: MedTech Pulse
In each edition of the MedTech Pulse newsletter, we feature new technologies, treatments, or products that potentially mark the future of medicine. These include newly-funded startups, new studies, and data that help us determine new potential development directions. I am definitely not worried about a lack of innovation. But as exciting new products and technologies are developed, they must also be adopted and integrated by healthcare providers and patients to sustainably improve care and outcomes.
This is the so-called innovation-implementation gap. Improving the healthcare market will not happen just through the invention of new products. It will also take successful implementation and diffusion of these innovations throughout the healthcare system. New products must have a market fit in terms of usability for all parties — providers and patients as well. We need to focus on understanding not just the market, but providers' needs, preferences, and abilities. Will they use these products and, if so, how? Innovations must improve providers' ability to provide great care. 
We also have to face the shortage of trained medical professionals when it comes to new technologies. We dive into this topic in our lead article, pointing out the lack of medical school training specific to AI and machine learning. Continuous advancement in such new technologies like robotic surgery systems and AI-based diagnostic tools leads to rising requirements for new training and education. Healthcare providers need to know how to use new products to drive their adoption. We need connection with providers through the whole innovation process: from development with clinician input to training and sales with professionals like medical science liaisons.
The process of diffusion can be complex and influenced by a variety of factors. A lack of financial resources can be a challenge for providers to implement new technologies as well.  In the end, we also have to face the fact that not all innovations will be successful or widely adopted. In our Pulse Check Interview this week, Thom Rasche touches on how he often sees products in the market that don't succeed because providers did not mesh with it. 
As almost always in life, the pursuit of progress requires challenges to ensure improvement. Let us focus on the main goal: making patients' lives better.