Predictive analytics is the future
The future impact of predictive analytics in healthcare is fascinating and full of potential. It can change the way we treat patients, prevent diseases, identify risks, and prolong lives. 
By leveraging vast amounts of data and cutting-edge algorithms, these techniques enable doctors and healthcare providers to gain a deeper understanding of patient health, anticipate future outcomes, and make more informed and personalized decisions about patient care. What if we can predict disease before any symptoms show up? What if death can be prevented because an AI system predicts an injury 48 hours in advance? We're looking at a market with a high potential to make a patient's life better or — longer.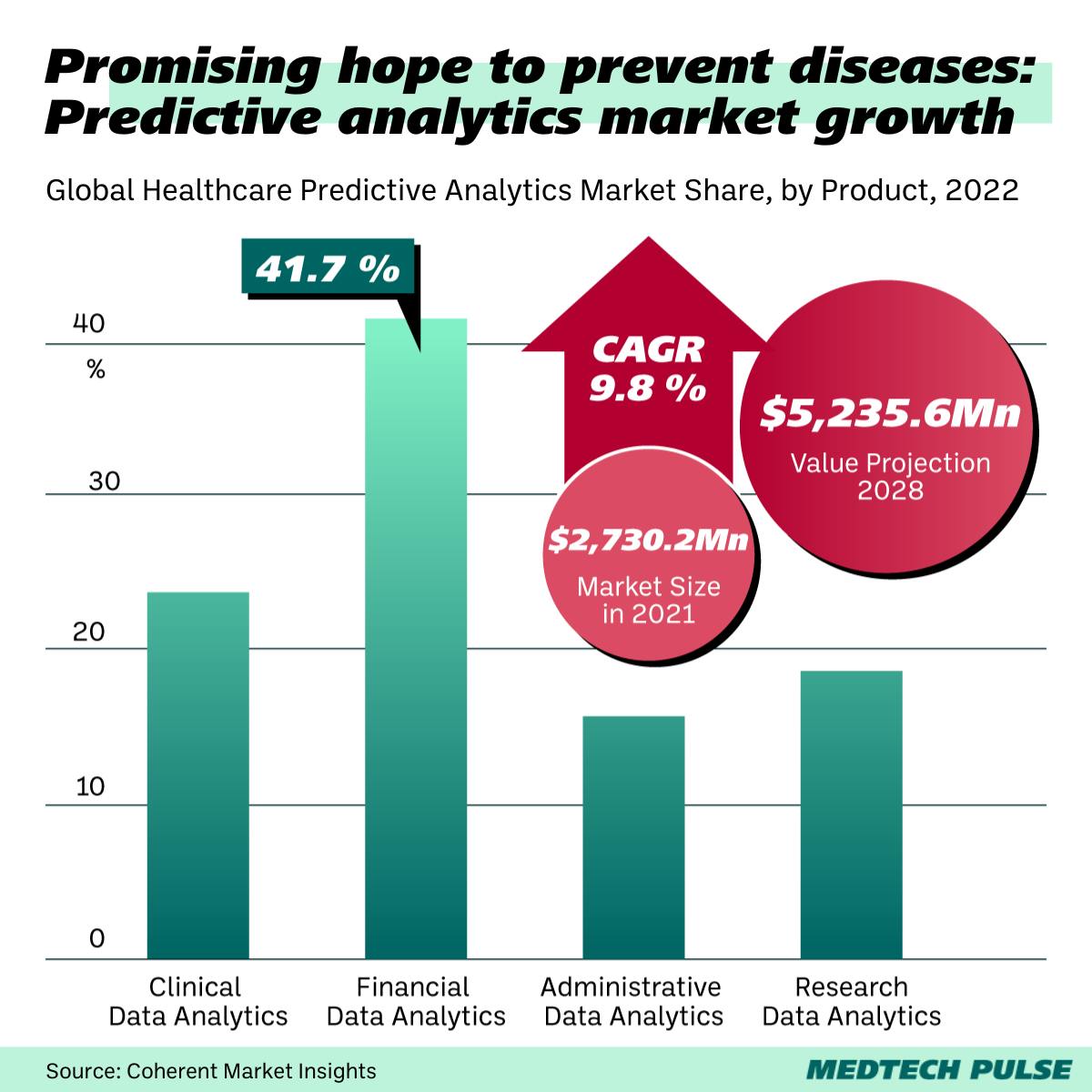 Chart: MedTech Pulse
The global healthcare predictive analytics market has been pushed toward strong growth. Digital transformation and new (data-driven) technologies — especially AI, data analytics, and machine learning — are the main drivers. 
So, how can we use these developments and technological successes for what truly matters to caregivers and patients? Of course, at this point, it is necessary to mention that predictive analytics not only helps optimize patient care itself, but also the economy behind it. The growth of the Financial Data Analytics Segment corresponds to the needs of providers and organizations to increase efficiency and performance to stay ahead of rising costs. The Clinical Data Analytics Segment is expected to grow further, signaling hope for our ability to boldly face the rising burden of chronic diseases and an aging population. 
The impressive outcomes of recent scientific work show the high potential and impact of these technologies. In today's Edition of MedTech Pulse, we dive into the results of a new study in Radiology that demonstrates how AI can help triage people reporting to the ER with acute chest pain. And another new study shows that, with just one CT scan, AI can predict lung cancer risk 6 years into the future. 
These are promising results, but we also need to spotlight the challenges that we must address when implementing AI in the healthcare sector. The quality of data and limited datasets can have a huge — and negative — impact on results and the accuracy of diagnoses. The technology is not yet on a secure path. But the current market growth shows promise for development and improvement in accuracy and adoption. 
In any case, we hope these data quality developments arrive sooner rather than later. Deloitte describes predictive analytics as a "necessity and not a luxury" for the health care sector. It is already transforming hospitals and other medical organizations and the way medical professionals diagnose and treat patients. 
But let's give technology some time to unleash its full potential and honor the big steps that have already been made. I for one am very curious about how the technology in the predictive analytics market will evolve — I'm sure we'll continue talking about it as it does.