Medtech on the edge
"Is harm reduction a fad?"
The headline of this article caught my attention. 
The piece discussed whether the practices of harm reduction were set up to stick around in our healthcare ecosystem. 
The big idea? Whether public opinion and "hype" can meet regulation, research, and clinical capacity.
In medtech, the gulf between excitement and applicability is one which many innovators, regulators, and everyday providers struggle with. After all, this is one of the reasons the most interesting part of our Pulse Check interviews is often the questions about predicted and overlooked trends in the industry.
Earlier this year, I enjoyed reading The Medical Futurist's 2023 Hype Cycle on digital health trends. It encapsulates well the rise and fall of expectations and tangible progress in our industry.
In thinking about this topic, the most obvious development to mention is medical AI. 
There's no question it's the hottest trend the industry is scrambling to harness. We have lots of excitement from diverse corners of the healthcare industry. We're seeing seemingly endless possibilities. And little by little, as you'll see in our Chart of the Week, more of these possibilities are becoming real, approved AI-enabled medical devices.
At the same time, we're still wading through many misunderstandings about what the technology can or can't do. And many open questions about ethics and regulation. 
When it comes to generative AI, for instance, logistical and regulatory concerns lead the reasons for why health systems are struggling to adopt the technology everyone's talking about.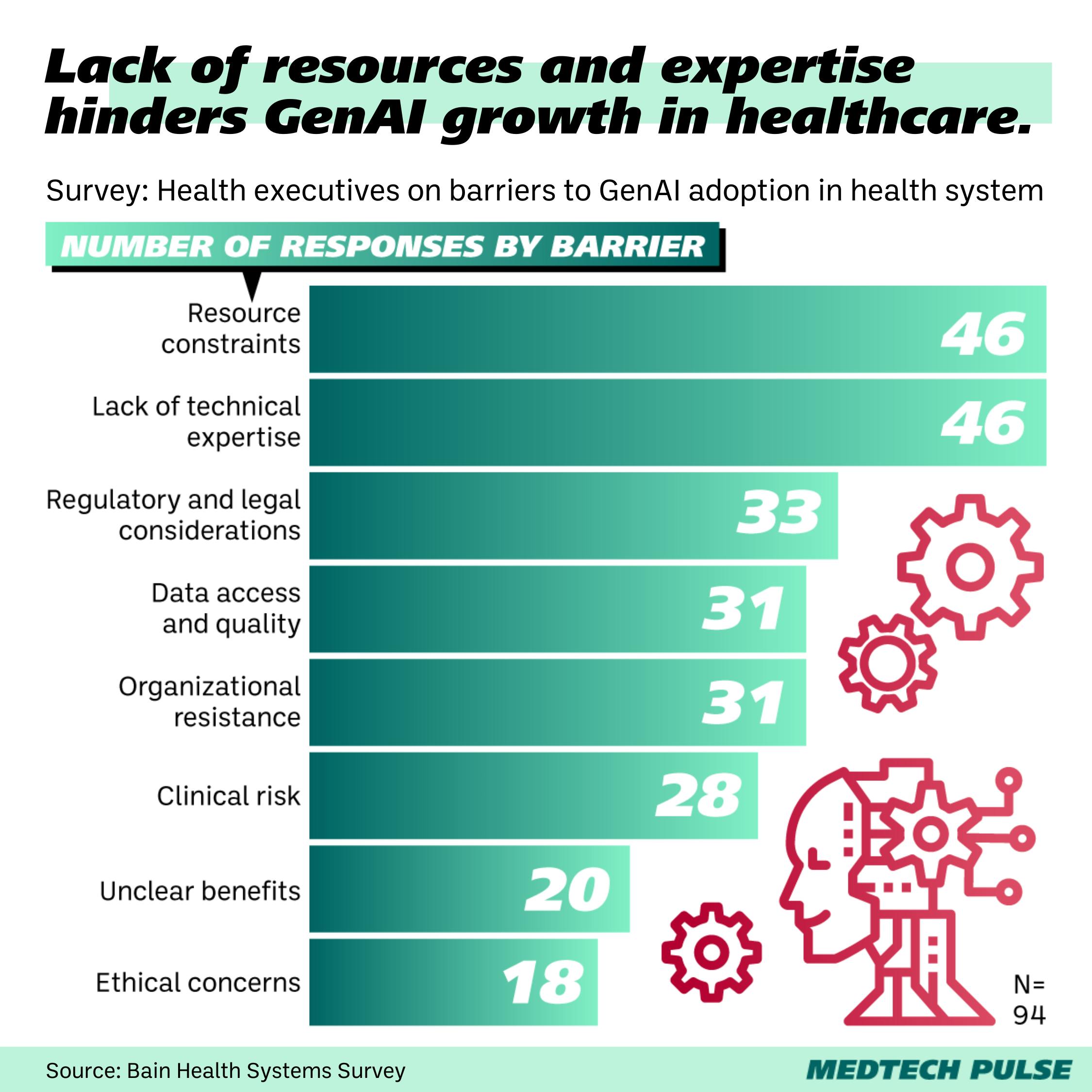 Chart: MedTech Pulse
It's important to take advantage of this technology to improve our health systems. But we also can't be short-sighted with implementation. This technology is going to be around for the long haul—the time to plan for its future regulation was yesterday.
Another topic that comes to mind when discussing potential short-sightedness in medical innovation is a buzzy pharmaceutical: GLP-1s for weight loss.
Earlier this year, we featured Way CEO Bentley Adams in our Pulse Check interview series. Adams pointed out that the growing popularity of prescribing these drugs for weight loss may be short-sighted, since many patients are unlikely to take them forever. 
Yet, that hasn't stopped many from speculating about GLP-1s like Ozempic and Wegovy as the "cure" for obesity. And that's not to mention the stock problems rising startups in the space are contending with.
Overall, a key to long-lasting innovative impact is playing the long game. 
In the healthcare industry, we're seeing the long game come out in the industry trends toward B2B and M&A for corporate longevity.
For some medical innovators, the long game may mean turning to new partners—even the space industry, as you'll see in our third Insight this week. And in this week's lead Insight, we're highlighting an inspiring approach to staving off short-sightedness: an organization that makes its products open source, so their impact can extend beyond their work.
Startups—and the patients medtech serves—can't afford short-sightedness. Especially not when the stakes are our health.