MedTech must adapt to succeed
A new year has begun. My very best wishes go out to you and your families. I truly hope that 2023 brings peace, happiness, and health to you all. And may your ventures enjoy the success and recognition they deserve. 
For many, 2022 was a year of hardship. But 2023 will be better. Let us remember what philosopher Karl Popper (1902-1994) taught us: "Optimism is a duty. The future is open. It is not predetermined. No one can predict it, except by chance. We all contribute to determining it by what we do. We are all equally responsible for its success."
Medical technology is living up to Popper's high standards. Following Covid, massive government investments and new regulatory initiatives made 2021 a record-breaking year for digital health. Private funding rounds reached nearly $30 billion in the United States alone. In the wake of the Ukraine War, numbers dropped in 2022, but they will likely rise again this year. 
So what is next? Probably a period of exciting breakthroughs and landmark innovations, driven mainly by those who managed to survive the dire year of 2022.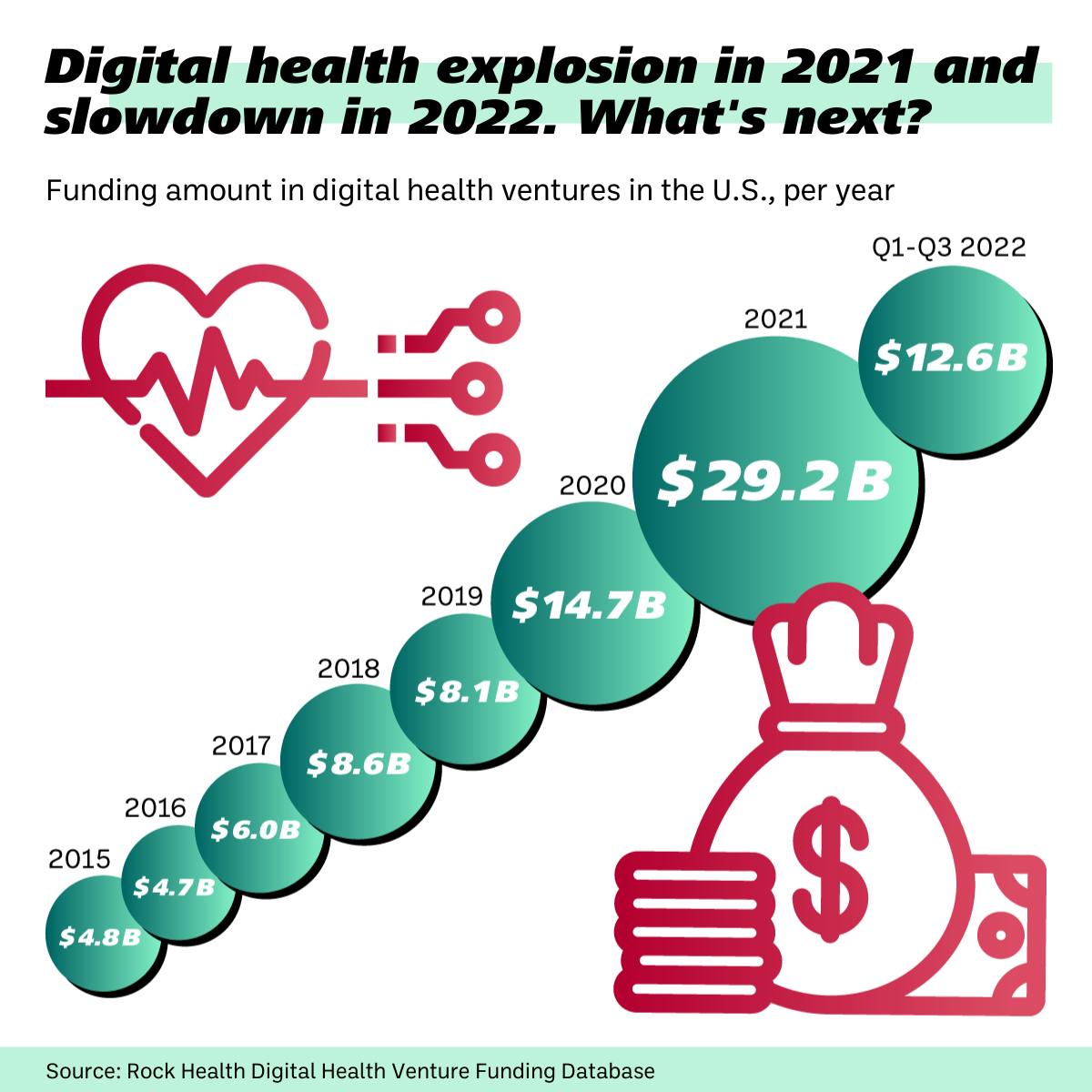 Chart: MedTech Pulse
In this edition of MedTech Pulse, we take a closer look at how successful startups adapt to succeed. The pandemic underscored the value proposition of remote care, addressing the mental health crisis especially with telemedicine and more. This determined where the highest funds would go and also helped the market develop new technologies at record speed. But which sectors will survive? Is it time for a realignment of the market? 
Of course funding is no guarantee for success. But money often paves the way for new markets. Much needs to be done to improve patient care. The sector has paid too little attention to digitizing the patient experience and preventing diseases. This creates a growing opportunity for startups. 
As we look forward, the question is this: Where can digital health create real, even life-changing value? Startups in all growing sectors, including Artificial Intelligence and telemedicine, should aim for business models that are built to last to create that change. That said, it isn't likely that 2023 will be about creating the next Uber in telemedicine. The subtle but nonetheless important work in the woods is more critical. Successful companies must prioritize care over user acquisition and center everything around the quality of care. Patient needs should drive decision-making. Those who recognize this will likely cover the most ground this year. 
Profitability is another key topic in 2023. We dive deeper into this topic in our lead article detailing the transition from DTC (direct-to-consumer) to B2B (business-to-business) models. This could accelerate the drive to profitability: a virtue in times of scarce resources. 
Rebuilding digital health will be a huge opportunity to fight and prevent diseases and make medicine more accessible. Diseases will be predicted with much greater accuracy. Preventive care is picking up quickly. Thriving for quality will substitute chasing growth at any price. All of this translates to direct benefits for patients.  
In conclusion, a year of revived vigor has started. Let us all embark on the journey. It is worth our best efforts.