Is medtech asking the right questions?
"They just need to be treated like adults." This was 23andMe co-founder and CEO Anne Wojcicki's assertion about health information sharing consent. At a recent digital health panel, Wojcicki reminded stakeholders that, in fact, many people are willing to share their health data—if they're asked the right way.
The point here is clear: We need to ask the right questions—and in the right way. The way requests for private information are phrased is key to gaining affirmative, informed consent. Clinical research has taught us this for decades. But I believe there's a broader lesson here for our industry to take away. We need to ask the right questions—both to be able to do effective research and to ensure we're innovating in the right direction—to help those who need it the most and contribute to a healthier society overall. After all, that is why we do what we do: to make medicine the solution.
So, let's take a look at this issue of how we ask questions in our industry more broadly. When it comes to research, strategically asking for participant consent in a traditional clinical trial is one thing. But with the way clinical trials are evolving thanks to technological advancement and increasing globalization, posing and structuring research interactions and conversations becomes more complex. Decentralized clinical trials—enabled by remote monitoring medical devices and even telehealth tools which grew in popularity and availability due to the pandemic—are becoming more of a reality, even gaining early FDA green lights Take a look at this complex web of communication: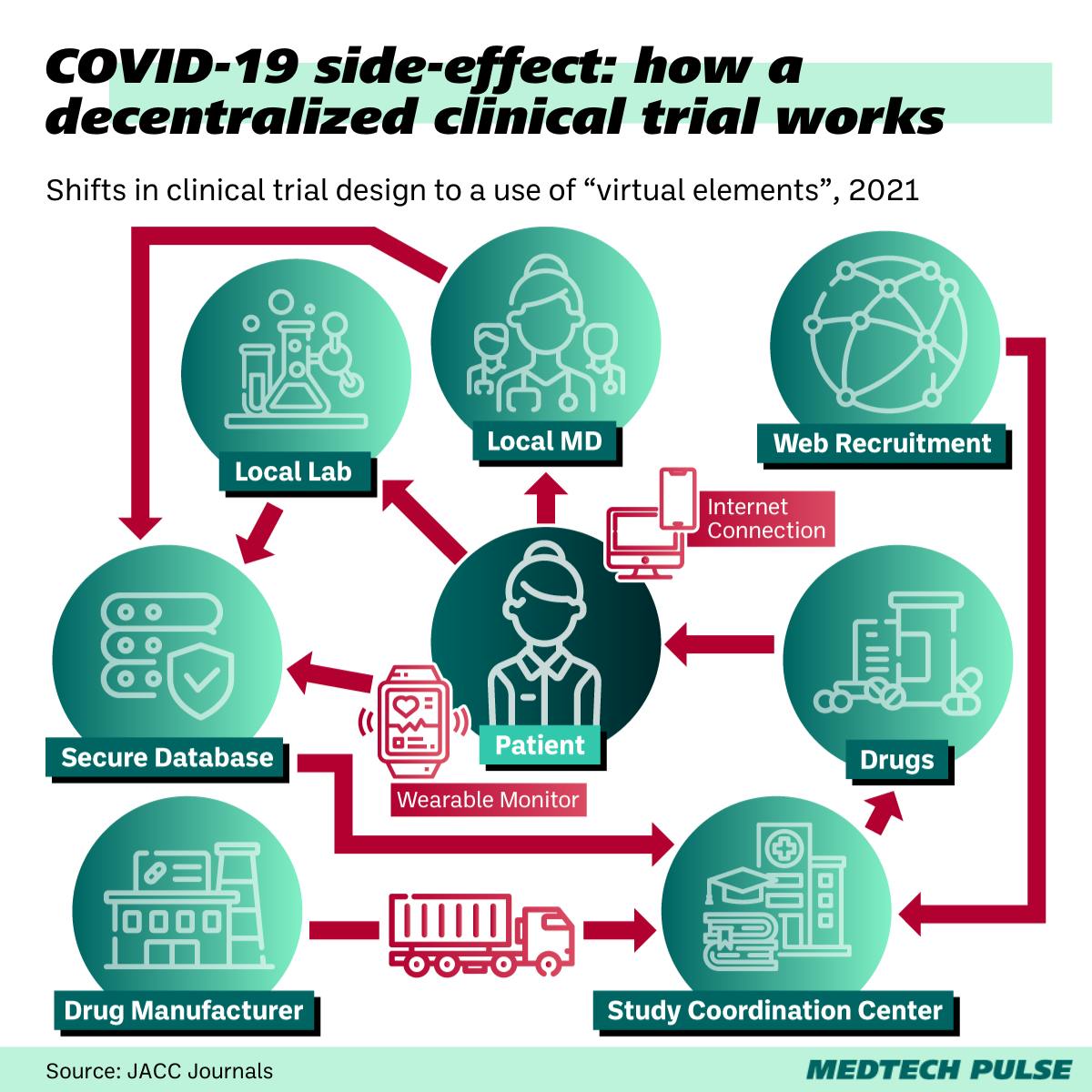 Chart: MedTech Pulse
It turns out that being in-person with subjects isn't as relevant to running a scientifically rigorous and effective trial after all. As with telehealth-enabled healthcare, it's not the medium but the method (the way questions are posed) which makes a difference. 
Posing questions the right way is a generally important guideline when it comes to innovation, too. But in this case, we need to pose the right questions to ourselves. One of the most important questions we ask ourselves when innovating is: "where is there an unmet need?" In this week's MedTech Pulse, we're covering several areas where creativity and curiosity highlight unmet needs—and unearth new ways to address them. Video game-based medtechs address mental health needs not met by traditional healthcare. The organ transplant field is chock full of unmet needs due to the issue's complexity—and our industry is coming up with new creative solutions. Our Chart of the Week highlights a new study which identifies menopause as an underserved area of women's health—because researchers and innovators weren't previously asking the questions to distinguish this specific population.
We also need to ask ourselves, our peers, our industry the right questions to have a productive and open discussion about the future of our industry. I'm referring, of course, to the question of medical AI. Especially when it comes to deciding how we're going to address the ethical issues the rapid development of AI has placed in front of us. Researchers from Duke University have done exactly that, interviewing many physicians and data scientists working with healthcare AI tools across the US. From these interviews, they've created an open, unflinching report discussing how medical AI is working in the real world, right now. I highly encourage you to take a look at the report and accompanying online guide—it's not a perfect tool, but it's a promising start toward encouraging more mindful engagement with the technology across healthcare.
Now, I ask you, MedTech Pulse reader: Which questions should our industry ask more of? And how can we ask those questions better?