Artificial intelligence is going to transform healthcare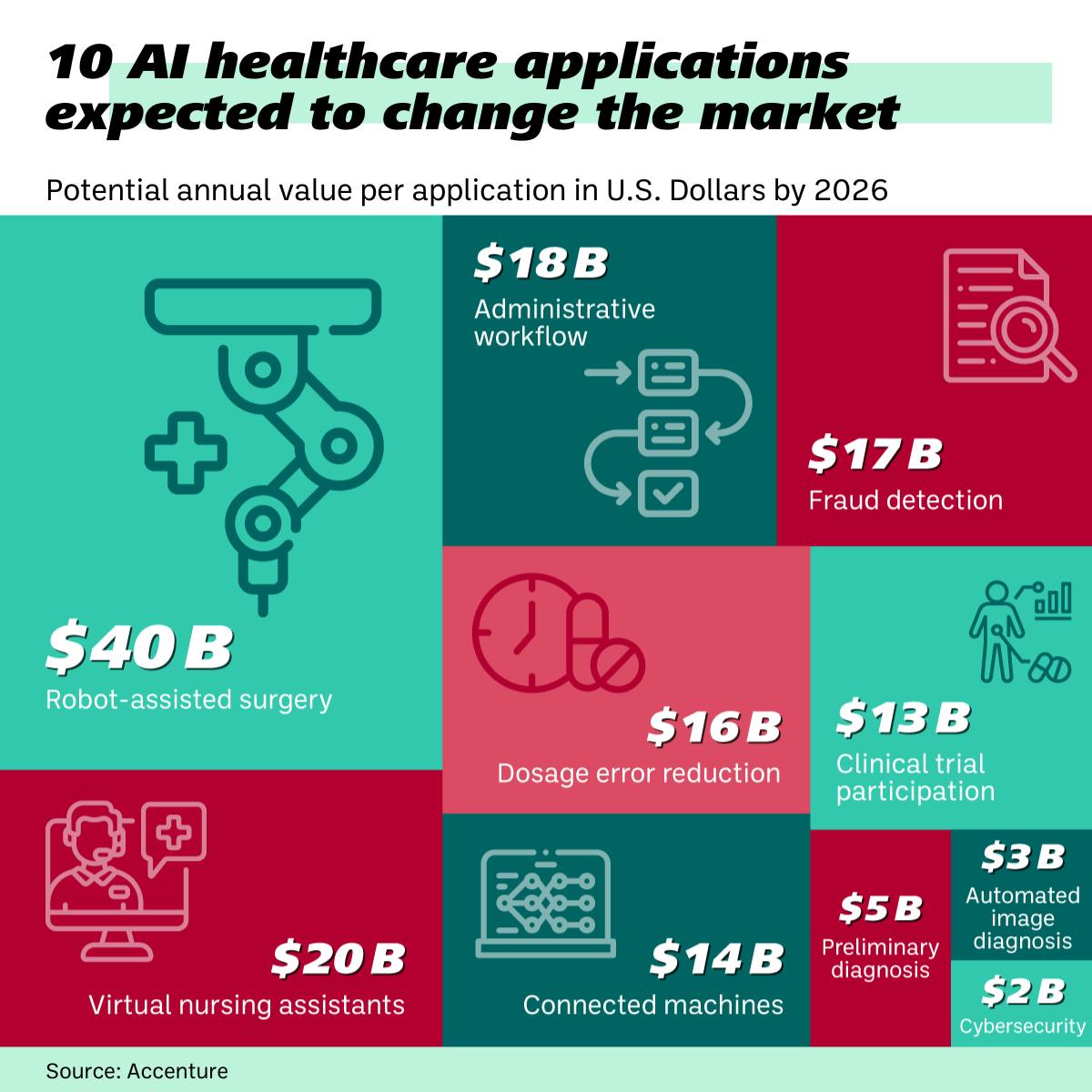 Chart: MedTech Pulse
I sincerely hope you have had quiet and peaceful holidays  with your loved ones, and that you are enjoying some rest in the final week of the year.
Just as you may find some time to contemplate new business and investment opportunities, you might find interest in a topic that fascinates me personally: Artificial Intelligence (AI). There has been captivating progress in this field over the last couple of years. 2022 in particular has seen AI advancing at warp speed. If you have not tried OpenAI's new ChatGPT, now might be a good opportunity. Here is the link: https://openai.com/blog/chatgpt/ I have been testing it personally and am deeply impressed. 
Its capabilities are breathtaking. Yes, there are still some flaws. In a number of cases, the bot delivers ridiculous results. But in many others, it gives a stunning glimpse of how AI can transform medicine. A study from Accenture lists and ranks the fields where we can expect the most impact:
Robot-assisted surgery stands at the top of the list with an estimated market size of $40 billion in 2026. AI is slated to widely expand both precision and breadth of surgery robots. This is because the smarter robots get, the more tasks they can perform. Top-notch techniques will become available at affordable prices for millions of people who don't have access to top surgeons today. Virtual nursing assistants, administrative workflow, fraud detection, and dosage error reduction follow on the list—all of them heavy strains on our medical systems and patients today. 
A true Artificial Intelligence revolution is underway, transforming medicine and resulting in high growth rates of AI-driven applications in the healthcare market. Forbes Magazine quotes experts predicting that the healthcare industry is the sector "that could be the most affected by the enormous changes of the fourth industrial revolution."
This graphic depicts AI growth in the U.S. market according to data from Grand View Research: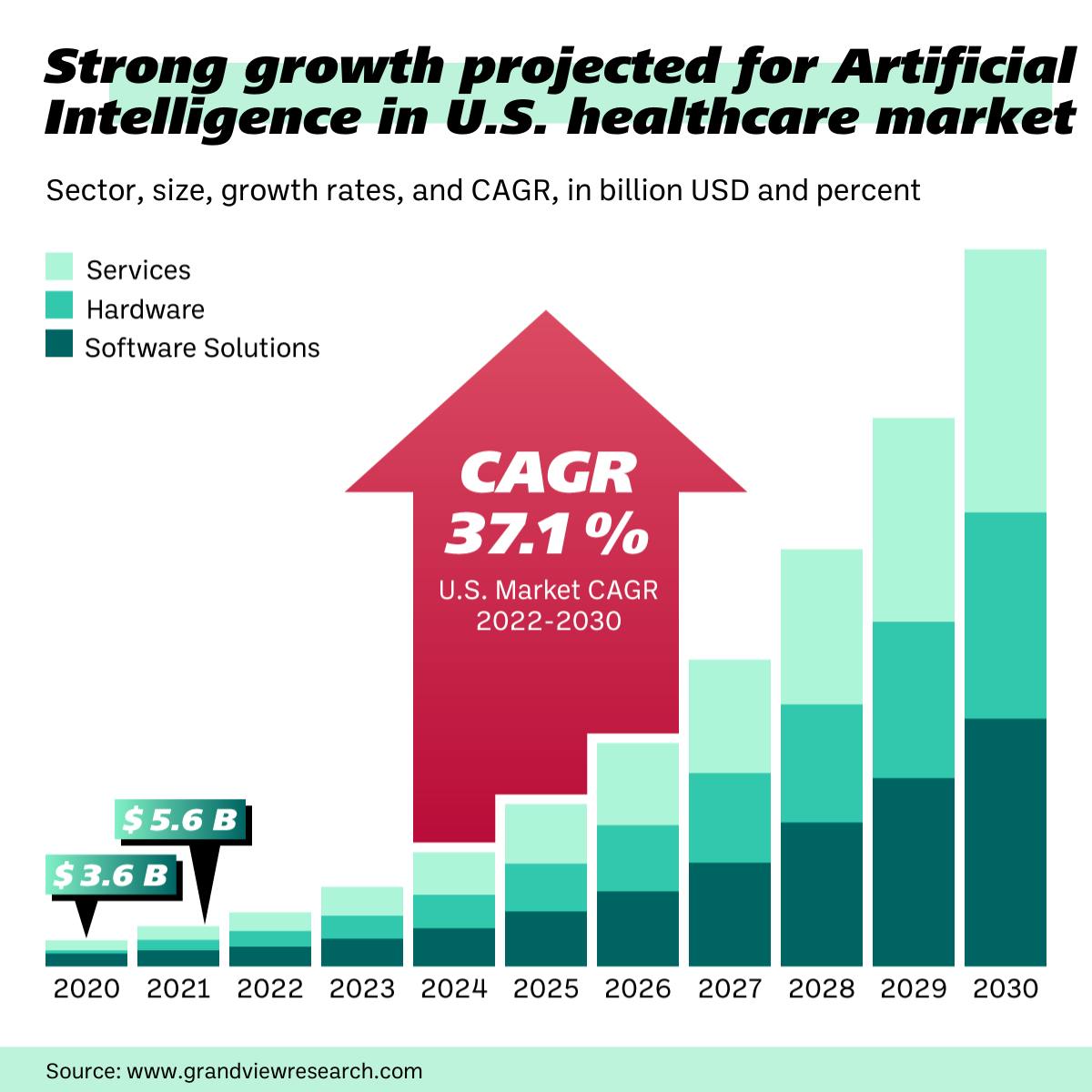 Few other markets are forecasted to be growing at a Compound Annual Growth Rate (CAGR) of 37.1% from 2022 to 2030. This heeds the attention of entrepreneurs, executives, doctors, nurses, clinics, and investors. The main drivers of this trend are the growing sets of patient health data, skyrocketing demand for personalized medicine, and increasingly scarce resources demanding the highest possible efficiency. AI can help because it recognizes patterns with incredible precision, optimizes processes beyond anything we can imagine today, and streamlines workflows in totally novel ways. 
Healthcare workers have no reason to fear these new techniques. Their expertise will always be sought after, and their jobs are probably more secure than any other industry. Aging societies and shrinking workforces will make every healthcare expert indispensable. AI will simply help them to become more efficient and shave off repetitive tasks. This will free hands and hearts for catering to patients' emotional and physical needs. Artificial Intelligence will make medicine more humane—a promise and opportunity so great that it's clear we should embrace it wholeheartedly. 
We are diving deeper into this topic in our main article today. I hope you enjoy reading it below. 
With that, let me wish you a splendid, healthy and happy New Year. May many of your wishes come true in 2023.