The number of FDA breakthrough devices has grown for the past five years—and 2022 might break the record again. 
As we covered in September, a majority of the U.S. Food and Drug Administration (FDA) "Breakthrough Devices" have been so-designated in the past two years. 
The goal of the program, initiated in 2017, is to make new medical devices more accessible. The FDA is therefore acknowledging that the long regulatory process can unnecessarily disadvantage the end-users, patients, and providers who need to access these products as soon as possible. 
In Hadi's Reflections this week, Hadi discusses just how critical lowering unnecessarily high regulatory burdens is to improving medical device availability in Europe. In the U.S., the Breakthrough Device designation's streamlined path to authorization works toward a similar goal. 
The hope is that the more devices receive this designation, the more critically ill patients can access therapeutics efficiently.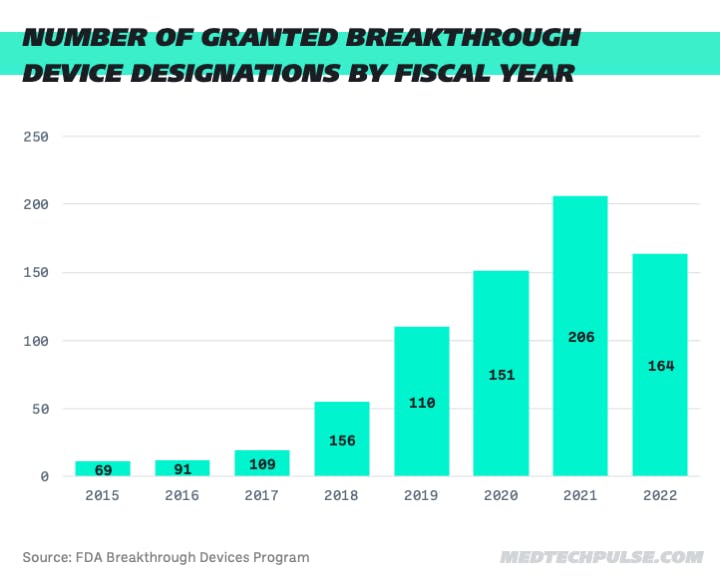 Chart: MedTech Pulse
Takeaways
As of Q3 2022, the FDA has granted a total of 728 Breakthrough Device designations, over 50% of which were granted designation in 2021 and 2022. 2021 was the first year that the annual total surpassed 200.
In Q2 2022, the agency had granted 129 total designations (64 in Q1 and 65 in Q2), putting it on track to surpass last year's total of 206 Breakthrough Devices.
Q3 marked a slowdown in designations, with a total of 35 designations granted by the end of September.
However, to break the 2021 record, the agency only needs to make another 43 Breakthrough Device designations.
The current criteria includes diagnosing or treating life-threatening conditions and/or addressing a clinical need with no approved alternatives. With that, we ask: How might potential changes to Breakthrough Device designation criteria impact these numbers—and the industry?
The FDA is considering changes that would, in the future, include tech that addresses health disparities.
Addressing health disparities—or Social Determinants of Health (SDOH)—is also a fertile ground for developing digital health startups, as demonstrated by new accelerators like the U.S. Department of Health and Human Services' (HHS) PandemicX and the priorities of VCs like General Catalyst.
So, if implemented, this change to the guidelines will likely cause the annual totals of Breakthrough Devices to rise even further in future years.
Of course, Breakthrough Device designation is not the same as market authorization.  
As of August 2022, 54 total Breakthrough Devices had earned FDA authorization. However, the rate of authorizations is picking up at a similar rate to designations. The first half of 2022 marked 11 total authorizations for Breakthrough Devices, which was the total number of devices authorized in all of 2020. 
We hope these trends continue, and that we begin to see data that indicates that these devices—and their availability—are making a positive difference in patient outcomes.