An unexpected digital therapeutics frontrunner
An unexpected digital therapeutics frontrunner
Though Germany is a leading MedTech nation, it isn't exactly known as a pioneer when it comes to the digitization of healthcare. For example, only 3% of Germans are able to use the internet to access and manage their health data. In Scandinavia, the figure is about 10 times higher, while the EU average is three times as high.
The situation is very different in the area of digital therapeutics. In 2019, Germany became the first European country to introduce a standardized certification process for digital health apps prescribed by doctors and reimbursed by statutory health insurers. 
According to Research2Guidance's study, even in 2022, most European countries are not as far along. Only Belgium and France have introduced similar processes.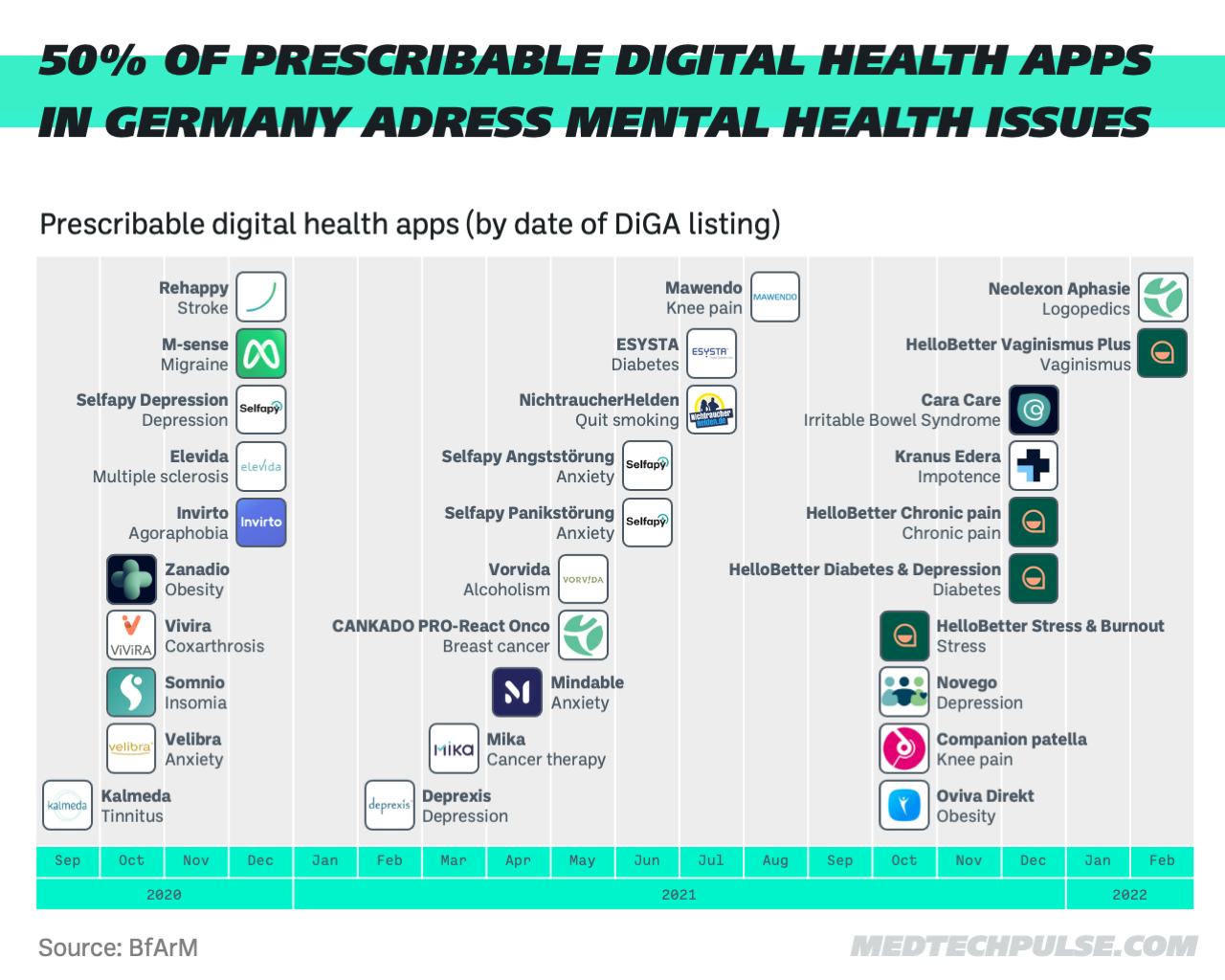 Infographic MTP
The DiGA landscape
Over the past 1.5 years, a total of 30 digital health apps have been approved for prescription in Germany. We're viewing the milestone as an opportunity to take a closer look at digital health apps. 
The first thing that stands out is that 15 of the 30 apps address various forms of mental health issues. There are several solutions for treating depression and anxiety, as well as apps for very specific problems such as alleviating psychological and psychosomatic consequences of cancer diagnoses and therapies. It is both logical and necessary that there are many digital mental health applications. After all, we are experiencing an increase in cases worldwide, and also in Germany, alongside a shortage of therapists. 
In addition, it is noticeable that there are more web applications (18) than mobile apps (16) among digital therapeutics. Even though most people today have a modern smartphone, a browser is still the best way to reach potential patients. In addition, providers can avoid passing on part of their revenue to the app store providers Apple and Google. 
Just as the market for prescription drugs is dominated by a few large pharmaceutical companies, we expect a few heavyweights to emerge in the market for digital health applications. The largest providers today are GAIA AG and Hello Better, each with four apps. Both companies are based in Hamburg.
The full list of DiGAs:
Neolexon Aphasie (Logopedics, Feb 2022)